Adam Levine Talking About Becoming a Dad Will Melt Your Heart
By Sierra Marquina
November 7, 2017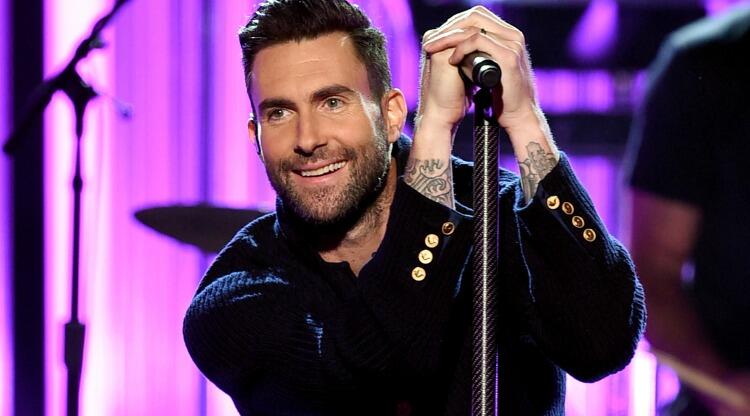 Adam Levine is conquering it all. The Maroon 5 frontman's new album Red Pill Blues dropped last week and his second child with wife Behati Prinsloo is on the way. And Levine, who previously said he thrives in chaos, told On Air With Ryan Seacrest on Tuesday, November 7, that he's never been happier.
"It's not easy because it's a lot of work and it consumes a lot of your time, but what's nice about the whole dad situation — which is super cool by the way — [is] I had glimpses of thinking I was kind of cool in the past … [and] now I'm kind of really pumped," Levine said. "I've never felt more in my element in my life. It's all worth it and all extremely rewarding beyond my wildest dreams so I'm good to go."
The "Wait" singer, who revealed on The Ellen DeGeneres Show that they're expecting another baby girl, added that Behati is craving "pickled pineapple" along with Fat Burger milkshakes and French fries.
Before baby No. 2 arrives though, Levine is busy doing press for the band's sixth studio album. Their success, he attributes, is to keeping an open mind.
"You're only as good as you allow yourself to be," Levine said. "I think we haven't been stubborn — we've been really open minded to creating a lot of kinds of music. … Sometimes also the world gets so insane and I think it's important for us to let loose and have at least a moment in our day [to have a release]."
Listen to the full interview above.
Maroon 5 is celebrating the release of Red Pill Blues with an album release party at the iHeartRadio Theater in Los Angeles tonight, Tuesday, November 7. Fans can tune in free for a live video stream of the exclusive event at 7pm PT/10pm ET via YouTube.com/iHeartRadio.
Chat About Adam Levine Talking About Becoming a Dad Will Melt Your Heart