Producer Louis Bell Reveals Post Malone & Nicki Minaj Collaboration
By James Dinh
November 8, 2017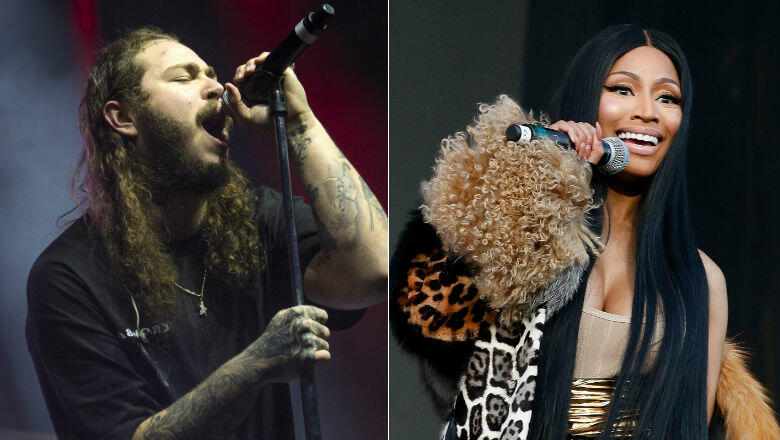 Post Malone is enjoying extraordinary success with his 21 Savage-assisted hit, "rockstar," which is sitting comfortably on top of the Billboard Hot 100, and his go-to super-producer Louis Bell couldn't be more proud of the project. After all, he did co-produce and co-write the smash single.
Now, less than two months since the song's release, Bell, who is celebrating the success of another one of his recent hits (Camila Cabello's "Havana"), is helping the rapper mold the shape of his upcoming LP, Beerbongs & Bentleys, and the collection just might feature another high-profile collab if Team Malone has their way.
"That's something that's in the works now," Bell told iHeartRadio of Nicki Minaj's forthcoming appearance on an upcoming Malone record. "I'm gonna try to get that finalized. It's still being worked on obviously, but that's something where we're trying to just get a sound ironed out."
Despite his current sessions with the likes of Cabello, Daya and PARTYNEXTDOOR, Bell, who original helms from Quincy, Massachusetts and now lives in Los Angeles, explained that the Post Malone LP is his top priority right now and he's hoping to help get it out as soon as possible. "You know, it's really all based on his pacing, and when he wants to get things done, and when he's inspired," the multi-talent detailed. "He works when he's inspired. It could be very last minute or it could be planned a few days ahead."
Elsewhere in our conversation, Bell emphasized why he's been around the 22-year-old MC since the early jumpstart of his career and it all boils down to Malone's artistic instinct. "I think what he's done is really what I've always strived for as a producer. [I] was to be able to work with an artist who was early in their career, but knew exactly who they were and just needed to make sure everything was executed right. It's a producer's dream to meet an artist who really, really knows who they are. It's your job like you're building this island from scratch, and you're building this house from scratch, and you know the sky's the limit with that message because he can do so much at this point in time."
Despite his growing success and an even busier work schedule ahead of him, Louis still has his eye set on the dream prize in 2018 and he doesn't care how cliché it might sound to folks.
"I think that's obviously every producer and artist's dream is to win a Grammy just because of the weight of the word and what it means. It gives you a little bit of reassurance and solidifies anything you've ever done at that point," he explained. "That's kind of the goal for me. Last year, I was kinda banging a lot of seeds and just working hard on a lot of stuff. In 2017, a lot of stuff started growing, and I think based on the success of this year, I think it's gonna help 2018 be set up to be a much more fruitful year."
Chat About Producer Louis Bell Reveals Post Malone & Nicki Minaj Collaboration