INTERVIEW: Dillon Francis Talks 'Hello There' Video Characters & New Album
By Nicole Mastrogiannis
November 10, 2017
Hello there! By now, you've probably seen the music video for Dillon Francis's latest bop "Hello There." As per usual, it is a visual masterpiece as the 30-year-old producer/DJ takes on multiple roles ... as in all of them ... throughout the video.
"Hello There" features Canadian rapper/singer Yung Pinch, who is currently on tour with Post Malone. After hearing his music played by an intern at the Mad Decent offices, Dillon reached out to Yung Pinch via Twitter, the duo hit the studio, and the rest was history. "I went to his studio and I gave him like ten demos, and he wrote to two of them. And 'Hello There' stood out the most."
The Story Behind Pineapple Man
Dillon had teased "Hello There" with a snipe campaign, posting the single's joyful cover art which feature's a particularly happy shirtless man eating a pineapple in a pool. Creative directors Pizza Slime, who have worked with Dillon from the beginning of his career, found this delightful shutter stock image and pitched the idea of Pineapple Man. And thus, Pineapple Man was born.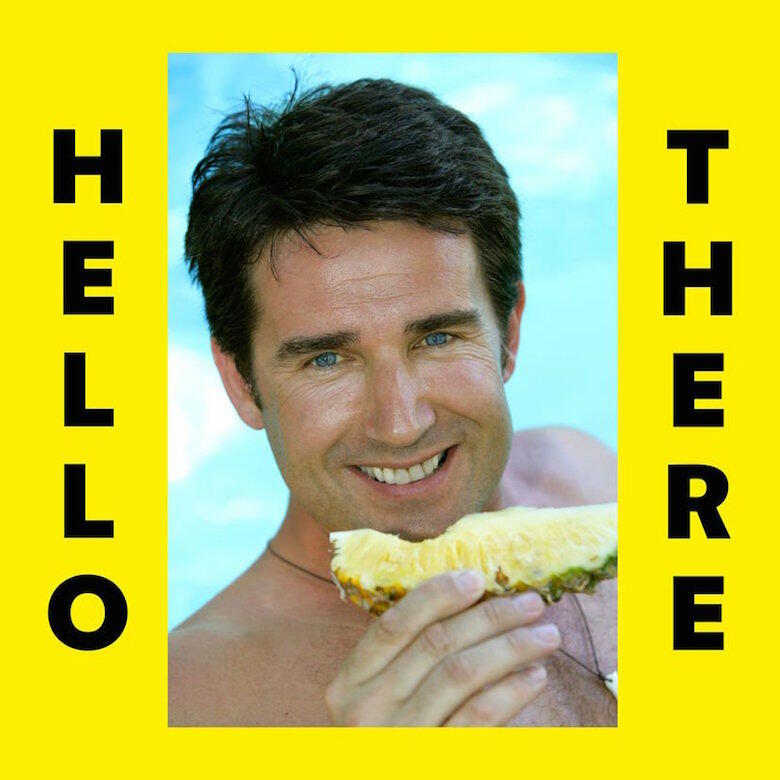 "I really wanted it to be kind of like you're like, who is this guy? Who is it? Like, what does he want, why is he eating a pineapple? Why is he smiling like that? That was honestly the reason we went with it was that," Dillon explains to iHeartRadio of Pineapple Man. "And then also, because physical CDs don't exist anymore, so covers don't really matter that much because you won't see it. But it matters in the sense of it being really eye grabbing, so that's why we went with it; we thought that if you see it in a lineup of songs you're going to be like, 'Wait, why? Okay I've got to check that out.'"
So, why does Dillon think Pineapple Man is so happy? He says, "I think he's just happy because he's listening to a song. That's the whole point of the song is just to listen to it and be really happy."
As happy as the official "Hello There" cover art is, so is its music video. The visual, directed by The Dads, revolves around a late night talk show, in which Dillon plays every single character, from the host, to the guests, to the camera man, and more -- there are nine characters in total. Dillon explains to us about what it was like to play multiple characters:
"It was really fun, but it was so time consuming just because to get into one costume, then have to go right back out, take off all the make up, put on either mustaches or whatnot, and then go back out, shoot it, and then you have to make sure they're keying the frames correctly. But, it's my favorite thing to do. I love making music videos, it's just so much fun for me."
So, who are these colorful characters in the "Hello There" music video? Dillon breaks it down for us. Check it out.
Talk Show Host Dillon Francis
"That's just me, Dillon Francis. I need help because of all my multiple personality disorder."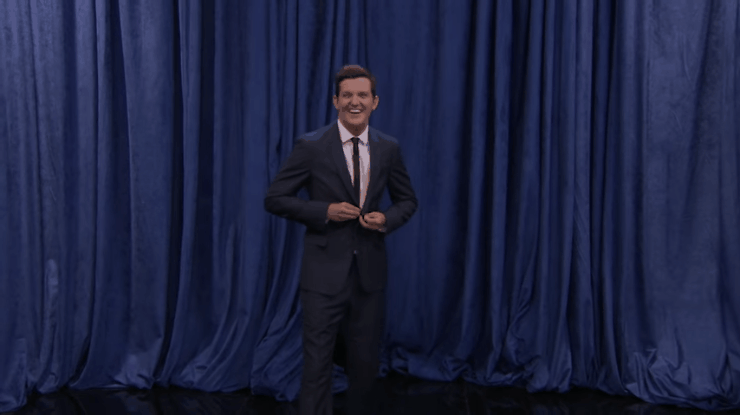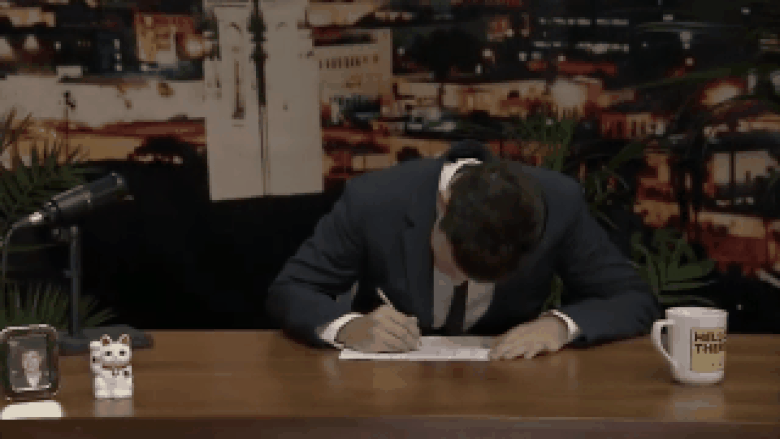 Talk Show Sidekick Ellington Tootsie
"So there's Ellington Tootsie who is the cohost, kind of like [how] Conan O'Brien has Andy Richter. That's Ellington Tootsie."
The House Band: Drummer Brandon Frampton and Yung Pinch
"The house band is me with Yung Pinch, and I'm Brandon Frampton."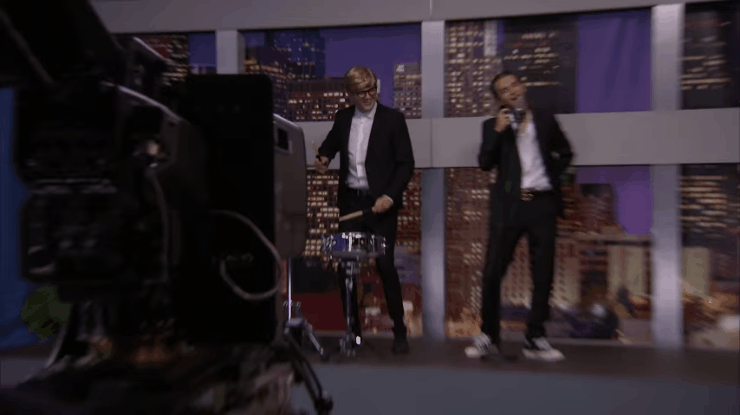 Actress Sadie Jackson
"The blonde lady in the wig, her name is Sadie Jackson. She's a famous actress who is known for Tech Ladies 2."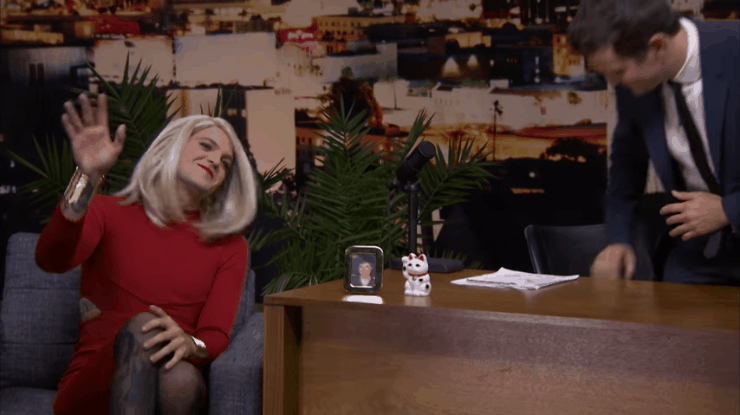 Camera Guy Gary
"And then there's a camera guy named Gary."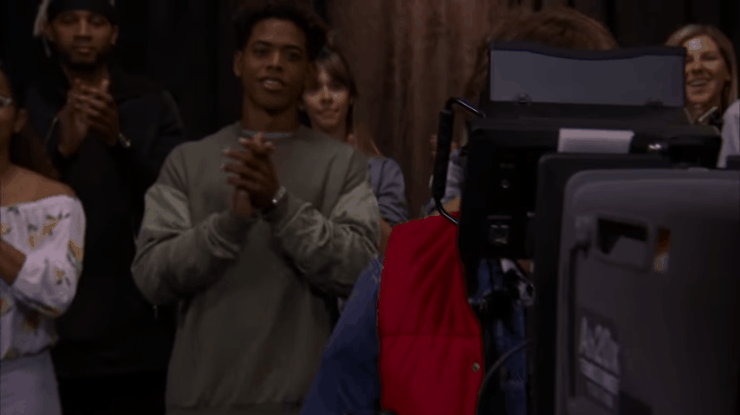 Cue Card Guy James Rushent
"There's a cue card guy, that's me as well."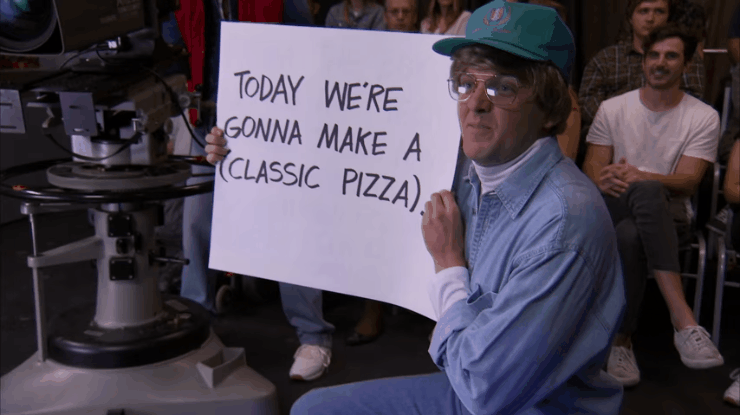 Chef Dylan Francaise
"There's a chef named Dylan Francaise."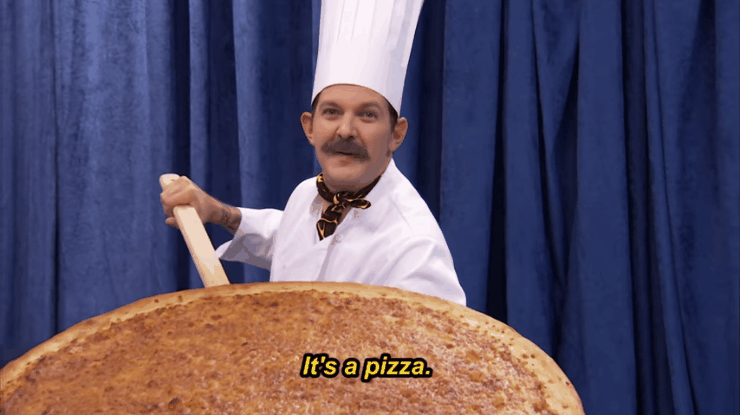 Grandma Franny in the Audience
"There's a grandma that's in the crowd of people, and she's Grandma Franny."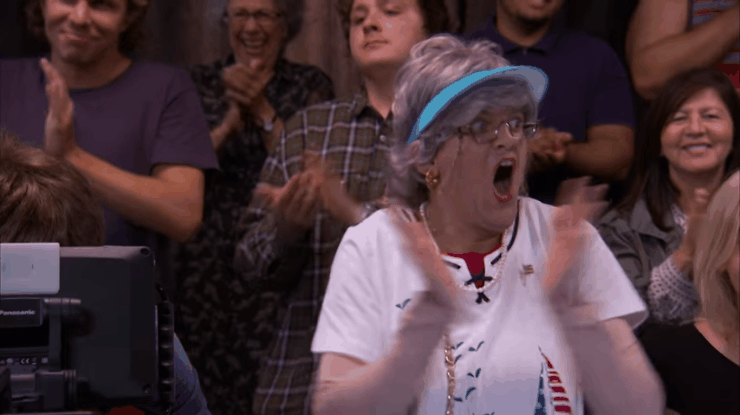 Dancer Thaddeus Jackson
"There's a dancer named Thaddeus Jackson. "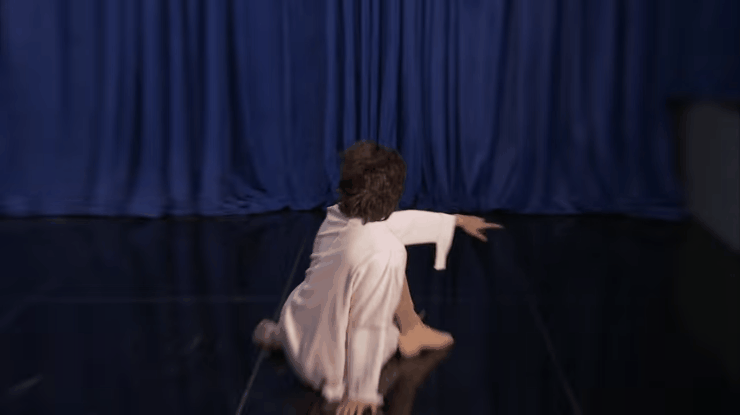 The video even portrays its own version of James Corden's "Carpool Karaoke" called "Car-ride Karaoke" featuring host Dillon Francis, real life Dillon Francis, Yung Pinch, and of course, everyone's favorite party piñata Gerald.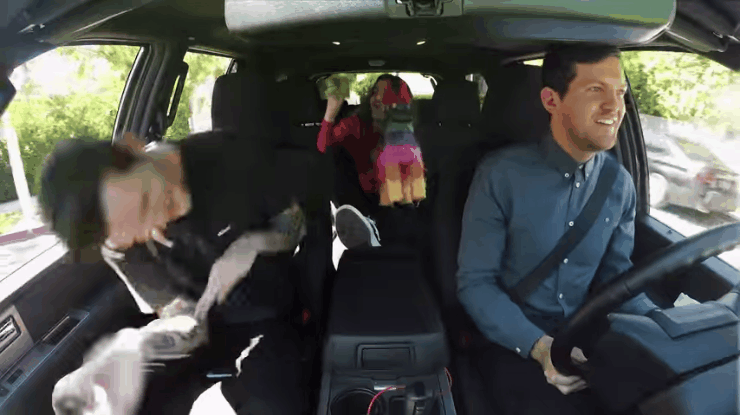 As Dillon explained, making these music videos is fun, and he has plenty of experience taking on the roles of different characters. From his social media personalities like DJ Hanzel, to his part as Randy on the Viceland James Van Der Beek series What Would Diplo Do?, Dillon has a lot of experience becoming different people.
Speaking of What Would Diplo Do?, Dillon says of being on the show:
"It was so much fun. James Van Der Beek wrote the show fully out, and then each time we would do the shots he would be like, 'Just do whatever you want. We already got the one shot that we need, so everybody can just do improv.' And most of the improv stuff that we did got to make it onto the actual show, which doesn't usually happen because some directors are just like, 'We want it to be exactly like what we thought it was.' And since it was such an experimental group of people, it was just so much fun."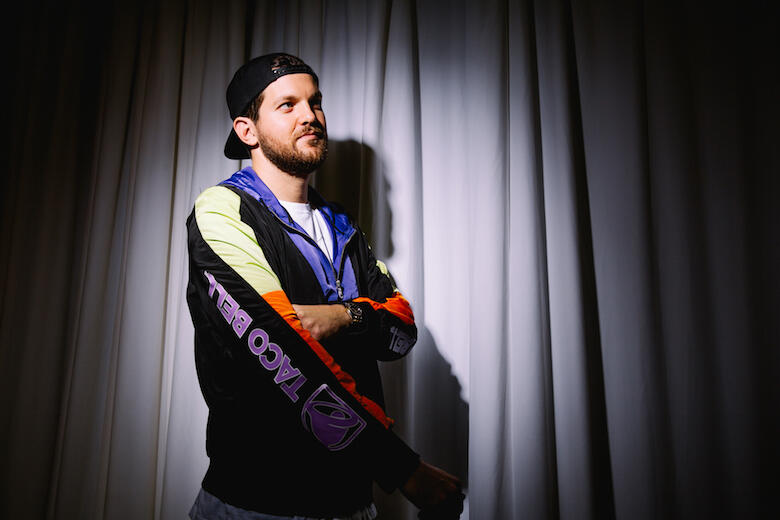 So, what's next for Dillon? Having last released a full-length album in 2014, Money Sucks, Friends Rule, he's currently working on a new LP, and as the DJ explains, "it's all in Spanish." And he wants this to be crystal clear: He's been working on this record well before "Despacito" blew up. "I've been working since November of last year. It's all in Spanish. I did it before 'Despecito.' I have an interview that will even prove that," he explains.
Dillon also released a remix of J Balvin & Willy William's hit "Mi Gente," but is working with a list of latin artists on this new record. He explains that he's taking things back to the beginning of his career. He tells us:
"It's kind of just a homage back to what I was doing at the beginning, but now I can actually really feature all these musicians that are from that genre. My manager came up with the idea where he was like, 'Man we should go back and actually work with Spanish artists.' Because the first songs that I ever really got big for were two songs. One was 'Master Blast,' and then one was 'Que Que' with Maluca. And that was a song that I produced with Diplo, and she was speaking Spanglish in it. So, it was kind of just going back to the roots, but making it more about featuring young artists from Mexico or from Dominican Republic, and trying to really showcase that music."
While there is no release date planned for his new album, Dillon has been hard at work in the studio on it, explaining what it's been like collaborating with Spanish-speaking artists, not speaking much of the language himself:
"It's very hard just because I speak very little Spanish, and that's the reason why I wanted to do the project so much is because I've said this so many times where if I'm ever in a studio session working with a singer and they ask me what to sing, I f*** it up. Every time. I tell them the wrong thing to say and I'll always leave the studio and be like, 'Why did I do that?' So now I can't f*** up what they're singing about, and then they can kind of do that. And I'm way better with melodies, so I can help them be like, 'Oh, we should do a harmony right here, or yeah.' It's a really fun exercise of production that I never have done before."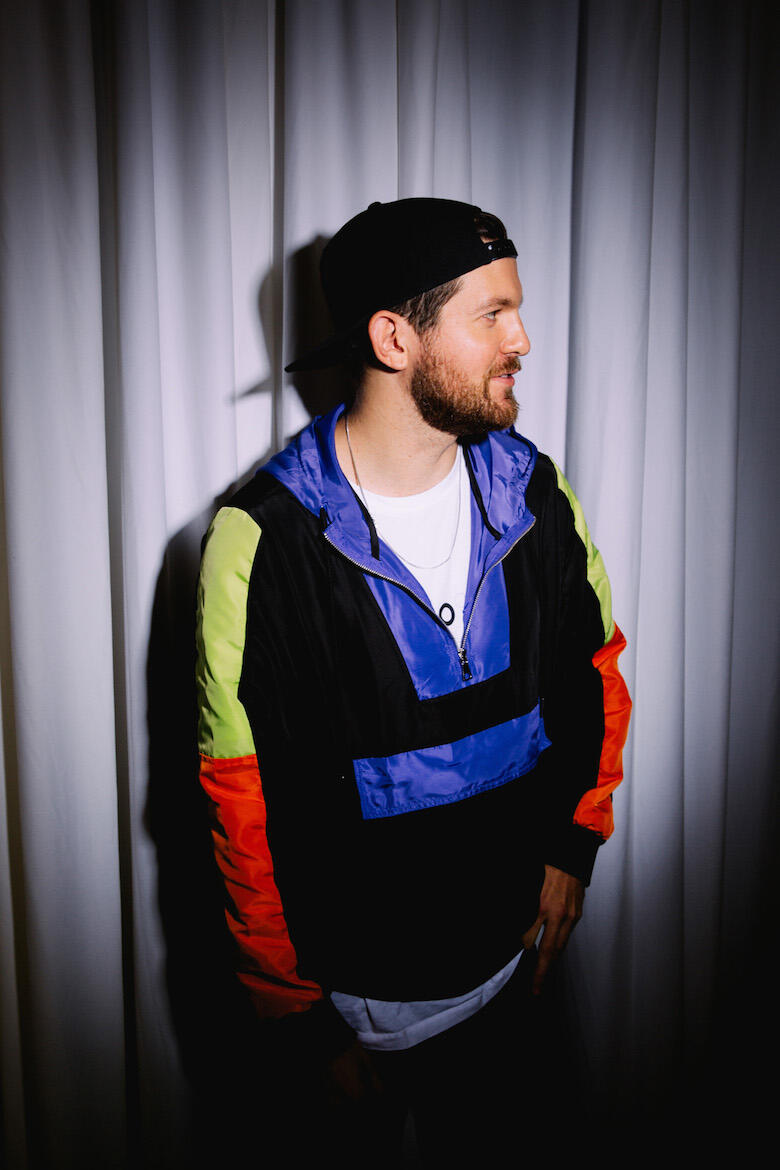 Chat About INTERVIEW: Dillon Francis Talks 'Hello There' Video Characters & New Album