Fall Out Boy's Jingle Ball Set Had Twitter Exploding With Nostalgia
By James Dinh
December 9, 2017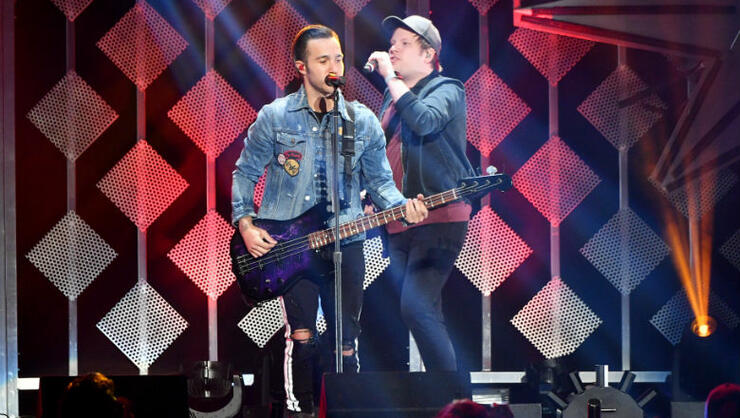 Fall Out Boy repped for the alt-pop genre on Friday night (December 8) when the band took to Madison Square Garden for Z100's Jingle Ball, reminding the sold-out crowd that they do indeed still rock an audience similar to their early 2000s debut years and Twitter could definitely feel nostalgia.
Following Logic's speedy set, which saw the rapper cut his set short to show some love to a 13-year-old girl in the audience, the four-piece band worked in some of their biggest hits in just 15 minutes.
Kicking things off with their 2014 hit, "Centuries," Patrick Stump, Joe Trohman, Pete Wentz and Andy Hurley rocked the crowd as the stage illuminated with flashing lights. Soon enough, they worked in smashes like "Hold Me Tight or Don't," "My Songs Know What You Did In The Dark (Light Em Up)" and "Uma Thurman." As you might have expected, the set resonated well with Twitter, prompting the audience to feel incredibly emo and nostalgic. Take a look at some of the best fan responses below!
FALL OUT BOY IS HERE STOP EVERYTHING MY 13 YEAR OLD EMO SELF IS THRIVING

— Ana Vanessa (@MsAnaVanessa) December 9, 2017
.@lleeeeah and I just took tequila shots before Fall Out Boy at jingle ball....... someone tell 13 year old me it all works out in the end

— julie lewis (@julielewisNYC) December 9, 2017
FALL OUT BOY IS NEXT IVE WAITED MY ENTIRE LIFE FOR THIS

— ✨isabelle//TODAY✨ (@ilebowitz77) December 9, 2017
Fall out boy is coming on and if they don't make me feel like I️m 15 again i will be upset. UPSET.

— MeggyWithTheGoodHair (@sheridannx0) December 9, 2017
watching fall out boy perform makes me feel like i need to destroy my jeans and put on 15 flannels

— ibby (@koldbmoc) December 9, 2017
If you missed out on all the action, consider this your holiday gift. You'll be able to relive even more Jingle Ball action on The CW during a special 90-minute broadcast on December 14th and 25th at 8 p.m. ET/PT -- so put on your Santa hats, grab some gingerbread cookies, and tune in!