Slash Describes 'Cathartic' Reunion with Axl Rose
By Andrew Magnotta
January 2, 2018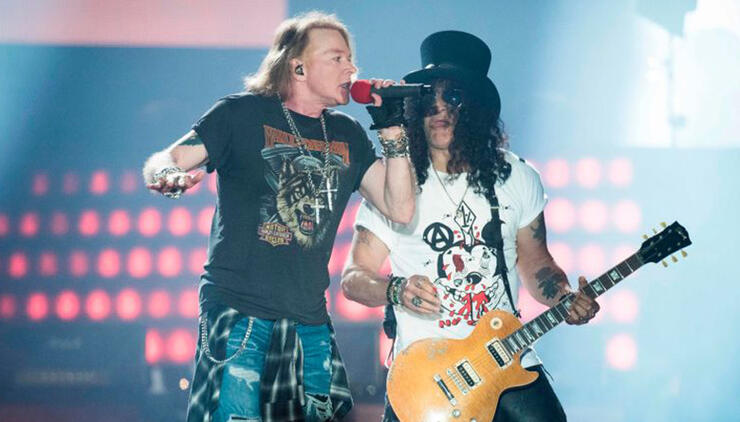 Slash quit Guns N' Roses in 1996 and didn't talk to Axl Rose until a phone conversation, followed by a private in-person meeting in 2015.
The GNR guitarist tells Nikki Sixx on Sixx Sense that he was touring in Peru in 2015 when he and Rose broke the ice and spoke on the phone for the first time in nearly two decades; the two agreed to meet in person next time they were in the same town.
"It was very cathartic to physically talk," Slash said of the meeting. "'Cause there's a bond that you have that's never [broken], and then what happens is the bond makes the negative side of that much worse, because you're forced out of it.
The guitarist acknowledged the personal nature of the GNR breakup and the loads of "bad feelings."
But he said that just like music attracted the members of Guns N' Roses to one another in the '80s, it brought he and Duff McKagan back into the band in 2016.
"There was so much stuff perpetuated in the media, and it was just blown out of proportion. So when he and I talked for the first time, it was really, really cool."
Slash went on to describe the "very surreal" first reunion performance with Rose and McKagan, adding that he didn't think it was going to happen until two months beforehand, and he's grateful that it did.
"...[It] was f---ing awesome," he said. "There were these moments on stage where you sort of take stock of where you are at the moment and go, 'Wow, this is a trip.' … There was something about this particular tour that didn't take me back to the last tour in the '90s … it was completely unique in its own new thing. Same guys, same songs – but a whole different experience."
Listen to the whole conversation below.
Photo: Getty Images
Chat About Slash Describes 'Cathartic' Reunion with Axl Rose