A Perfect Circle Is "Tidying Up" New Album
By Andrew Magnotta
January 9, 2018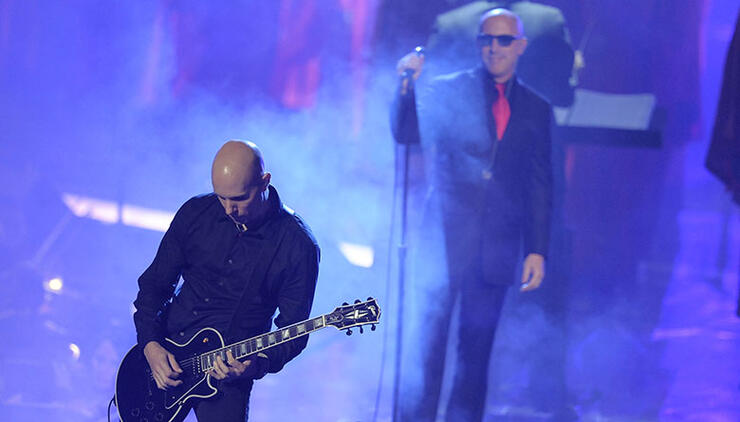 It will be only a matter of weeks until A Perfect Circle is finished recording the band's new album.
The band has released two new songs since October and guitarist Billy Howerdel says the completion of the band's first new album since 2004 is at hand.
Howerdel told "2 Hours with Matt Pinfield" that he's got some more work to do on the music, while vocalist Maynard James Keenan completes composing vocals.
"I'd say in the next several weeks we will be done with this record," Howerdel says. "We are certainly past the halfway point and I'd say Maynard's probably further along than I am musically. At least with the finished tracks. The songs are there but there's tidying up to do there on some stuff there."
"Several weeks" coupled with merely "past the halfway point" is a claim that may be unsatisfactory for a lot of APC fans, especially given the amount of time since the band released an album of all original material, 2003's Thirteenth Step.
But take heart, fans, it's still not entirely clear how long Howerdel and Keenan have been working on the album, and it does seem like they are actively writing and recording at the moment.
A week ago, A Perfect Circle released a second single from the forthcoming album, titled "Disillusioned." The song appears to address humankind's obsession with technology and social media, which is awfully timely considering recent uproar over APC's no photo or video policy at its shows.
"Disillusioned" joined lead single "The Doomed," which was released in October.
A limited edition 10-inch containing both songs is due out March 9.
You can listen to both songs below.
2018 is shaping up to be a busy year for Keenan, since members of his other band, Tool, have also promised that their new album will come out this year.
Maynard will need to hire some more people to help him make wine if he's going to do all this touring!
Photo: Getty Images
Chat About A Perfect Circle Is "Tidying Up" New Album