7 of Glenn Frey's Best Songs
By Andrew Magnotta
January 18, 2018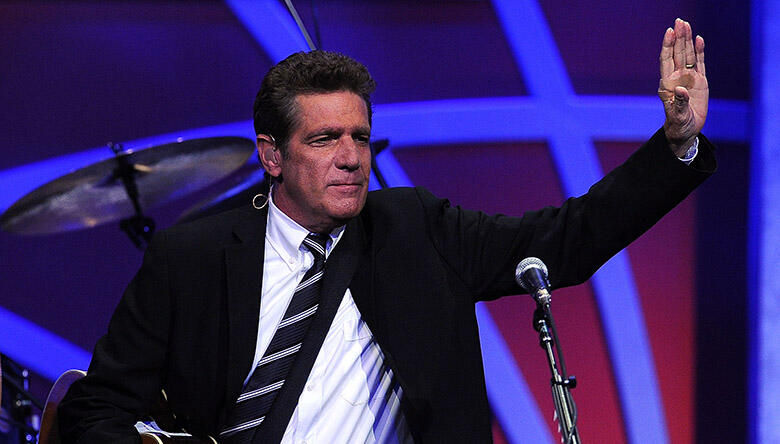 On January 18, 2016, Eagles singer, guitarist and keyboardist Glenn Frey died in New York City at age 67.
Frey was one of the Eagles' primary songwriters and, by extension, co-authored some of the biggest hits songs in the history of popular music.
While Frey's fellow Eagles co-founder Don Henley emerged later in the band's career as its primary vocalist (and mouthpiece)—and had by far the most successful career as a solo artist—Frey's contributions to the band as a co-founder, songwriter and multi-instrumentalist were essential to its unprecedented success.
Frey grew up in Michigan and began learning about recording and the music business through a fellow Rock and Roll and Songwriters Hall of Famer Bob Seger. Seger allowed the young Frey to shadow his studio sessions and eventually helped Frey get a management and recording contract.
When Frey later moved to Los Angeles, he met Henley, along with longtime Eagles collaborators J.D. Souther and Jackson Browne. Henley and Frey formed the Eagles and the rest was hits and history.
In memory of Frey, let's take a look and a listen to some of his best songs.
1. "Take It Easy"
The Eagles first hit single, "Take It Easy," was written by Frey and Browne, with Frey singing lead vocals. It peaked at #12 on the Hot 100 and is one of the band's signature songs, even today when it's sung by Frey's son Deacon.
2. "Tequila Sunrise"
The Eagles were so successful that their 'sophomore slump' album, Desperado, produced two Top 100 singles, "Tequila Sunrise" and "Outlaw Man," and went gold less than a year-and-a-half after its release.
3. "Desperado"
The Eagles didn't even release "Desperado" as a single on the album Desperado—which was certified double platinum in 2001—and it's still considered one of the greatest songs ever. Rolling Stone included the tune on its 500 Greatest Songs of All-Time list.
While Henley sings lead on the song "Desperado," he says Frey "brought the structure" to the song and filled it out. He says co-writing "Desperado" with Frey was the beginning of the duo's songwriting partnership.
4. "One of These Nights"
For the Eagles' fourth album, Henley and Frey wanted to take on a more rock 'n' roll approach and get away from the country ballads for which the band was so well-known. Part of this process included added guitarist Don Felder to the group for his rock 'n' roll and lead guitar credibility.
Frey said in the liners notes of the The Very Best Of album that Henley's voice allowed the pair to take bigger chances with the band's sound. And it worked out, since the song hit #1 in 1975.
5. "Lyin' Eyes"
Another one of the Eagles' signature country-influenced ballads, "Lyin' Eyes" showcased the dichotomy of which the band was capable beginning on the One of These Nights album.
"Lyin' Eyes" was sung and mostly written over about two days by Frey, who was inspired after a night out with Henley at a bar known to be frequented by wealthy people cheating on their spouses. Looking at one woman, Frey remarked "She can't even hide those lyin' eyes."
6. "You Belong to the City"
Since we mentioned how Frey's solo career is often overshadowed by Henley's, we'd be remiss without mentioning that Frey was indeed a powerhouse as a solo artist. While Henley concentrated on music throughout the Eagles' hiatus in the '80s, Frey made a name for himself as an actor as well as a solo artist during that period.
Co-written by Frey and Jack Tempchin, "You Belong to the City" peaked at #2 on the pop charts, and would have given Frey a #1 pop hit were it not for Starship's "We Built This City."
Nevertheless, "You Belong to the City" hit #1 on the rock charts (even though it's not a rock song at all) and helped the Miami Vice soundtrack album stay at #1 for 11 weeks, making it the #1 album of 1985.
7. "Heartache Tonight"
In a career of huge hits, "Heartache Tonight" was one of the Eagles' biggest hits with its equal rock and country appeal.
Lead vocals on the song are sung by Frey, and the writing of the song was a collaboration between Frey, Henley, Seger and Souther. Frey said the song contained "no heavy lyrics" and was intended to be more of "a romp." It was the Eagles' last song to hit #1.
Chat About 7 of Glenn Frey's Best Songs