Steve Vai Reveals One Rock Guitarist He'd Take Lessons From
By Andrew Magnotta
January 25, 2018
Steve Vai is a guitar god who has inspired generations of players with his technical mastery and compositional virtuosity.
After making a name for himself as Frank Zappa's wunderkind sideman in the early '80s, Vai raised his profile as the lead guitarist for David Lee Roth's hit solo band and then cemented his legend as one of the first rock guitarists to produce a hit instrumental solo album.
Vai made strides on the electric guitar much like Jimi Hendrix or Eddie Van Halen before him, and he's one of the instrument's most respected ambassadors. So when he says there's another player or two out there who blows his mind, he has no reason to exaggerate.
This past fall, Vai was asked by Nikki Sixx whether there was any guitarist out there from whom he'd take lessons.
Vai's answer: Animals As Leaders guitarist Tosin Abasi.
Go to about the 24-minute mark in the video above to see the exchange.
Abasi's name alone is enough to strike fear in the hearts of the most capable shredders out there. Vai says Abasi's style is unlike any player in rock or prog or heavy metal today, and there's a lot he could learn from him.
"He was on tour with me in Generation Axe, and he's got some stuff going on that just contemporary alien," Vai said of Abasi, shaking his head while describing him. "His whole approach to rhythm, man...I mean, it's not anything that I've heard."
"When I listen to Tosin's stuff, I'm like, 'What are you doing? What is that?'" Vai continued. "And he goes, 'Well it's just in 4/4 and I don't know, I'm just playing.' So it's something inside of him, you know?"
There are other contemporary guitarists, of course, who have inspired Vai. He also named blues/jazz fusion guitarist Scott Henderson as an example, and he said musicians can always learn from one another.
"Everybody has a certain a particular ear," Vai said. "And they hear things a certain way, and some times I'm fascinated by it. Well, like, Scott Henderson. This is like outside kind of stuff. Just his ear on the guitar is a little bizarre in a way."
But even with Henderson, Vai says the session "wouldn't be a lesson" but more of an exchange of ideas.
Vai says he's keeping as busy as ever, whether he's touring, recording, mixing or teaching. No matter what he's doing, the man who invented a program called the "30 Hours Guitar Workout," says he always makes time for practice.
"So I've got all these projects, but whatever I'm doing, I always try to take an hour every night before bed and just play. I lock the door, turn off the phone and everything and just play."
Vai also talks about his introduction to the guitar, how he comes up with ideas and what some of his favorite musical memories are.
Go here to find out what Vai is doing next.
Learn more about Tosin Abasi here.
Get Scott Henderson's tour dates here.
Photo: Getty Images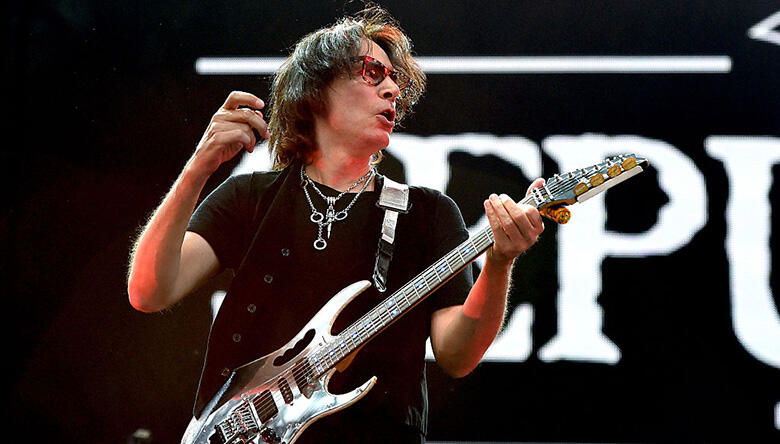 Chat About Steve Vai Reveals One Rock Guitarist He'd Take Lessons From