Three Days Grace Debuts New Single "The Mountain" from New Album 'Outsider'
By Nicole Mastrogiannis
January 25, 2018
Over the last week, Three Days Grace has been sharing cryptic inspirational messages of "climbing" and perseverance to reach your goals. Now, the guys have dropped their brand new single, appropriately titled, "The Mountain" -- the first single from their upcoming new album Outsider.
In "The Mountain," the band sings, "I'm still surviving, keep climbing, keep climbing the mountain." TDG's drummer Neil Sanderson says of the song, "You wake up every day in a monotonous situation and resent what's ahead. You're intimidated. However, you don't have a choice but to put your boots on and face it, because there is no other option. It's emotionally charged. A lot of this music is about yearning to escape, yet not knowing what's on the other side. You can't take your life, so you decide to make the jump into the unknown."
Meanwhile, the band's lead vocalist Matt Waist says, "It comes down to surviving every day and just not giving up. You can't allow the bad thoughts to take over. We all go through trials and tribulations. The key is to keep going."
Outsider is Three Days Grace's sixth full-length studio album, and follows 2015's Human. The guys gathered to initially write this new album in a converted garage behind Brad's house, two hours from Toronto. Then, the band used Neil's 90-acre farm to flesh out their ideas, using daytime snowmobile trips and acoustic guitar laden bonfires to fuel their songwriting. Eventually the band recorded their new album in Ontario at Jukasa Studios with producers Gavin Brown and Howard Benson.
The band's Brad Waist says of the album, "To me, Outsider represents the journey to find your place. The world feels crazy at times. We try to get away from that every once in a while. We do our own thing, and we're comfortable doing it. We have always looked forward—and not backwards. That's an ongoing theme for us here."
In fact, Neil echoed, "It's what we've done in many ways by being on the outside. This is all about taking a step back from life's madness without destroying yourself, cutting everyone off, or going crazy. You get a break and find the space to create."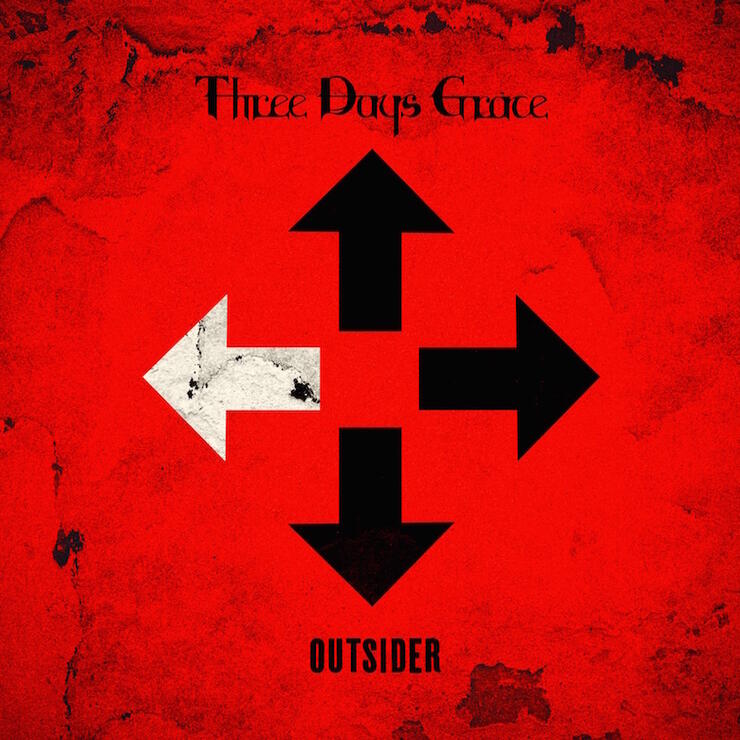 The band also explains that they were inspired by 1987 film Lost Boys and its score. TDG's lead guitarist Barry Stock says of the movie, "We really love the movie Lost Boys and its score. The whole thing has this dark, spacey, and eerie vibe. Those dudes were vampires and definitely outsiders!"
"I've always loved darker industrial music," Neil elaborates. "I devoted a lot of time to those sounds and finding ways to integrate them. It was using these elements to create dynamic in the songs and not just overlaying them. You'll hear moments where the keyboards or wide synth sounds are featured. Then, the guitar hits you in the chest. It made everything more interesting."
Chat About Three Days Grace Debuts New Single "The Mountain" from New Album 'Outsider'