Lynyrd Skynyrd Might Reconsider Retirement After Farewell Tour
By Andrew Magnotta
January 29, 2018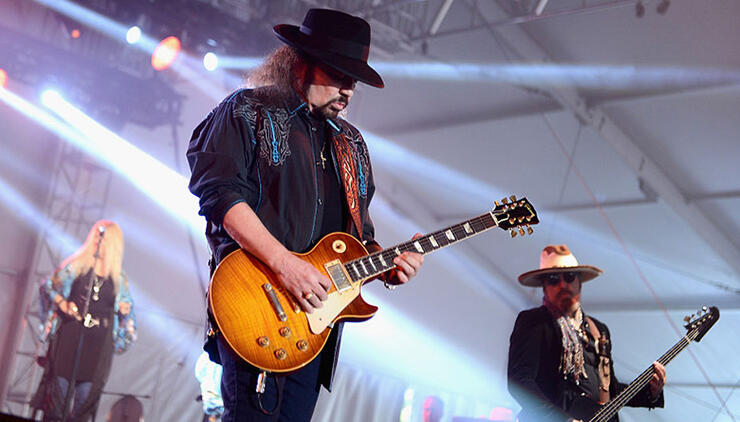 Lynyrd Skynyrd guitarist Gary Rossington says the band isn't planning on a formal retirement after it completes its upcoming farewell tour.
Rossington says The Last of the Street Survivors Farewell Tour will go on for more than a year. The conclusion of the tour will mark the end of the band taking on lengthy touring commitments, but perhaps not the end of Lynyrd Skynyrd playing live.
"We're just winding it down a little bit," he told Billboard in a recent interview. "We'll be doing this a while longer."
Rossington—the only remaining founding band member—says he and his bandmates have struggled with health issues in recent year. He adds that it's also been difficult to balance family obligations while maintaining the quality Skynyrd brand.
"We've been doing this a long time and we're getting older, and it's really hard touring and traveling," he said. "My health isn't very great, so it's harder for me to tour these days, and everyone's got kids and families and grandkids now. So we're just gonna kick back a little bit because of our age…I just want to go out on a high note and make sure the band's name stays in high regard, instead of going out and playing fairs and casinos and things like that. I want to live it still filling arenas and sheds, like we still can."
He acknowledges that there's a chance Skynyrd might reconsider the farewell tour, comparing it to how the Eagles retired "for a year or two" and then came back.
"It's just in your blood, y'know?" Rossington said. "So I don't know if it's really ever gonna end. … Even if the touring ends we'll still do special shows and special guest things here and there with the whole band."
Lynyrd Skynyrd announced the farewell tour late last week.
"After a career that has spanned more than 40 years and includes a catalog of more than 60 albums, Southern rock icons, Lynyrd Skynyrd, will embark on its final Last of the Street Survivors Farewell Tour," a press statement read.
It continues: "The first leg of the career- concluding tour, produced by Live Nation, will kick off Friday, May 4 in West Palm Beach, FL at the Coral Sky Amphitheatre and will wrap Saturday, September 1 in Atlanta, GA at the Cellairis Amphitheatre at Lakewood. The tour will cross the country throughout the summer over Fridays and Saturdays to give fans one last memorable night of classic American rock-and-roll."
The Rock and Roll Hall of Famers will also have Kid Rock, Hank Williams Jr., Bad Company, the Marshall Tucker Band and 38 Special join as special guests.
The Jacksonville, Florida music pioneers formed in 1964 and are most known for rock radio staples like "Free Bird," ''Sweet Home Alabama" and "Simple Man."
Tickets will go on sale on Feb. 2nd.
Photo: Getty Images
Chat About Lynyrd Skynyrd Might Reconsider Retirement After Farewell Tour