Alice Cooper Guitarist Is First Woman With Ibanez Signature Guitar
By Andrew Magnotta
January 31, 2018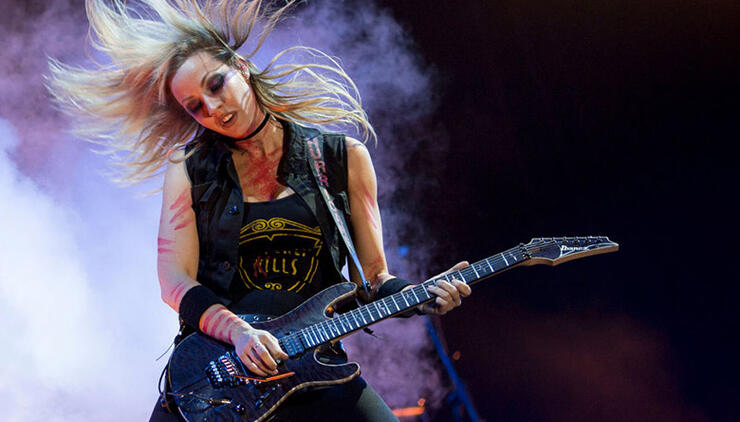 Alice Cooper guitarist Nita Strauss has made history as the first-ever women with her own Ibanez signature guitar.
"After years of dreaming, hoping and working, followed by months of planning and preparation, I am honored and proud to introduce my signature guitar, the Ibanez JIVA," Strauss wrote in a Facebook post announcing the milestone.
The new guitar was unveiled at last week's NAMM convention in Los Angeles. The Ibanez JIVA will be sold worldwide and comes setup to L.A.-based shredder's exact specifications, including the guitarist's own signature DiMarzio pickups, which she designed herself.
While Strauss has been playing lead guitar for Cooper since 2014, she's been endorsed by Ibanez since 2008 while she was a member of the all-female Iron Maiden tribute band The Iron Maidens, the neo-classical "video game tribute" collective Critical Hit and her thrash metal band We Start Wars.
The release of the Ibanez JIVA marks Strauss' 10-year anniversary with the company. Strauss was also the first woman on Ibanez' USA artist roster.
She cites Marty Friedman, Shawn Lane and Steve Vai as her biggest influences.
"Vai was my biggest inspiration," Strauss told Nikki Sixx on his web series "My Favorite Riff" last fall. "And I get to play his solo on 'Feed My Frankenstein' every night with Alice."
Check that out below.
Strauss made a brief appearance at NAMM to show off her guitar. She encouraged her fans to try it themselves at the Ibanez booth, writing that the JIVA on display there is the exact one she'll be taking on tour in March with Alice Cooper.
Get all the tour dates here.
Follow Nita Strauss on Facebook, Twitter and Instagram.
Thumbnail Photo: Getty Images