Gene Simmons Explains 'Self-Esteem' Issues, Cocky Attitude
By Andrew Magnotta
February 2, 2018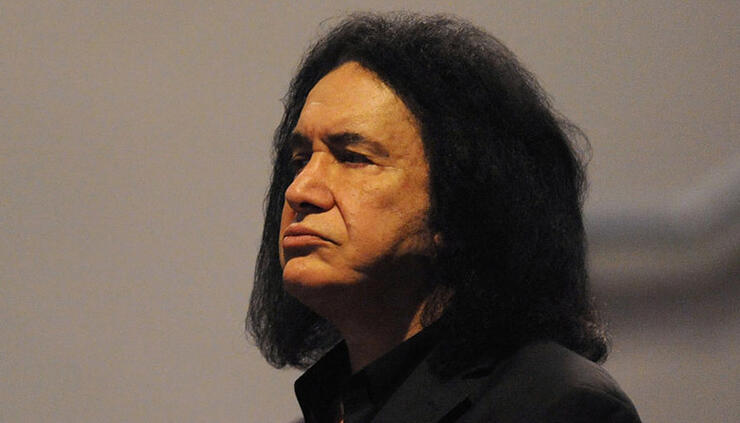 Gene Simmons says his famous "cocky and self-serving" attitude is mostly the result of being an only child and immigrating to America as a child who knew no English.
The KISS bassist has rarely if ever appeared short on confidence over the years. He explained in a new interview that that persona is very much intentional.
"I'm an only child, so maybe that helps me in my being the ultimate fan of me," Simmons told the "Three Sides of the Coin" podcast. "I know that sometimes sounds cocky and self-serving and stuff like that, but that's really the only way I was able to overcome any kind of problems I had coming to America, not being able to speak English, just feeling like an outsider."
Simmons continued, relating his fake-it-till-you-make it approach to his career.
"Even if you're not really comfortable with yourself or have some self-esteem issues, bluff," he said. "Pretend. That's what I did."
Always one to speak his mind, Simmons confirmed what many fans already assumed: there's no bigger Gene Simmons/KISS collector than himself.
"I spent a lot of time on my own and I collected everything about me. As soon as I had the good fortune of having a decent report card, I'd save it. If I got my first guitar, I'd save it. I haven't thrown away anything."
Part of that hoarders mentality is why Simmons has 'The Vault' in the first place.
The bassist says he began teaching himself guitar after he saw The Beatles on The Ed Sullivan Show in 1964, and began writing songs two years later.
He's written hundreds of songs since 1966 and kept them all "...some of them [are] good, some of them not-so-good. Some wound up on KISS records; the vast majority didn't, because some of them didn't even sound like KISS."
The Vault is Simmons' "ultimate box set" time capsule on his 50-plus years in music. It contains 167 never-before-released songs and demo versions, including the first song Simmons ever wrote, "My Uncle Is a Raft."
"There are also three tunes I wrote with Bob Dylan — or, more specifically, Bob Dylan wrote with me — and three Van Halen/Gene Simmons songs; Joe Perry—all the KISS guys appear on many of the songs. A lot of the stuff, I wind up playing all the instruments, because I couldn't find somebody to play drums or guitar. For me, it's a journey. I don't know how many people are interested, but I have to get this out. "
You can get more information on The Vault and the Vault Experiences Simmons has been doing here.
Photo: Getty Images