AC/DC Biographer Says Band "Will Continue" With Axl Rose
By Andrew Magnotta
February 5, 2018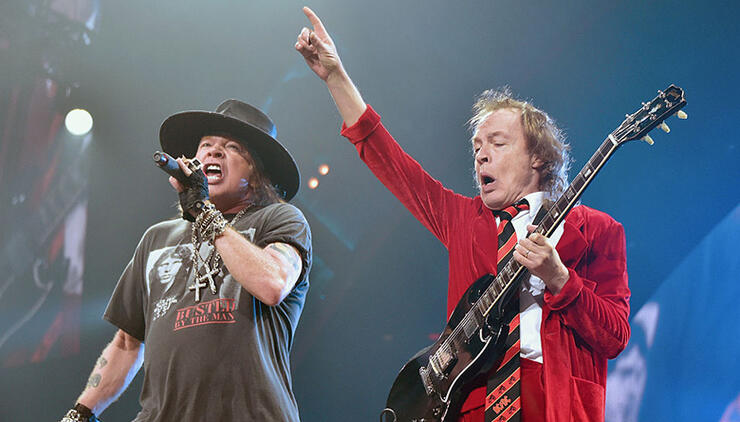 AC/DC biographer Murray Engleheart says the legendary Australian rock band has plans to continue on with Axl Rose as its frontman.
Engleheart says AC/DC's lead guitarist and lone remaining co-founder, Angus Young, intends to tour again with Rose and even record new music with the Guns N' Roses singer.
"Speculate all you want but I've said it before and I'll say it again: AC/DC will continue with Axl on vocals — new album, touring, the whole nine yards," said Engleheart in a Facebook post. "What was a massive gamble by Angus turned out to be an equally enormous triumph that has set the scene for the future."
A respected Australian rock journalist, Engleheart is co-author of the bestselling 2006 AC/DC biography, AC-DC Maximum Rock and Roll: The Ultimate Story of the World's Greatest Rock and Roll Band, and 2010's story of Australian hard rock, Blood, Sweat and Beers.
Consequence of Sound points out that Engleheart isn't the only journalist staking his reputation on rumors that AC/DC isn't yet retired.
In 2016, Brazlian journalist Jose Norberto Flesch wrote that Young was determined to continue AC/DC, even after the impending retirement of longtime bassist Cliff Williams, which occurred at the end of AC/DC's Rock or Bust World Tour (the first with Rose on lead vocals).
"Axl and Angus are also rumored to want to record new AC/DC material following Guns N' Roses' 'Not In This Lifetime' world tour," Flesch wrote at the time.
Young's older brother and fellow AC/DC co-founder Malcolm Young passed away in November, after having retired in 2014 due to early-onset dementia.
Longtime AC/DC frontman Brian Johnson parted ways with the band in early 2016 due to hearing damage issues. Johnson said his hearing loss was so bad that he wasn't able to hear the guitars onstage and that he was performing on "muscle memory" by the end of his 36 years with the band.
The renewed speculation is sure to upset plenty of diehard AC/DC fans, many of whom demanded refunds after it was announced that the group was moving on without Johnson.
Photo: Getty Images
Chat About AC/DC Biographer Says Band "Will Continue" With Axl Rose