Joe Perry Reveals Aerosmith Used Group Therapy to Stay Together
By Andrew Magnotta
February 6, 2018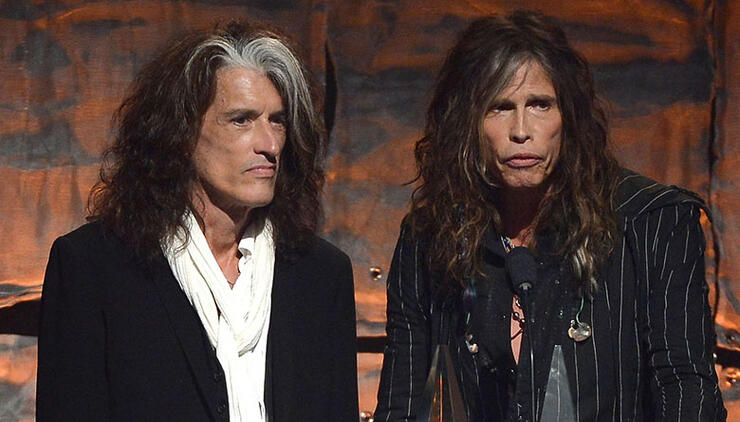 Aerosmith's recent productivity on tour and in the studio may have appeared seamless to fans, but guitarist Joe Perry says it hasn't been as easy as it looked.
Perry and frontman Steven Tyler were known as the "Toxic Twins" for a multitude of reasons, one being their often contentious relationship.
The guitarist told Yahoo! News that the band has "used every tool available to man to figure out how to get along." He says that includes that type of group counseling that Metallica documented in their 2004 documentary Some Kind of Monster.
"That Metallica thing that they did, it was pretty cool that they filmed it and all that, but that was like old news for us at that point," he said, adding that the band has employed "professional help" for years to keep it together.
"We were kids, had this idea to do this, and living in an apartment together," he recalled. "You grow up, you know. You have relationships, marriages, kids, so everybody's interests started to spread out, but the vision of doing the band, we still feel that. But sometimes it's really hard to reconcile people's differences, so sometimes you're going to talk to somebody."
Fortunately, everyone in Aerosmith has been getting along well for the past eight or so years. Perry says the band could write a book, based on all they've learned in therapy.
In the same interview, Perry also said he hopes Aerosmith can put out some more new music.
"Steven Tyler and I have talked about it in general, because we both have things going on," Perry said. "But I think there's some time we'll carve in there to get together. Even if it's a couple of songs, it would be good to get something new out, so we'll see."
The band has openly toyed with retirement over the past couple of years—its most recent tour was called The Aero-Vederci Baby! Tour.
Perry said earlier this month that he hopes the band can do another album before it calls it quits.
Guitarist Brad Whitford said late last year that during that the band spent a recent trip to London in a studio working on a "very rock 'n' roll" new song.
Aerosmith's last studio album was 2012's Music From Another Dimension!, which was a commercial disappointment for the band.
Meanwhile, Perry just released a new solo album, Sweetzerland Manifesto in January.
Get more information here.
Photo: Getty Images