Former Smashing Pumpkins Bassist Says Corgan Lied About Reunion
By Andrew Magnotta
February 12, 2018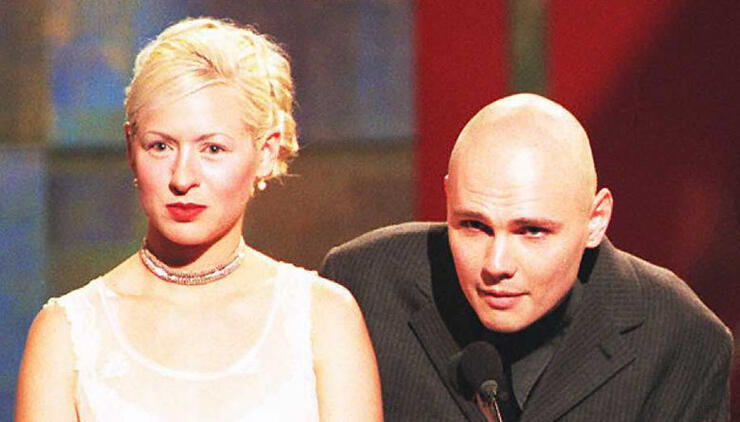 While Smashing Pumpkins is teasing a big announcement this Thursday, former bassist D'Arcy Wretzky has made one of her own: Billy Corgan is a liar.
Earlier this year, Wretzky broke the news to her fans that she will not be involved in the 3/4ths reunion of the Smashing Pumpkins' original lineup.
Now, she's saying Corgan has been lying to her about her potential involvement in a reunion for months, presumably to exclude her from it.
Wretzky reportedly shared a string of text messages between her and Corgan to Blast Echo, and they do not reflect well on Corgan, based on the frequent Pumpkins-related teases the frontman has been issuing for the past two-or-so months.
In one text purportedly from mid-January, Corgan tells Wretzky that the recording sessions this winter included only himself, original drummer Jimmy Chamberlain and guitarist Jeff Shroeder (who joined the band in 2007).
Corgan apparently told Wretzky that guitarist James Iha was focusing on another project.
Of course, later in January, Corgan sent Pumpkins fans into a frenzy when he posted a photo on Instagram of Iha and Chamberlain in studio with him, apparently contradicting what he had told his former bassist.
When it was revealed that Smashing Pumpkins was working with all-star producer Rick Rubin, Corgan told Wretzky the producer was only working on one song.
Later, Corgan revealed via Instagram (again) that the band had "26 songs currently in various states of production."
Wretzky said she and the other members of the original lineup agreed to reform months ago, but Corgan later told her that their conversation on the subject "wasn't a real offer."
She says she was told the plan was to record one new song and then tour this summer.
Asked via Facebook why Corgan might not want her as part of the upcoming reunion, Wretzky replied, "that is a whole other can of worms and a big, ugly one".
Wretzky accused Corgan of "manipulating" fans and his former bandmates and then directed her anger at Chamberlain, whom she says abandoned her after decades of friendship.
"I am totally disgusted with James," she said. "He should be ashamed of himself."
Meanwhile, a countdown clock on Smashing Pumpkins' website expires Thursday. Fans are speculating it will coincide with the release of a new song.
Photo: Getty Images
Chat About Former Smashing Pumpkins Bassist Says Corgan Lied About Reunion