11 Times Ed Sheeran Nailed The Love Song
By Nicole Mastrogiannis
February 13, 2018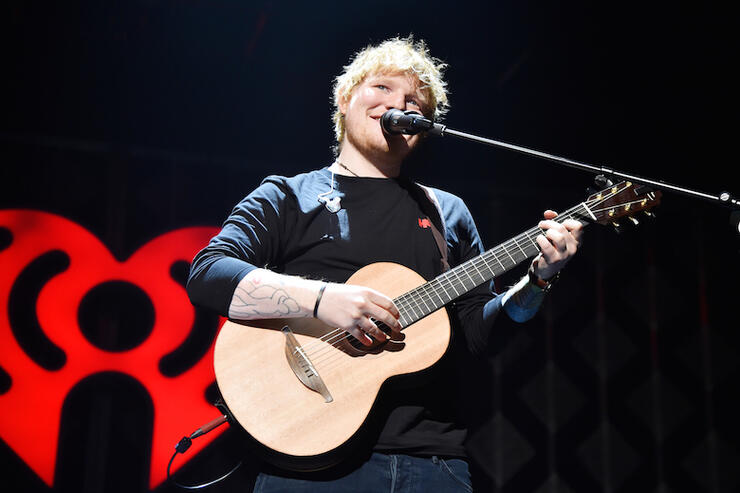 Ed Sheeran has mastered the love song, and it's no secret that he has a way with lyrics. Just recently, the world received "Perfect," which -- like its title -- is basically the most perfect wedding song. But, hey, it was inspired by Sheeran's real life now-fiancé Cherry Seaborn, after all.
And before "Perfect," it was 2014's wedding song of the year, "Thinking Out Loud," preceded by a number of great love songs like "Photograph," "Lego House," "Tenerife Sea" ... even a making-out-of-the-friend-zone-alive duet with Taylor Swift.
Throughout all three of his albums, Ed has captured the hearts of everyone with his heartfelt songs and their dreamy, romantic lyrics. All of these songs are filled with lyrics you can easily put on those sweet candy hearts. So, to celebrate Valentine's Day, especially if you have someone special in your life, here are 11 of Ed Sheeran's most romantic love songs and some of his most romantic lyrics.
1. "Perfect"
Most Romantic Lyrics: EVERY SINGLE WORD IN THIS SONG. But this is also pretty nice: "But darling, just kiss me slow, your heart is all I own."
2. "Thinking Out Loud"
Most Romantic Lyrics: "But baby now/Take me into your loving arms/Kiss me under the light of a thousand stars."
3. "Tenerife Sea"
Most Romantic Lyrics: "And should this be the last thing I see/I want you to know it's enough for me/'Cause all that you are is all that I'll ever need/I'm so in love, so in love."
4. "Photograph"
Most Romantic Lyrics: "So you can keep me/Inside the pocket of your ripped jeans/Holding me closer 'til our eyes meet/You won't ever be alone."
5. "Lego House"
Most Romantic Lyrics: "My three words have two meanings/There's one thing on my mind, it's all for you."
6. "Kiss Me"
Most Romantic Lyrics: "And your heart's against my chest/Your lips pressed to my neck/I'm falling for your eyes/But they don't know me yet/And with a feeling I'll forget, I'm in love now."
7. "One"
Most Romantic Lyrics: "Take my hand and my/Heart and soul, I will/Only have these eyes for you."
8. "Cold Coffee"
Most Romantic Lyrics: "She'll make me shiver without warning/And make me laugh as if I'm in on the joke/And you can stay with me forever/Or you could stay with me for now."
9. "Fall"
Most Romantic Lyrics: "If I fall for you/Would you fall too?"
10. Sheeran - "Sofa"
Most Romantic Lyrics: "We can go where you want/Say the word and I'll take ya/But I'd rather stay on the sofa/On the sofa, with you."
11. Taylor Swift + Ed Sheeran - "Everything Has Changed"
Most Romantic Lyric: "You'll be mine and I'll be yours."
Chat About 11 Times Ed Sheeran Nailed The Love Song