Stone Temple Pilots Look Ahead To The Future With 'The Art Of Letting Go'
By Sam Valorose
February 20, 2018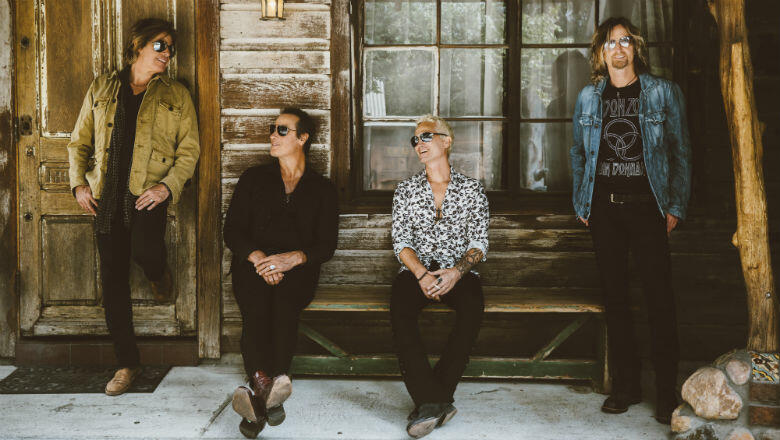 "I could never take the role of Scott. I can only take the role of me," Jeff Gutt, the new vocalist for Stone Temple Pilots, told us when asked about the mammoth feat of filling the shoes for one of the most iconic singers in rock, Scott Weiland. The group has had to come to terms with change many times throughout their career and tackle the issue head-on with the introspective ballad, "The Art Of Letting Go." After dealing with two major traumas due to the death of vocalists Scott Weiland in 2015 and Chester Bennington in 2017, the band appears to have healed and are looking ahead to the future with new recruit Jeff Gutt.
"The Art Of Letting Go" is the third track released off their upcoming LP, Stone Temple Pilots, due March 16th, and follows their two other songs with Gutt, the thundering "Meadow" and "Roll Me Under."
A departure from the break-neck tempo of "Meadow" and "Roll Me Under," the slower pace of "The Art Of Letting Go" shows Gutt's vocal range on full display over a melancholy guitar lead from Dean DeLeo. Coming to terms with the realization that a relationship has ended, Gutt's lyrics soar as he sings, "I may be setting myself up to have to walk the streets alone for letting go." Listen below.
Gutt, who is known for his appearances on Fox's The X-Factor, where the singer finished in second place in 2013, was not part of STP's original auditions for a new singer and was instead recommended to bassist Robert DeLeo. "I was incredibly proud and honored that they chose and trusted in me," Gutt told iHeartRadio when asked how he felt when he first got the call to audition. "I came in at the end of their search. It was a process of us becoming comfortable with each other and getting to know each other," he continued. "It was just as much about relationships as what I can bring to the table. Things like that take time and are important."
The 41-year-old Michigan native also credited Stone Temple Pilots with inspiring him to be a vocalist. "While I have many influences, I was 16 when Core came out. That's when I started singing instead of being the guitar player," he said. While joining a group of such accomplished musicians may be overwhelming, Gutt recounted how his new bandmates brought him into the fold. "I was pretty much comfortable with them from the first time they came up to me to say, "Hello". Even though seeing them in person for the first time was a little strange."
Once the group felt confident in their pick with Gutt, it was time to hit the studio and the new recruit had some big shoes to fill. "It's the most rewarding record I've ever been a part of because it came together so organically. And they're very, very good," Gutt said asked about recording the new LP with his new bandmates. "In the writing process, we were still getting to know each other," he continued. "The music happened very naturally."
Stone Temple Pilots appear to be firing on all cylinders and will embark on a North American Tour following the release of the new LP. "It's gonna be STP, man," Gutt added when asked to preview the outing. "What can be cooler than that?"
Stone Temple Pilots' North American tour dates below:
March 2 - Santa Clarita, CA @ The Canyon
March 3 - Indio, CA @ Rhythm, Wine & Brews Experience
March 4 - San Diego, CA @ Observatory
March 8 - Pasadena, CA @ The Rose
March 9 - Las Vegas, NV @ House of Blues
March 10 - Phoenix, AZ @ Marquee
March 12 - San Francisco, CA @ Fillmore
March 13 - Sacramento, CA @ Ace of Spades
March 15 - Portland, OR @ Roseland
March 16 - Boise, ID @ Knitting Factory
March 17 - Billings, MT @ Pub Station Ballroom
April 28 - Jacksonville, FL @ Welcome to Rockville
April 29 - Fort Lauderdale, FL @ Fort Rock Festival
May 1 - Atlanta, GA @ Masquerade
May 2 - Knoxville, TN @ The Mill & Mine
May 4 - Charlotte, NC @ Carolina Rebellion
May 5 - Virginia Beach, VA @ FM99 Lunatic Luau 18
May 6 - Wallingford, CT @ The Dome at Oakdale Theatre
May 8 - Stroudsburg, PA @ Sherman Theatre
May 9 - Buffalo, NY @ Town Ballroom
May 11 - Nashville, TN @ Topgolf Live
May 13 - Somerset, WI @ Northern Invasion
May 15 - Sioux City, IA @ Anthem at Hard Rock Hotel & Casino
May 16 - Cedar Rapids, IA @ Club Five at the U.S. Cellular Center
May 17 - Peoria, IL @ WIXO "Spring Fling 2018!"
May 19 - Camden, NJ @ 93.3 WMMR Presents MMRBQ 2018
May 20 - Columbus, OH @ Rock on the Range*
May 22 - Chattanooga, TN @ The Signal
May 23 - Memphis, TN @ New Daisy Theatre
May 25 - Pryor, OK @ Rocklahoma Festival
May 27 - Wichita, KS @ Cotillion Ballroom
May 29 - Clive, IA @ 7 Flags Event Center
May 31 - Boulder, CO @ Boulder Theater
June 1 - Lincoln, NE @ Bourbon Theatre
July 14 - Oshkosh, WI @ Rock USA 2018
Chat About Stone Temple Pilots Look Ahead To The Future With 'The Art Of Letting Go'