Metallica Engineer Recalls Millions of Drum Edits on 'And Justice For All'
By Andrew Magnotta
February 23, 2018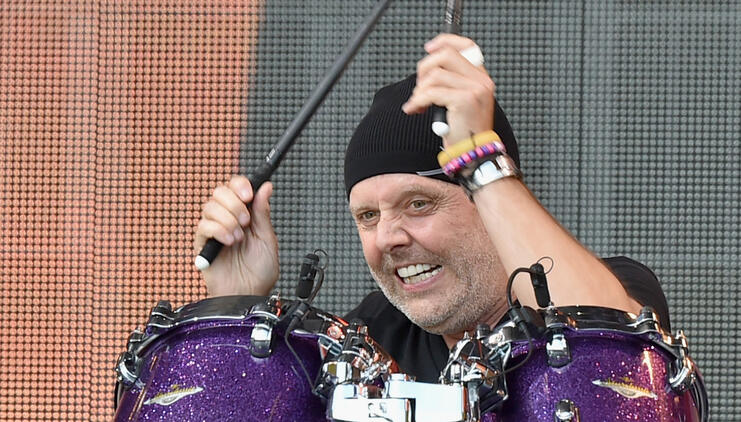 Long Island-based engineer Steve Thompson says fans hoping for 30th anniversary remix of Metallica's ...And Justice for All featuring Jason Newsted's are probably out of luck.
Thompson says even if Metallica wanted to do a remix (which he doesn't believe the band does) it's likely impossible because of the condition of the original tape.
The producer says he can't imagine the tape has held up over time because of countless edits made to Lars Ulrich's drums
"I'll tell you the truth: I don't even know if those original multi-tracks can be saved 'cause there was about 5 million edits in them from Lars Ulrich's drums alone," Thompson told Talk Toomey: The Metal Nexus Podcast with Joshua Toomey in a recent interview.
"If you had the box and opened it up, there'd probably be about 50 million pieces of tape all over the place," he said. "I have to give them credit, I mean, they lived with it this long. I've lived with most of the criticism because everybody assumes it's my fault. And I guess I have to take the blame because [it says it was] mixed by me and [Michael] Barbiero."
Listen to the entire interview below!
...And Justice for All is Metallica's first album following the tragic death of Cliff Burton, and the band's first with Newsted in the band. Newsted's bass guitar is so imperceptible in the album's mix that many fans have openly wondered if he recorded at all.
Thompson and Toby Wright, who engineered the recording sessions, both agree Newsted's bass parts were brilliant. They say it was only at Ulrich's urging that the bass guitar was mixed so low as to be inaudible.
Thompson tells Toomey he wanted to quit the project over the way Ulrich insisted they mix the bass. Thompson said he and Barbiero only completed the mix at the urging of Metallica's management.
Wright has offered to remix the album properly.
"I'd like to remix it and I'll show you exactly what was laid down on tape and then the world will be stunned, I think," Wright told the Talk Toomey podcast last year. "Keep in mind I would love to remix it. Lars [Ulrich], if you're hearing me, I'd love to remix it."
...And Justice for All's 30th anniversary is coming up in August.
Hetfield told Guitar World in February of 2017, that he doesn't feel strongly about fixing the bass on the album, calling it "a product of a certain time in life; they're snapshots of history and they're part of our story."
Newsted, to his credit, doesn't seem to care either way.
"Historically, it stands up over time. Maybe not the mix, but the songs do. And the impact that it made, the mark that it made. The mathematical part of it; how far we went with an eight-minute song with 17 time signature [changes]. Who's idea was that?"
He says fans have given him their own remixes of the album with boosted bass or re-recorded bass. While he appreciates the support, Newsted says he's fine with the way things turned out.
Photo: Getty Images
Chat About Metallica Engineer Recalls Millions of Drum Edits on 'And Justice For All'