Former Guns N' Roses Drummer Asks Fans to Pray for "Real Reunion"
By Andrew Magnotta
February 26, 2018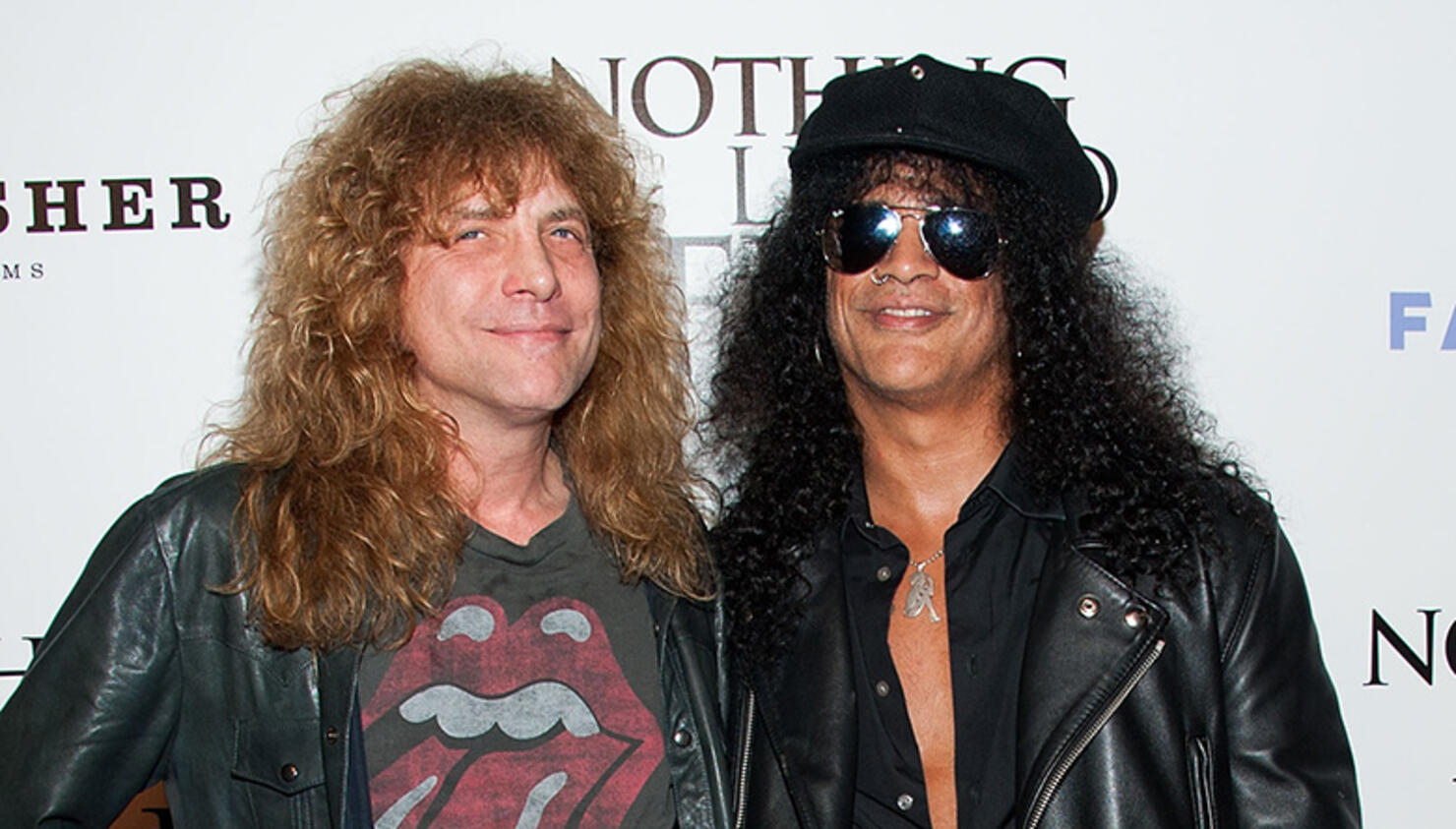 Former Guns N' Roses drummer Steven Adler says he doesn't resent his former bandmates, Axl Rose, Slash and Duff McKagan, for excluding him from their recent reunion tour.
But Adler still hopes to rejoin the band on a full-time basis someday. He says fans should feel free to lobby GNR on his behalf.
"Of course, I wish the guys would have wanted to have done the real reunion with me and [guitarist Izzy Stradlin], but just being able to play with them was very exciting," the drummer said in a recent radio interview. "It was just so great. You get love from 100 people, it's a wonderful feeling. You get love from 85,000 people, it's a high. There's no drug better. It was so great to be able to look down and see Slash and Duff and Axl. I'm a fan, and all the fans wanted to see the original five of us, but it didn't work out that way. I'm sorry, fans — I did my best. I swear on God I did. I have no say. Everybody, get on the web site and put some prayers into God. Let's make this happen this new year."
Adler guested with the band for a handful of shows on its incredibly successful Not In This Lifetime World Tour, playing two songs for each date he returned. Still, Adler was not extended an offer to rejoin the band.
He says the last time Rose, Slash and McKagan turned their backs on him, he started drinking and using drugs again. But he's stronger than that now.
"This whole GN'R thing, trust me — in 2016 and 2017, them not using me and [guitarist Izzy Stradlin], that would have been the perfect excuse for me to go off and start drinking and drugging," Adler said. "I did that the last time — last time they threw me under the bus, I did do that, because my heart was broken. Now I'm stronger; I practice the four agreements; and I was able to get through this. And now, I'm going to start playing again."
Adler has formed a new band called Adler's Appetite, where he will commemorate the 30th anniversary of Appetite for Destruction by performing that album in full. He says he's also planning on performing some of his new music.
You can get the tour dates here.
Guns N' Roses fired Adler (on two separate occasions) in 1990 for drug abuse, replacing him with drummer Matt Sorum.
Adler's mother, Deanna Adler, recently wrote a book, called Sweet Child Of Mine, chronicling her son's addiction issues.
Steven says it's a great book to help other parents of addicts understand their child's disease.
"There's so many parents out there whose kids are addicts," Steven said, "and reading my mom's book will totally make you understand you're not the only one, and give you a chance to be able to help your own family."
Adler wrote extensively about his own battles with addiction and mental illness in his 2010 autobiographer, My Appetite for Destruction: Sex, And Drugs, And Guns N' Roses.
In the depths of his addiction, Adler attempted suicide more than once. He's had drug-related heart attacks and even suffered a debilitating stroke that left him with muscular paralysis and permanently slurred speech.
Adler is far from the only member of GNR to struggle with addiction. McKagan said last year he's suffered from panic attacks since he was a teenager. His own drug problems exasperated the issues until one day in a movie theater he felt like he recalled feeling like he was falling through the floor.
Guns N' Roses will tour Europe this summer. Get the tour dates here.
Last fall, Adler said he would rejoin GNR "just for a hug" if the band would have him.
Photo: Getty Images