Meghan Trainor Talks "No Excuses," Vocal Surgeries, Finding Love & More
By Nicole Mastrogiannis
March 2, 2018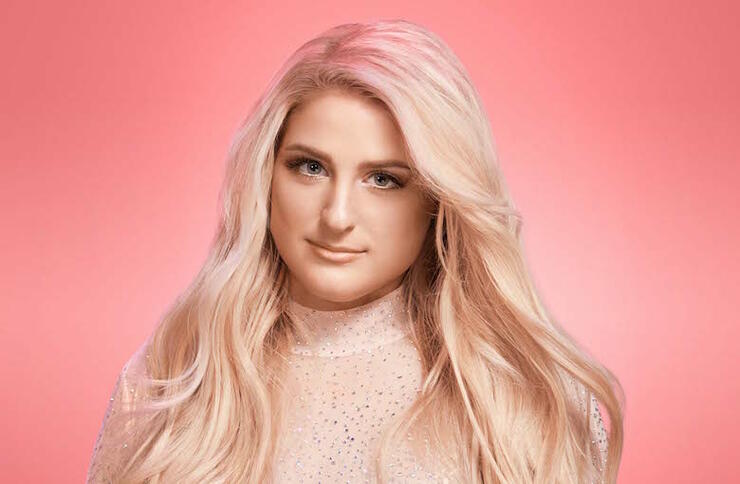 Get ready, because the MTrain is up and running and better than ever before. Meghan Trainor has returned with her first bit of new music in two years via her brand new single "No Excuses," an uplifting, empowering anthem all about R-E-S-P-E-C-T.
In the dance-friendly pop song, which was co-written with JKash and Andrew Wells, Meghan sings in the second verse, "What you sippin' on that got you talking crazy?/Lookin' at me sideways, always coming at me/Why you, why you acting like you never met a lady?/I don't disrespect you, don't you disrespect me."
This is the 2018 version of Aretha Franklin's "Respect." Meghan explained to iHeartRadio of the meaning behind her new single:
"It's really fun, and that's the only song in the album that's the sassy Meghan Trainor you're used to. You know, like the 'Lips Are Movin' girl. And it's about respect and how we should all respect each other, and love yourself, and there's no excuse not to choose happiness, and there's no excuse to treat me like that. You know, one of those songs. I think especially now, the world needs that, and everyone will relate to this."
For Meghan, the last two years have been a rollercoaster. The pop star achieved huge success with her first and second albums (2015's Title & 2016's Thank You), even winning a Grammy, but following a painful vocal hemorrhage was forced to have surgery not one, but two times within six months, effectively canceling tour dates. But, as noted by Meghan in a letter to fans, the singer/songwriter said, "It was the darkest place I've ever experienced, and I was unsure if I'd ever come out of it ... but I DID!"
Meghan did come out of this difficult time in her life and career, and came out of it finding the love of her life (and now fiancé Daryl Sabra), helping up-and-coming artists realize their dreams by becoming a panelist on The Four: Battle For Stardom, and working on new music that goes beyond her single "No Excuses" as Meghan's third full-length studio album is on its way. She explains that the album is inspired by everything she's experienced over the last few years, ranging from dealing with her health and undergoing her surgeries, to finding her forever love with Daryl. Meghan tells us:
"It's about love, happiness, and everything I've been going through with Daryl, and with surgery, but very universal so everyone can sing along and feel the same as I did. And it's fun. It's what we need right now. We need some upbeat jams."
Meghan has already shared a small snapshot of her time in the studio recording this new album with a video shot by her brother Ryan, and fans can see what they already know to be true -- it's a family affair.
"It didn't feel like work. It felt like fun vacation time with my family. Because my mom is kind of now, like she works as my assistant and helps me out every single day, which is a dream come true, because I get to see her every day. At the studio I had her, I had Daryl every day. My dad would come some days, and my older brother was video taping every session. So I got to even write with him, and they would sing in all my backgrounds, because they were there, which is like an easy choir get in. So it felt like a really special moment, and it felt like they were all helping me, and holding me up, and saying like, 'You got this girl,' even though that was a really tough time. 'You're about to make the best music you ever made.' So that's really special."
Chat About Meghan Trainor Talks "No Excuses," Vocal Surgeries, Finding Love & More