Hit Clips Didn't Make Any Sense But They Paved The Way For The Future
By Sam Valorose
March 7, 2018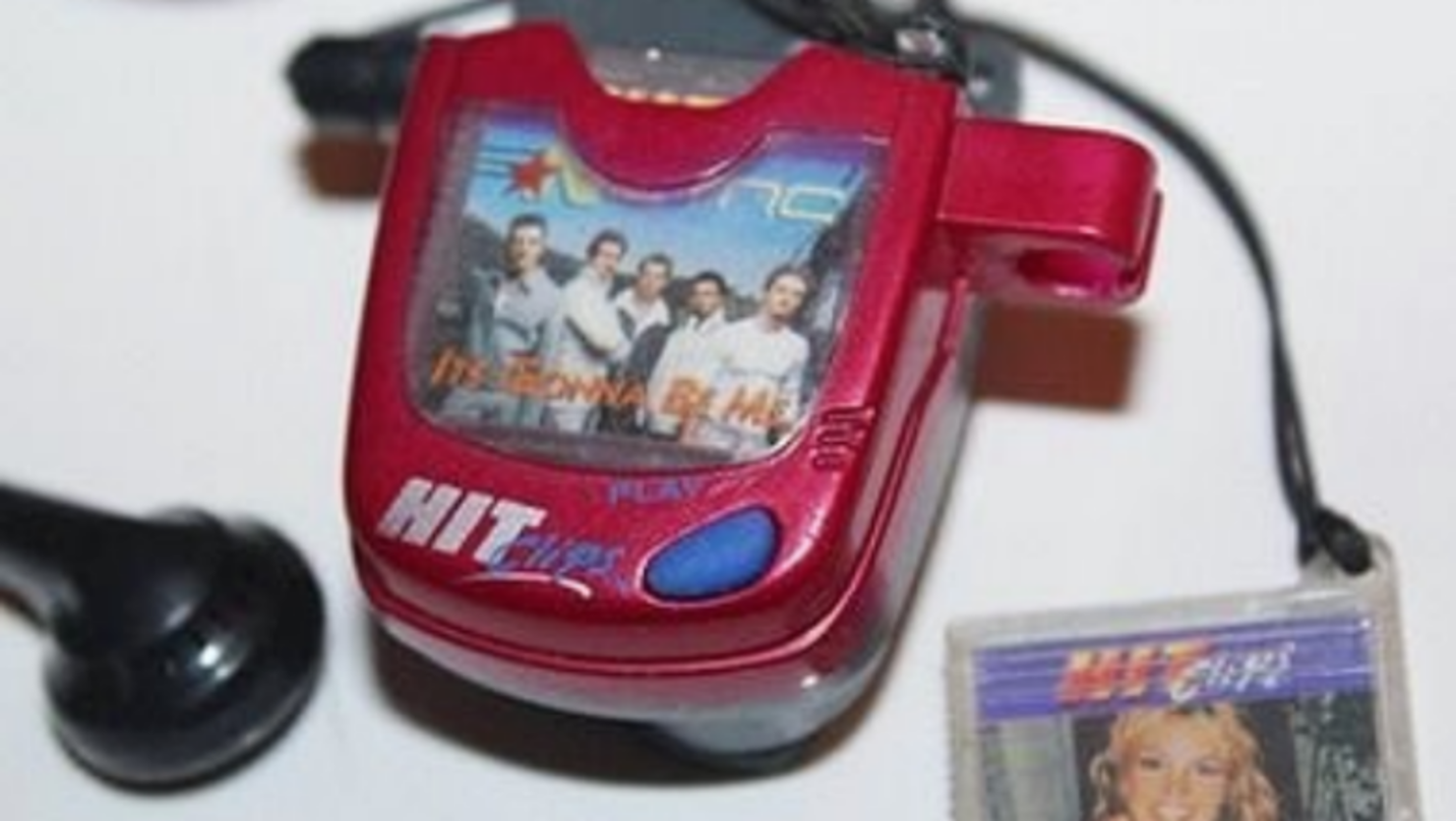 Life seemed so much simpler when Tiger Electronics released Hit Clips in 1999. The almost 20-year-old digital audio player allowed you to take a full minute of ultra-low-fi mono music from your favorite artists like Britney Spears, 'N Sync, Backstreet Boys, and Smash Mouth anywhere you went. And while Hit Clips seem just as nonsensical today as they did back in 2000, they are often overlooked and under-appreciated as the missing link between the CD/cassette single and the MP3.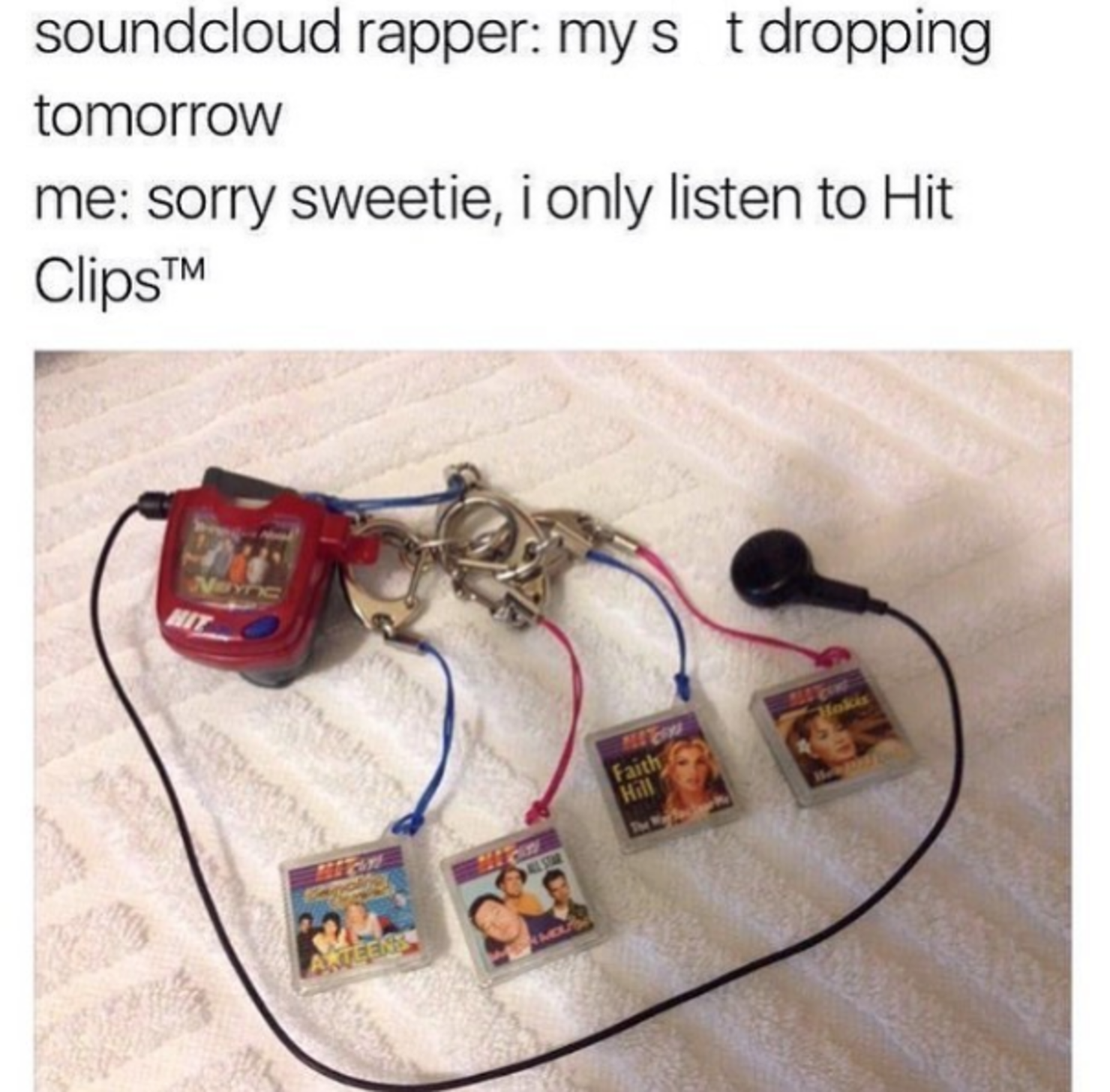 In the early 2000's, you only had a few ways to listen to music on the go and they all had their downsides - CDs were prone to skip all the time, cassettes were outdated, and mini discs were way too expensive.
But wasn't paying $3.99 for just one minute of a song a complete and total ripoff? Yes, but Hit Clips were about status. Who cared about price when Hit Clips looked so cool hanging from your keychain or backpack along with your Tamagotchi? They were a sign of your schoolyard status. Were you a diehard 'N Sync fan? Then you had to own all 8 Hit Clips. You couldn't consider yourself part of the Baha Men-hive and not carry around a minute of the chorus of "Who Let The Dogs Out?" wherever you went. You were a poser.
While the novelty of it is great through rose-tinted glasses, the audio quality sounded like it was coming from the bottom of a well that had a layer of tin foil over it... that was on fire.
In a commercial that is the most 2000's-thing you've ever seen, Tiger Electronics marketed Hit Clips as a "slick micro-audio system" that "sampled songs so only the grooves stick." Other than the portable player, they also made a micro-boom box so you and your friends could listen to the chorus of "Angel" by Shaggy on repeat for hours on end. It's sad but remember, we didn't have the internet yet.
While parents during Y2K may have considered Hit Clips a scam, Tiger Electronics raked in a whopping estimated $80 million in 1999 from them. The players cost $20 and each Hit Clip cost $3.99 a piece. To keep Hit Clips on the market, they created the Hit Clips-Dance bot - a robot that clumsily shimmied to the music, an FM tuner, and Hit Clips discs, that had, wait for it, TWO minutes of music.
Tiger was rolling in dough until it met its inevitable end: the iPod. Having the ability to carry around music on a small device that you didn't need to rewind or need anti-shock so it didn't skip was kind of a landmark in music. Hit Clips were incredibly innovative in that sense but the obvious lack of features, like being able to listen to an entire song, caused its eventual downfall with the rise of Napster, MP3 players, and the release of the iPod in 2001.
Hit Clips have been relegated to bargain bins in thrift stores, listicles of "Things Only 90s Kids Remember," and ironic articles like this one, but they still have a place in our nostalgia-craved hearts.