Bob Daisley Says Ozzy Osbourne Is Wrong About Who Wrote "Suicide Solution"
By Andrew Magnotta
March 8, 2018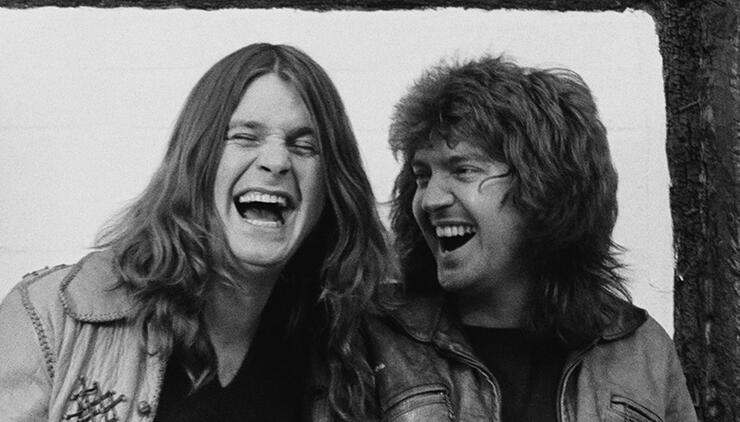 Former Ozzy Osbourne bassist Bob Daisley, who wrote lyrics to many of the Prince of Darkness' early albums, says The Ozzman is Mistaketh about the song "Suicide Solution."
Ozzy recently claimed he wrote the lyrics to the song about late-AC/DC frontman Bon Scott.
Not only is Ozzy giving credit to the wrong songwriter, Daisley says, Ozzy is also sadly mistaken about which iconic rocker inspired the lyrics.
"He's dreaming," Daisley recently told The Metal Voice with a laugh. "I knew Bon Scott. Bon Scott died after I'd written the lyrics to 'Suicide Solution.'"
"It was my title and it was about Ozzy," Daisley continued. "It was inspired by Ozzy's drinking, because he was drinking himself into oblivion lots of days and it was affecting him. I even had a talk with him about it one day. He was getting drunk during the day."
Indeed given Ozzy's alcohol abuse during that period of his life, he has an excuse as to why his memory might have failed him there.
Daisley has sued Ozzy in the past over unpaid royalties, so he wasn't amused by the singer's foggy in memory.
"How he's got the audacity to say that he wrote the lyrics about Bon Scott when he didn't write any of the lyrics?" Daisley wondered.
While the songwriting credits might not specify who the lyricist was, Daisley says there's documentation that the words are his.
When Ozzy was sued over "Suicide Solution" by the parents of John McCollum, a teen who committed suicide after allegedly listening to the side of the Blizzard of Ozz album containing that song.
"I remember I had to talk to their lawyers at the time," Daisley recalled. "If I hadn't written the lyrics, they wouldn't have come to me. But their lawyers came to me to get a statement about what the song was about, because I've written the lyrics."
Daisley was the original bassist in Ozzy's solo band. He co-wrote songs on five Ozzy solo albums.
While the songwriter says Ozzy and Sharon Osbourne screwed him out of millions in royalties, ultimately there are no hard feelings. He says he doesn't plan any further litigation.
Ozzy is about to begin his No More Tours 2 farewell tour and says he's considering recording a new album.
Daisley says he'd even consider coming back if Ozzy asked him to.
"I never say never," he said. "I don't burn bridges – I don't hate people. If there was a way to do it where we could work something out in a sort of nice way, I wouldn't say it's completely out of the question. It's a possibility, I suppose, depending on the circumstances on how they sell and offer it."
Photo: Getty Images
Chat About Bob Daisley Says Ozzy Osbourne Is Wrong About Who Wrote "Suicide Solution"