Linkin Park's Mike Shinoda Is Writing a Solo Album
By Andrew Magnotta
March 9, 2018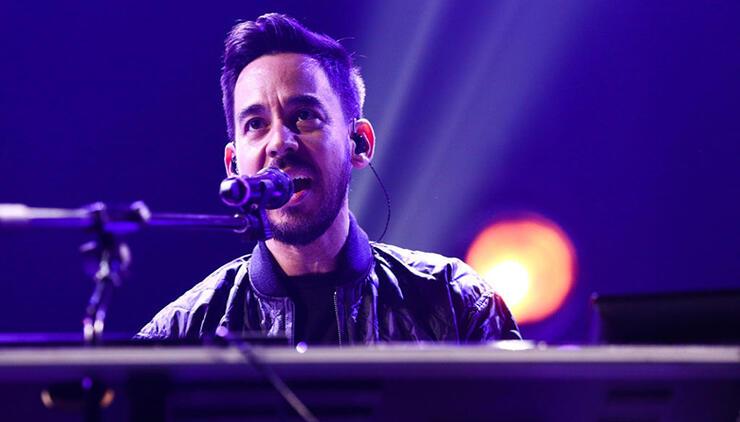 A little over a month after announcing his first solo show, Linkin Park's Mike Shinoda has confirmed he is writing a full-length solo album.
Shinoda released his three-song Post Traumatic EP in late-January, giving rise to speculation that he might be going solo with Linkin Park's future still uncertain months after frontman Chester Bennington's death.
The songwriter/producer revealed news of the solo album via an Instagram post Thursday night.
"Who wants to meet up and be in a music video?" he asked in the caption of the post which included a Google Maps screenshot with a pin on the old Tower Records building on Sunset Boulevard in Los Angeles. "I'm shooting something for my solo album at 8:30 in Hollywood tonight. In 45 minutes. Roll thru."
The songwriter assured fans the day of the release of Post Traumatic that, despite his solo work, Linkin Park has "every intention of continuing."
Shinoda's new music deals largely with his emotional struggle since Bennington took his own life last summer.
"The past six months have been a rollercoaster," Shinoda said of the EP upon its release. "Amidst the chaos, I've started to feel an intense gratitude — for your tributes and messages of support, for the career you have allowed me to have, and for the simple opportunity to create."
Shinoda has been the most accessible member of Linkin Park since Bennington's death (he is one of the only band members with active social media accounts), posting often to his Twitter and Instagram pages, being overt in his support for Bennington's family and open regarding his emotion struggles since losing his friend.
In February, Shinoda confirmed that he would be performing August 18 - 19 at Japan's Summer Sonic festival.
Get more information about Post Traumatic at Shinoda's website here.
You can listen to Shinoda's Post Traumatic EP here.
Photo: Getty Images
Chat About Linkin Park's Mike Shinoda Is Writing a Solo Album