Pearl Jam Returns With New Song "Can't Deny Me"
By Taylor Fields
March 12, 2018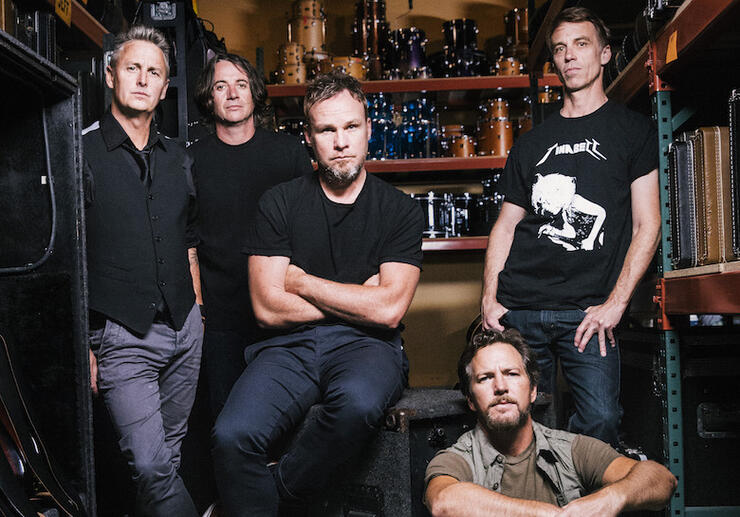 After five years, Pearl Jam has returned with brand new music. The Seattle-born band has shared a new single called "Can't Deny Me," which they shared exclusively with their fan club, Ten Club, in a newsletter.
"Can't Deny Me" is Pearl Jam's first new music since they released their Grammy Award winning (for Best Recording Package) album Lightning Bolt, back in 2015.
Pearl Jam's new track is a protest song, and seems to take aim at the current Presidential administration with lyrics like, "You may be rich but you can't deny me/Got nothing, got nothing but the will to survive/You can't control and you can't deny me" and "The country you are representing/Condition critical."
The official "Can't Deny Me" cover art also illustrates the protest theme of the track, as it depicts a literal protest. Shadowed protesters are standing behind a woman who is holding a sign that says "Can't Deny Me" in red.
Listen to a snippet of "Can't Deny Me" below.
Pearl Jam is heading out on their world tour this week, and will be stopping at stadiums in the US like Fenway Park in Boston, Wrigley Field in Chicago, and Washington-Grizzly Stadium in Missoula, Montana. For a full list of tour dates, head over to pearljam.com.
This year marks 27 years of Pearl Jam performing live, and over the course of their career, the band has released ten studio albums, numerous live concert bootlegs, several compilation albums, and have sold over 85 million albums worldwide. Last year, the band was inducted into the Rock and Roll Hall of Fame, during which they performed several songs from over the last two decades.
Chat About Pearl Jam Returns With New Song "Can't Deny Me"