Relive Carrie Underwood's 2004 'American Idol' Audition With Simon Cowell
By Hayden Brooks
March 10, 2018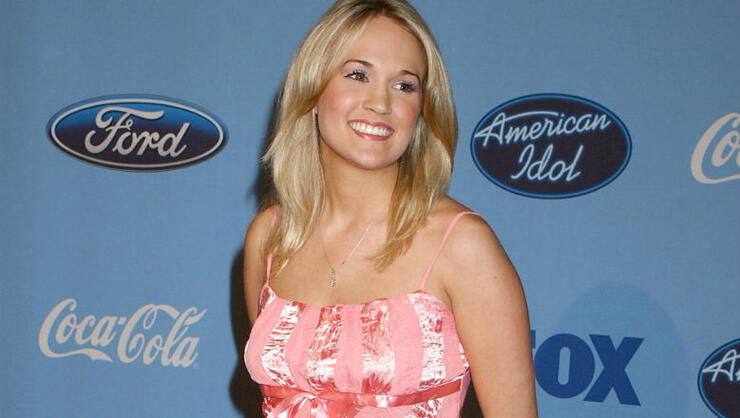 It's been almost a decade and a half since Carrie Underwood wowed the nation and won the crowning title of Season 4 of American Idol. Not only does the country chart-topper turns 35 years old on Saturday (March 10), but it just so happens to be the weekend that the long-running reality show returns to primetime television for a rebooted ABC installment featuring guest judges Katy Perry, Lionel Richie, and Luke Bryan.
In honor of both occasions, iHeartRadio decided to take a trip down memory lane to revisit Underwood's first audition on the show because there's surely no way to go about celebrating her career without showing love to the past.
Back in 2004, a bright-eyed woman and her mother drove from Checotah, Oklahoma to St. Louis, Missouri for a ticket to Hollywood. Wearing a simple pink top and blue denim jeans, Underwood was just 21-years-old and had never even been on a plane. "I feel a little scared ... nervous," her mother giddily told the camera crew. "I just think she's beautiful and I think she's got the voice, so I hope she goes on, but who knows? I have faith in her."
And just like that, Underwood nervously walked into the audition room and decided to sing a rendition of Bonnie Raitt's "I Can't Make You Love Me." She'd go on to improve her vocals in the years to come, but for her initial showing, the then-budding star walked away from her audition with stamps of approval from both Cowell and Randy Jackson. Resident nice judge Paula Abdul missed out on the action. "That was very good, Carrie," Cowell complimented the future mega-star, before the contestant told Jackson that her favorite singer was Martina McBride.
Still, Underwood was put on the spot when her hesitation towards Cowell proved to be worth reason. When Cowell grilled her about "something [she] shouldn't have had," she handled it like a pro. "It's just looked like a mole. It was a third nipple. It was right here," she said pointing to her stomach. "If I wore a two-piece bathing suit, they'd ask me what it was and I said it was a birthmark because it was. I got a little self-conscious of it." It'd go on to be her first taste of just how salacious the industry can be towards young female celebrities, but it's fair to say that Underwood turned out just fine. Scroll on below to relive her very first Idol audition.
Photo: YouTube/Amber Bailey / Getty Images
Chat About Relive Carrie Underwood's 2004 'American Idol' Audition With Simon Cowell