A 2-Year-Old Saw Something Spooky And The Internet Is Shook
By Dave Basner
August 17, 2019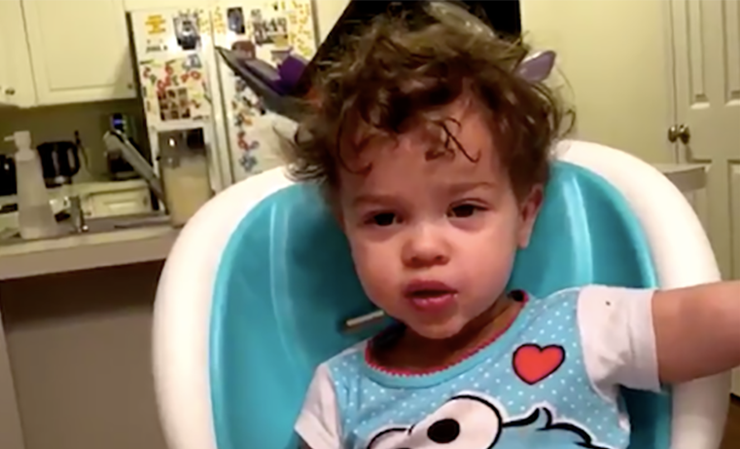 Some people say that kids can see things that adults can't, like angels, ghosts and demons, and the Internet is believing it after watching a video now going viral.
The clip stars Maya, a happy two-year-old who loves peanut butter and Cookie Monster. Her dad, Ryan, started filming her because she was acting silly but at the end of the video, Maya's smile fades and she is clearly disturbed. She points and says, "Daddy, spooky." 
Ryan told Buzzfeed that he and his wife don't use the word spooky but Maya's cousins do to describe something scary. As for whatever the girl was pointing at, Dalton explained it was in a dark room since the sun hadn't yet risen.
The Internet is shook:
The more I look at this video the more I'm genuinely concerned . How she moved back like " oh hell naw "

— ¢híll rapper (@CHRISxJETSFOO) March 11, 2018
Ew yeah so creepy they're going back and forth. Almost like she's imitating what she is seeing.. she looks at it and genuinely laughs then something changes 😳

— Jenny Morrison (@phillygirl1985) March 11, 2018
YES like what if it was pretending to be nice and sweet then like turned into something horrific and that's when she was like "look now" pic.twitter.com/1EbRnF1ZfG

— jay tidwell (@jaytidwelllllll) March 11, 2018
Other people shared stories about their kids seeing things that will ensure you have nightmares tonight:
My friends brother was putting her nephew to bed one night, and he said to her brother "daddy why is that lady sad" and he asked "what lady" and her nephew goes "the one in the corner"... Creepiest thing ever

— Kat (@PartKat) March 11, 2018
Move. We had weird stuff at my old house. As soon as he could talk, my son asked abt "the neighbors" in his room who came out at night. He'd stare at a corner of his room like yours did. He'd sleep w/his arms under him bc he said the neighbors bothered his hands in the dark.

— (((Rimonima))) (@rimonima) March 11, 2018
I was baby sitting once and this kid was waving at something behind me, i asked who she was saying hi to and she pointed at the lamp behind me, I looked at it and it just started flickering. I picked the baby up, went outside,and stayed in my car 😭 https://t.co/9eIfM5wlKI

— MonicaLaire (@MonicaLaire) March 11, 2018
Since his story blew up, Dalton answered some of the common questions people had:
Some follow-up, answering some questions people have:
1. I didn't pan over because there wasn't anything (seeable to me) over there. I hadn't started filming to capture some paranormal stuff, I was just trying to film Maya being silly. I definitely panned my head over there.

— Ryan Dalton (@capetownbrown) March 12, 2018
2. Some people are saying there's a weird noise (like a baby laughing) in the background. It's a bird that's been spazzing out outside our window for the past few days. Mating season?

— Ryan Dalton (@capetownbrown) March 12, 2018
And if you're wondering, Maya does eat the bread too, she just licks the peanut butter off it first. 
Chat About A 2-Year-Old Saw Something Spooky And The Internet Is Shook