Stoneman Douglas HS Students Share Song "Shine" to Benefit School Community
By Taylor Fields
March 15, 2018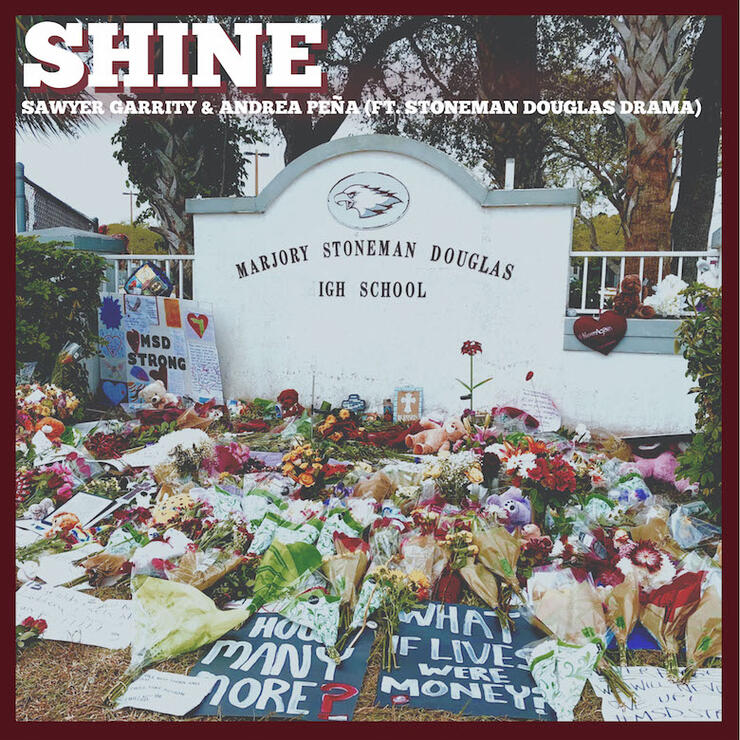 On February 14th, the students at Marjory Stoneman Douglas High School in Parkland, Florida were terrified for their lives as a former student opened fire killing 17 students and faculty members, and wounded many others. Since then, the Stoneman Douglas students, as well as students across the nation, have been speaking out on gun violence, hoping to bring forth change. Now, a few of the high school's students have a released a powerful song called "Shine," with proceeds going to benefit the school community.
"Shine" was written by two survivors of the tragic mass shooting, 16-year-old Sawyer Garrity and 15-year-old Andrea Peña, just days after that horrifying day. Proceeds from download sales of "Shine" will be donated to the SHINE MSD Fund at the Broward Education Foundation, a non-profit organization, to support victims and their families via community mental health and arts programs.
"Shine" may officially be available for download now, but song actually was debuted during the CNN Town Hall meeting, just a week after the shooting, during which survivors and others from the Stoneman Douglas community pleaded for lawmakers to enforce change so that nothing like this happens again. Members of the school's drama department performed the song for the 7,000 people in attendance, in addition to those who were watching from home.
Andrea told MTV News of performing the song on TV, "The last rehearsal wasn't the best, and I was really nervous when I found out it was going to be televised. But when we were up there, I felt a click. We all were in sync. It was the best I had ever played it, and it was the best me and Sawyer had ever sung it." She also added of how the shooting has affected her, "What happened was tragic, and there were days when I didn't want to leave my room because I was so sad, but that song was such a powerful way for me and Sawyer to come together and show everyone that even though this happened we can, and we will, remain strong."
With lyrics like "We're not gonna let you win/We're putting up a fight/You may have brought the dark but together we will shine the light," this moving song serves as a powerful anthem, as well as a tribute to those who have lost their lives or have been affected by gun violence. In fact, Sawyer says of the song, "It's our call for action and hope."
Listen to "Shine" below.
"Shine" is released the same week that students across the country walked out of their schools in a nationwide protest, remembering the Parkland victims and to raise awareness about gun violence, as well as safety in schools.
And during the recent iHeartRadio Music Awards, Big Sean introduced survivor Alex Moscou, who had a message for everyone watching and encouraged them to join him at the upcoming March for Our Lives in Washington, DC and corresponding marches across the country. Alex said:
"February 14th, a gunman armed with a legally purchased semi-automatic rifle murdered 17 people at my high school, Marjory Stoneman Douglas in Parkland, Florida. We're tired of hearing politicians send their thoughts and prayers to us, and doing nothing to make the necessary changes to prevent this tragedy from happening again. School is a place where we should feel safe, and if those elected to represent us won't do what's right to keep us safe, then we're gonna be too loud for them to ignore."
Chat About Stoneman Douglas HS Students Share Song "Shine" to Benefit School Community