It's A Beautiful Day To Unveil The Mister Rogers Postage Stamp
By RJ Johnson - @rickerthewriter
March 23, 2018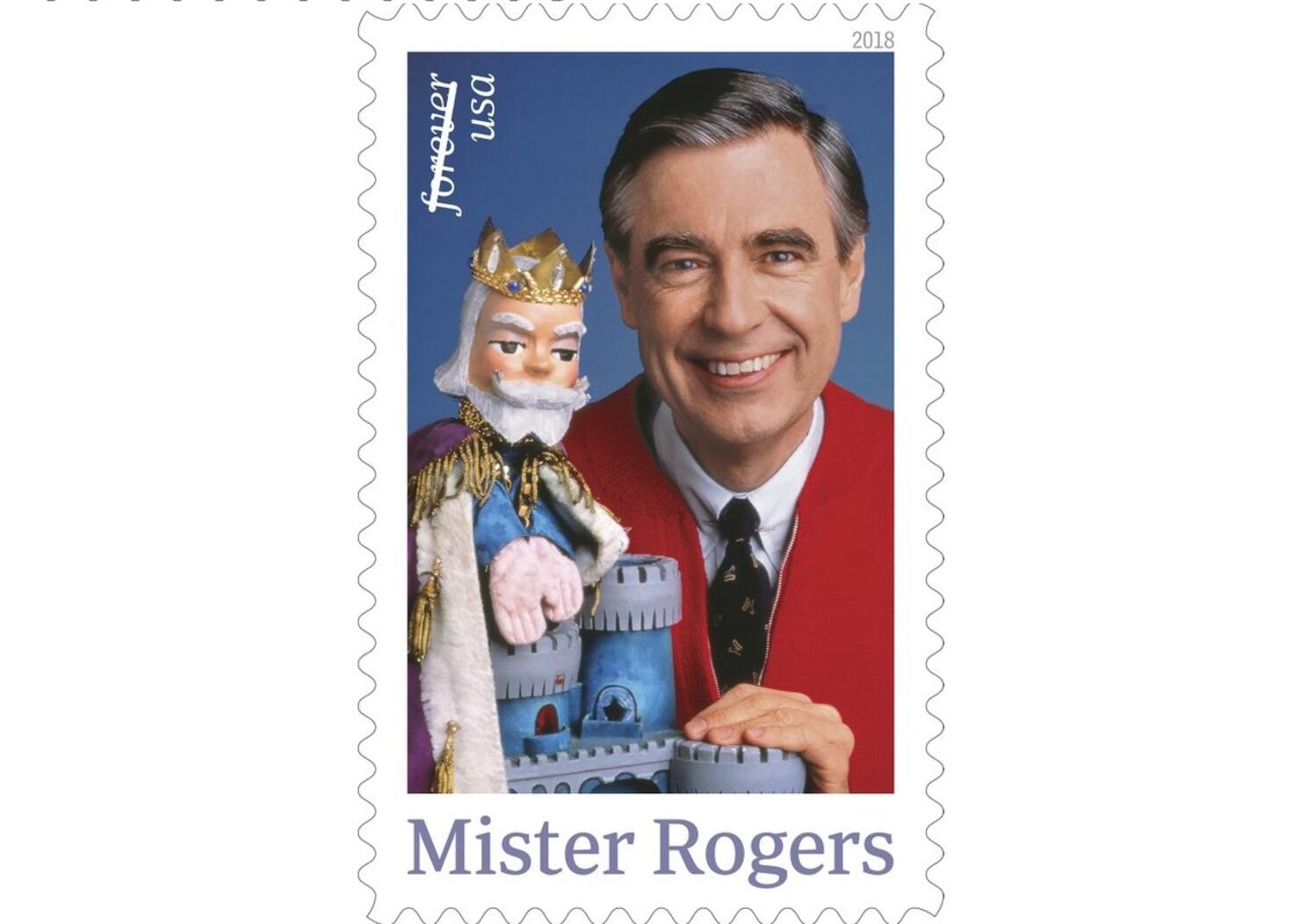 Mr. McFeeley would be so proud.
The U.S. Postal Service is set to honor Fred Rogers today with a brand new forever postage stamp featuring the gentle tv host who educated millions of schoolchildren around the world.
The "forever" stamp features Mister Rogers in his traditional red cardigan with his friend and ruler of the Neighborhood of Make Believe, King Friday.
Postal officials held a dedication ceremony at the Pittsburgh studios where Mister Rogers filmed the beloved PBS show for over thirty years. Among those who attended the ceremony were Rogers' widow, and David Newell, Mr. McFeeley himself who played a deliveryman on "Mister Rogers Neighborhood."
Postmaster General Megan J. Brennan was also present to help dedicate the stamp.
"Mister Rogers and his neighborhood of make-believe made the ups and downs of life easier to understand for the youngest members of our society," Brennan said. "In Mister Rogers' neighborhood, children learned, in a safe space, how to be a friend and create relationships. He shaped generations with his kindness and compassion. It's why we honor him today."
Joining Brennan was The Fred Rogers Company President and CEO Paul Siefken who talked about the impact Rogers left behind on viewers of all ages.
"We are proud to celebrate the enduring impact of Fred Rogers and Mister Rogers' Neighborhood with this new stamp from the United States Postal Service," Siefken said. "Fred Rogers left an indelible mark on generations of young audiences through his groundbreaking series, and his timeless wisdom and important messages of inclusion and neighborliness remain just as relevant today as they were 50 years ago."
Rogers was a beloved figure for millions of schoolchildren around the world thanks to his candid discussions about difficult subjects like divorce, anger, and even race relations. Each episode also featured a trip to the Neighborhood of Make Believe where Rogers would interact with puppets like King Friday, Queen Sara Saturday, and the shy Daniel Striped Tiger. "Mister Rogers Neighborhood" would also take field trips to museums, factories, and farms, with Rogers turning them into educational journeys for viewers.
A biopic starring Tom Hanks was announced earlier this year, and promises to follow the relationship between Rogers and award-winning journalist Tom Jenod. A documentary about Mister Rogers' television show "Won't You Be My Neighbor" is set to premiere in June.
Rogers died in 2003 at the age of 74, leaving behind a generation of smarter, kinder people because of his example and show.
Photo: U.S. Postal Service