Ritchie Blackmore Says He Rebooted Rainbow for the Fans and "Nostalgia"
By Andrew Magnotta
March 28, 2018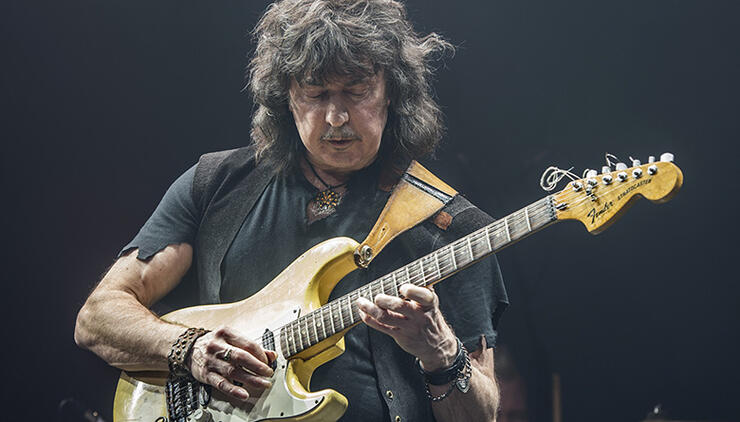 When Ritchie Blackmore decided to reboot Rainbow, the band he started with Ronnie James Dio in 1975, he didn't have any lofty expectations.
Blackmore had been immersed in his Renaissance-inspired band Blackmore's Night with his wife Candice Night, and he just wanted to play some good old rock 'n' roll for a change!
"It is good fun," the famously stodgy guitarist admitted in a new interview with Billboard. "We wrote some good songs back then. It's always nice to kind of blast out on the Stratocaster for a while."
Blackmore says he had never completely written off playing in a rock band, but he needed an outlet for his obsession with classical music.
"I still prefer the music of Blackmore's Night because it's so far-reaching and the spectrum of musical stuff is so more vast than being in a rock band," Blackmore said. "But at the same time I knew there were a lot of fans that wanted to hear the old Rainbow songs, so I did six weeks on the road playing rock n' roll and then did the more classically inclined acoustic music."
Ritchie Blackmore's Rainbow, as the band is now billed, just released its first new studio recording in 22 years, a song called "Waiting for a Sign," featuring singer Ronnie Romero.
Blackmore has been effusive in his praise of Romero.
"He's got a great voice, a cross between, like, Dio meets Freddie Mercury," he said. "So this would mean kind of exposing a new singer to the masses, and I'm sure he'll become pretty famous because of his voice, so that was interesting."
You can listen to "Waiting for a Sign" below.
Blackmore also confirmed the rumor that he asked former Deep Purple bassist/vocalist Glenn Hughes to join Rainbow.
The guitarist said Hughes eventually declined the job after Blackmore informed him that he just wanted Hughes in the band for his renowned bass playing, not his vocal ability.
"Fast forward to day before rehearsals and we contacted Glenn to see when he was going to fly in, and he wasn't aware that he wasn't going to be the lead singer at all. So I understood his situation and I told him we would have to get someone else, and he was fine. We ended it amicably before it even started."
Blackmore and Hughes were bandmates in Deep Purple from 1973 - 1975, prior to Blackmore initially forming Rainbow.
Photo: Getty Images
Chat About Ritchie Blackmore Says He Rebooted Rainbow for the Fans and "Nostalgia"