Can You Tell the Difference Between Greta Van Fleet and Led Zeppelin?
By Andrew Magnotta
March 30, 2018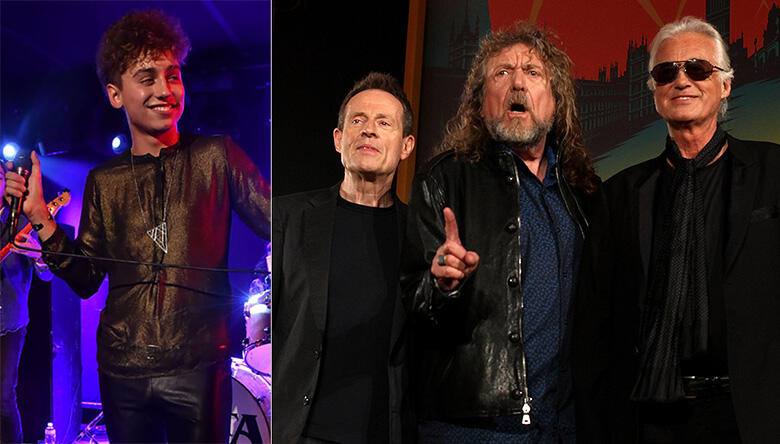 Greta Van Fleet's worship of Led Zeppelin is about as obvious as the sky is blue.
Whether the band of Michigan-based 20-year-olds is a tribute or a ripoff—or whether or not that question should bother Zep fans—has been the subject of plenty of debate since GVF burst onto radio dials all over the world last spring.
While GVF avoid talking about it, pretty much everything about the band's sound on its From the Fires EP is reminiscent of early Zeppelin.
But how close is it really?
From the way GVF's rhythm section cooks up '60/'70s heavy rock-inspired riffs, to the lead vocals, to the general production aesthetic of the music, you don't need to be a rock 'n' roll expert to hear Zeppelin all the way through.
YouTube channel FBE set out to find just how much of a sound-alike Greta Van Fleet truly is, by having some Baby Boomers and Gen-Xers react to the band's music side-by-side with that of Led Zeppelin.
It seems like most of the participants were familiar with Led Zeppelin prior to this experiment. At least three people asked after about a minute if Greta Van Fleet's "Safari Song" was new or perhaps long-lost Led Zeppelin music.
Reviews were mostly positive, except when Catherine bluntly claimed, "It's a ripoff of Led Zeppelin!"
After being shown part of Greta Van Fleet's music video for "Black Smoke Rising," Don said he expected the group to look young, "but everything's younger than me."
FBE then went on to play some more music for their participants, asking them to guess whether they were listening to Led Zeppelin or GVF.
As it turned out, there wasn't a whole lot of confusion on the first song!
"It's so close it's scary," remarked Don after one of the challenges.
Catherine implored the band to make its own way: "No one can be Led Zeppelin again. Please find your own voice too because you have musical talent. Don't just be someone else that's already been done."
Watch the video above to see the rest.
Greta Van Fleet has impressed more than a few people two or three times their age.
Led Zeppelin's Robert Plant said in January that he approves of the GVF, and of the young vocalist who so closely emulates him, calling the young singer's voice "pretty good," and then adding "There's a job out there for him."
Elton John invited the band to perform at his annual Oscars party for the Elton John AIDS Foundation.
John called Greta Van Fleet the best rock band he's heard in decades.
"They blew me away," he said before introducing the band. "So you're gonna see them here and they're going to be one of the biggest new bands of the year. They have an amazing future ahead of them. I'm so thrilled—I'm so thankful for them to come onstage and play for you."
Learn more about Greta Van Fleet here.
And get all their tour dates here.
Photos: Getty Images
Chat About Can You Tell the Difference Between Greta Van Fleet and Led Zeppelin?