Eagles Of Death Metal Frontman Sorry For Slamming Student Gun Protestors
By Sam Valorose
April 2, 2018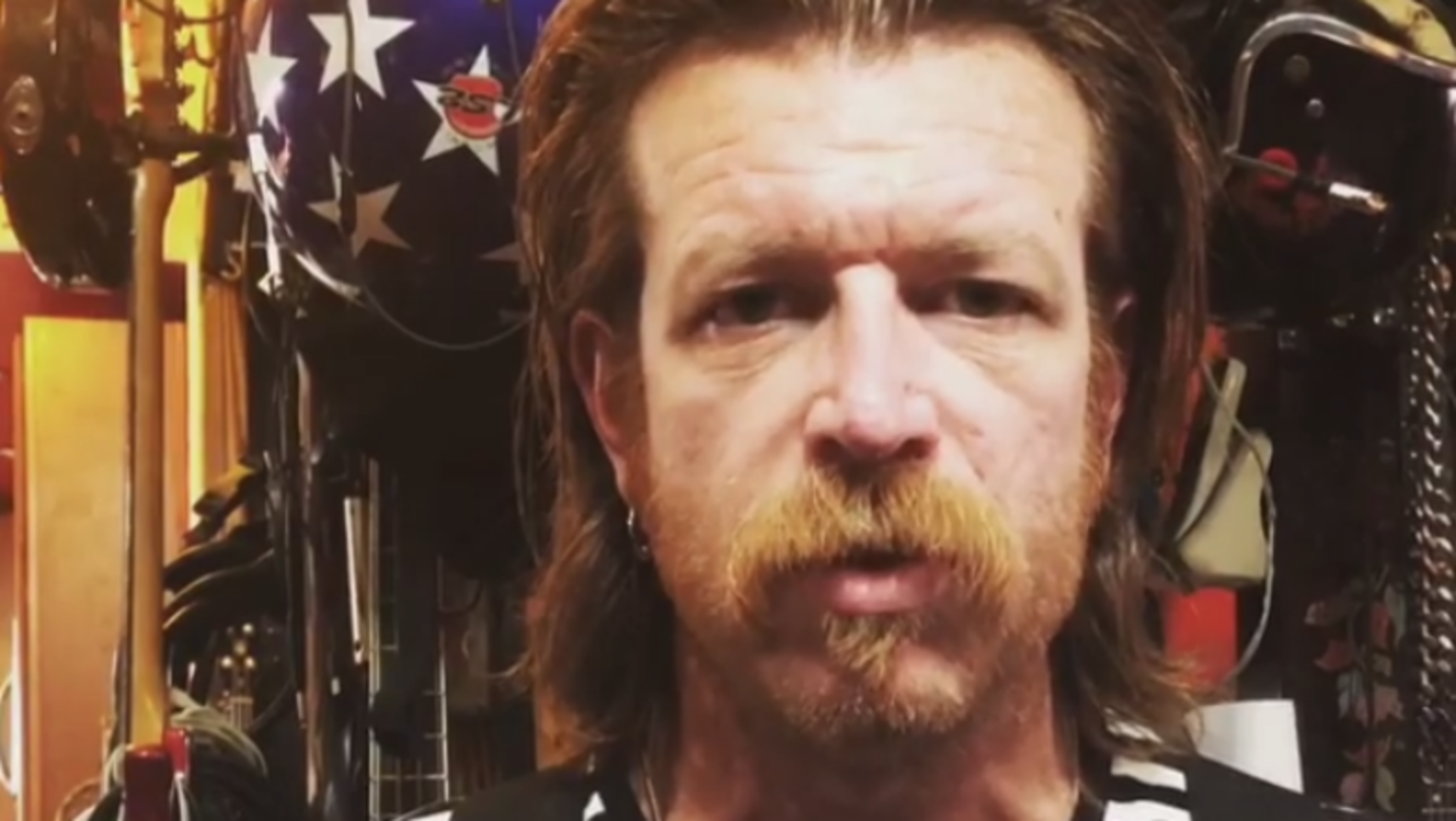 Eagles Of Death Metal frontman Jesse Hughes has posted an apology after he blasted the student gun protestors of the March For Lives and Never Again movements last week, saying his comments were "intended to be a statement about the hijacking of any side of the aisle of the beautiful agenda of the movement of our nation's youth" and that he was truly sorry.
Hughes, who was onstage performing during the terrorist attack at the concert venue Bataclan in Paris in 2015, accused the hundreds of thousands who marched in solidarity with the survivors of the Parkland school shooting in Florida of being "disgusting vile abusers of the dead" in a since-deleted Instagram post with an offensive anti-gun control cartoon. The post caused a massive controversy, which is not unfamiliar to Hughes, and drew the ire of his peers. Screaming Trees frontman Mark Lanegan tweeted, "When I think of the good times we've had in the past it f***s my heart to see how far off the rails you've gone. Come back bro."
In his new video, the singer seems to have had a change of heart. Looking directly into the camera, he delivers his apology:
"Recently I made some posts on my Instagram that did not communicate how I feel about a variety of topics. What I'd intended to be a statement about the hijacking of any side of the aisle of the beautiful agenda of the movement of our nation's youth, came off seeming like a mean-spirited personal attack or sleight of the youth themselves, or even a personal attack on its leadership.
"I wanna be clear – I never intended for that to happen; I was not attempting to impune the youth of America and this beautiful thing they've accomplished. I truly am sorry. I did not mean to hurt anyone or cause any harm. As someone who's watched their friends shot in front of their eyes and seen people killed that they love, I should have handled this a lot more maturely and responsibly, and I did not do that. I messed up.
"And I hope that you're able to forgive me, but please know that I did not mean to do what it seems like it was I was doing."
Read Hughes original post criticizing the protests below:
"Obviously....The best thing to do to combat chronic abusers and disregarders of the law(like the law against Murder) is to........pass another Law!.....Genius!!!...... but before we pass this law we're going to denigrate the memory and curse ourselves by exploiting the death of 16 of our fellow students for a few Facebook likes and some media attention....and look how well civil rights abuses as it concerns firearms helped to protect me and my friends in Paris!!!!! This almost sounds like the plan of like a kid maybe like a high school student....!. Oh wait that's right.... The Whitney Houston song about letting the children lead the way wasn't actually had operating paradigm for life.....And when the truth don't line up with your bull***t narrative just hold your breath and stamp your feet and refused to except it.... then take multiple days off of school playing hooky at the expense of 16 of your classmates blood....!.... it might be funny if it wasn't so pathetic and disgusting......As the survivor of a mass shooting I can tell you from first-hand experience that all of you protesting and taking days off from school insult the memory of those who were killed and abuse and insult me and every other lover of liberty by your every action.....Long Live Rock'n'Roll..... and may everyone of these disgusting vile abusers of the dead live as long as possible so they can have the maximum amount of time to endure their shame....and be Cursed...."