Kim Petras's Timeline To Pop Stardom: Spice Girls, Charli XCX & More
By Nicole Mastrogiannis
April 3, 2018
Kim Petras has wanted to become a pop star for the last 17 years -- from the time she was just 8 years old and lip syncing around her bedroom. Now, in 2018, she's well on her way.
Last year, Kim released her debut single "I Don't Want It All," as well as appeared on Charli XCX's most recent mixtape Pop 2 on "Unlock It" (which also features Jay Park). This year, she's shared a few more songs with fans, including "Faded," "Heart To Break" (for Valentine's Day), and is ready to release even more in the rest of 2018, as she's been working with producers including Aaron Joseph and Dr. Luke.
Born in 1992 in Germany, where did Kim's journey to become a pop star begin? During an exclusive interview with iHeartRadio, she gave us her own personal timeline to pop stardom.
1998: First Concert - Spice Girls
"I went to this Japanese convention with like one of my friends, and there were a lot of like bands whose names I can't even pronounce, so that was my first concert, which is really unimpressive and not eventful. I can't lie about it. I can't be like name somebody great I've seen later on. But I guess my first really good concert was the Spice Girls."
2001: Pop Star Dreams
"It was probably something around eight or nine that I was just obsessed with the idea of becoming a pop star. I always used to dance around in my room, and sing along, lip sync to songs, and run around in dresses and whatever, and dress up and pretend to be a pop star. Before that I wanted to become an imagineer, like at Disney, like a roller coaster designer. But you have to be an actual engineer to do that, so I was like, 'I suck at math, so bye that dream.' You can't just imagine and not engineer. So I was like, 'Well, I'm going to become a pop star.'"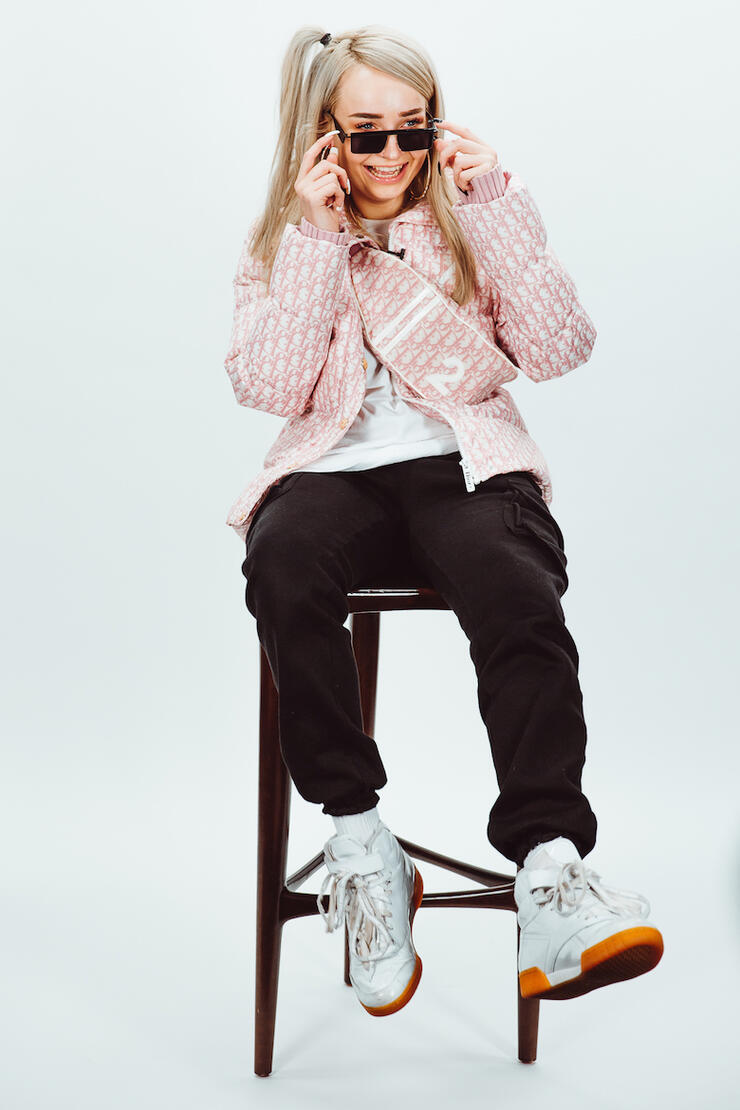 2004: First Designer Piece - Dior Makeup Ring
"My first designer piece was this little Dior makeup ring. It had like two colors of eye shadow in it, pink and blue, and it had a ton of rhinestones. So I remember buying that and just loving it so much. So a Dior makeup ring in 2004. That sounds like the year of the eyeshadow rings. I love that I'm wearing 2004 Dior as I'm telling you this."
2017: Met Charli XCX
"I met Charli XCX at the SOPHIE show, I think it was at the end of last year. SOPHIE is an incredible artist and we just like ran into each other, went to the same party afterwards, and then she texted me the next day and was like, 'Hey, I have this song, do you want to jump on it?' I went into the studio the next day, did the verse, sent it to her. She was like, 'I love it and done.' My favorite memory with [Charli] is I performed at her Pop 2 Show in New York, which was amazing, and it was so much fun. We sang 'Unlock It' together, and then we sang 'I Don't Want It At All' together, and we both just like strut around the stage, and did the cat walk thing onstage, and harmonized. It was such a cute moment. I'm obsessed with her."
2035: 20 Albums and Some Face Tape Later...
"[In] 2035, I'll hopefully tour a lot. I'll hopefully have my 20th album out. I'll have a bunch of number ones under my belt. I'll have a thousand wig changes at my shows, like my face will be like taped back really tight. I hope that's me in 2035. So, face tape -- 2035 face tape."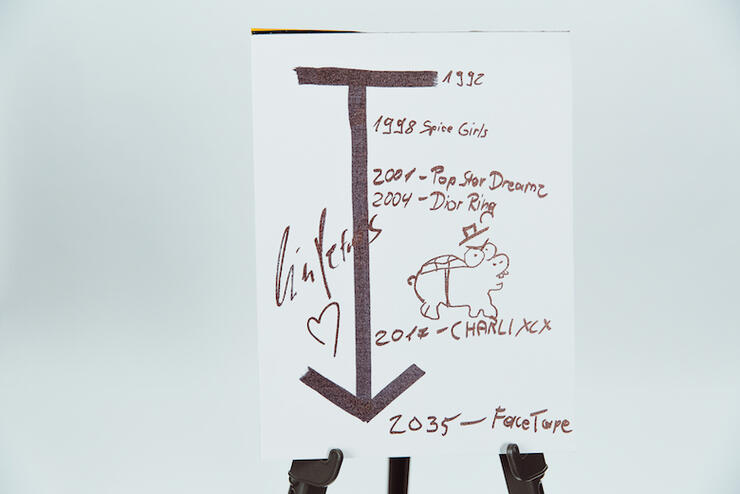 Chat About Kim Petras's Timeline To Pop Stardom: Spice Girls, Charli XCX & More