Fleetwood Mac's 'Rumours' Back on Charts After Viral Meme
By Andrew Magnotta
April 4, 2018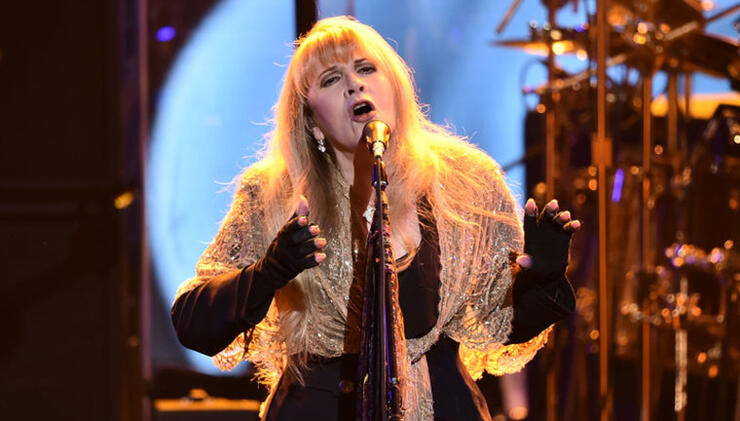 Fleetwood Mac's 1977 hit song "Dreams" and the band's album Rumours are back on the charts, thanks to a silly Tweet that went viral last month.
The song is back on Billboard's Hot Rock Songs chart at number 14 this week, as the March 22 Tweet has been shared over 135,000 times and liked more than 312,000 times.
The Tweet from @bottledfleet begins with a supposed quote from a supposed Fleetwood Mac detractor: "'Fleetwood Mac's music is so boring, you can't even dance to it.'"
After a space, the Tweet continues: "Me, an intellectual," the indicates the video containing cheerleaders dancing hard with a clip of audio from the song overlaid.
Check it out below:
Billboard says that so many Twitter users shared the meme (including other Tweets that mentioned the song) that "Dreams" surged in popularity, increasing downloads by 36 percent from the week before and nearly 2 million streams for a gain of 24 percent.
Fleetwood Mac is no stranger to benefitting from events in popular culture. The band's song "The Chain," also from Rumours, saw a bump in sales after it was included on the Guardians of the Galaxy Vol. 2 soundtrack.
One Direction's Harry Styles won a 2018 iHeartRadio Music Award for his faithful cover of "The Chain".
In January, Fleetwood Mac was given the honor of being the first musical collective to be named MusiCares Person of the Year.
"The whole story is beyond belief, really," Mick Fleetwood told Q104.3 New York's "Out of the Box" with Jonathan Clarke of the honor. "Seeing contemporary artists, and in truth, a really vibrant assembly of young talent coming out and really being unbelievably enthusiastic about performing some of our songs...is again reason to be grateful."
With its classic late-'70s lineup back in place, Fleetwood Mac has been touring again in recent years.
Get more info on upcoming events here.
Photo: Getty Images
Chat About Fleetwood Mac's 'Rumours' Back on Charts After Viral Meme