Bush Invites Fans Onstage, Chaos Ensues
By Sam Valorose
April 10, 2018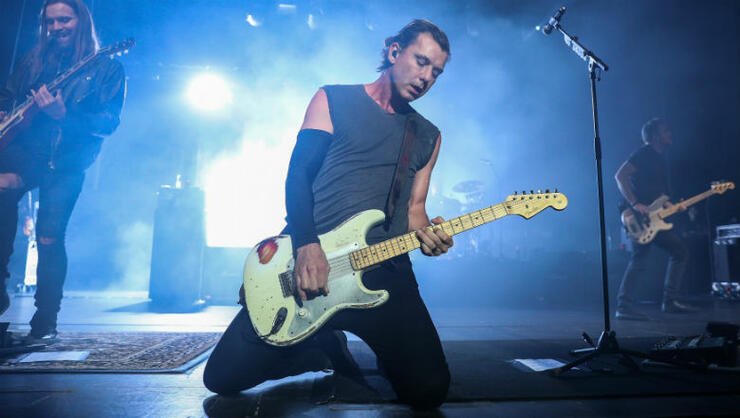 When an artist invites a fan onstage, something magical can happen. From Green Day's Billie Joe Armstrong making a young fan's dreams come true to Dave Grohl bringing up a college student to play drums with Foo Fighters, it can create incredible moments. It can also create mayhem, which is something Gavin Rossdale realized after inviting a group of women from the audience to join him onstage to help sing "Comedown" when Bush performed at Ceasar's Palace in Atlantic City on Saturday, April 7th.
TMZ has the video of a guy bum-rushing the stage alongside the women. The presumably drunk oaf leaps in front of Rossdale, waves his arms and sends the mic stand flying into the audience. Security quickly takes the man out and amidst the chaos, a woman grabs the mic for her own karaoke rendition of the song. The frontman rips it out of her hands and puts the mic back on the stand. Confusion consumes everyone on the stage, including Rossdale, who fails to get the show back on the right track. Luckily, this all happened at the end of the performance.
Watch the video below:
In a recent interview with The News & Observer, Rossdale opened up about the advice David Bowie gave him when Rolling Stone featured the Bush frontman on their cover with the headline, "Why Won't Anyone Take Gavin Rossdale Seriously?"
"I've never seen anything like it since. It's a bizarre accolade. I was so mad at that editor," Rossdale said. "I told David (Bowie) how sick I was of the crappy reviews and he said that the answer was simple, "Outlive your critics."
"I would rather not be the band on the cover of Rolling Stone that is declared the new messiah and fade. I would rather be attacked and have a career 25 years later. That's an easy one."
Chat About Bush Invites Fans Onstage, Chaos Ensues