Brad Pitt Is Dating MIT Professor Neri Oxman
By Allie Gold
April 11, 2018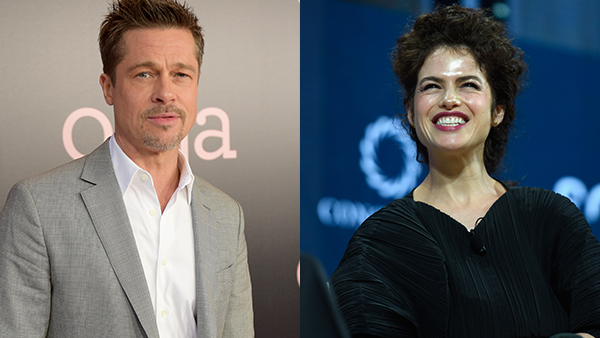 Brad Pitt is taking some pointers from his best friend George Clooney...
According to US Weekly, the actor has been secretly dating MIT Professor, Neri Oxman. "Brad is absolutely smitten by her... their chemistry is off the charts," and insider told the magazine. The father of six, who split from his wife Angelina Jolie in September 2016, has been spending a lot of time in the professor's Cambridge, Massachusetts apartment. "Brad has been spotted going into her apartment building on multiple occasions late at night and emerging the next morning after she leaves to teach," according to US's inside source, adding that Brad has been given his own key to her place.The quiet apartment gives them a place to relax where they can order in food due to Neri's lack of cooking skills. The source adds, "They have been ordering food in from her favorite restaurants, and Brad has been a lot of cooking."
These two may be even more serious than you might expect, with Us Weekly reporting that "Brad and Neri have traveled together internationally." Apparently the two went to the Design Indaba conference in South Africa in February where Neri was a featured speaker. Although some are claiming the two only have a professional relationship, US's insider calls that story a cover-up saying, "They are very much a couple."
Apparently they were instantly attracted to each other and Brad arranged a face-to-face meeting after seeing a series of 3D printed chaise lounges that Neri designed. "Brad had only planned on spending two days at MIT last fall, but ended up staying for a week," says the insider. "Neri invited Brad for dinner at her Cambridge apartment, which is very close to the campus. They got romantically involved almost right away."
The attraction was so instant between these two that Neri actually ended things with her boyfriend right then and there. "Neri had been dating a very wealthy man," says the insider, "and dumped him almost immediately."
Brad has had it pretty rough this past year. The actor was constantly in the tabloids for a rumored drinking problem prior to his divorce with Angelina. Luckily it looks like he's found happiness with his rumored girlfriend. "Being around Neri is intoxicating, as if you are flying high above the mountains..... Brad is glowing around her."
Sigh. So romantic.
Photo: Getty
Chat About Brad Pitt Is Dating MIT Professor Neri Oxman