Alice in Chains' Jerry Cantrell Teases Ugly, Beautiful, "Trippy" New Album
By Andrew Magnotta
April 12, 2018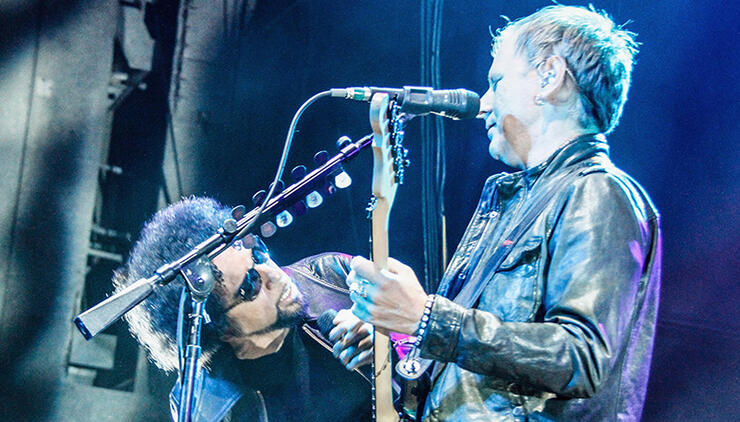 Alice in Chains' first new album in five years should be available this summer, according to guitarist Jerry Cantrell.
The band's sixth album, and third with frontman William DuVall, should be released while Alice in Chains is on tour between late-April and mid-September, Cantrell says.
"It's not that we were keeping it a secret — we just didn't want to say a whole lot about it until we had something to say," Cantrell told Guitar World in a new interview.
Rumors that Alice in Chains was working on a new album began to circulate in December after the band announced tour dates in the spring, with bassist Mike Inez also revealing the band had booked studio time.
Cantrell continued, telling Guitar World "we certainly have something to say with this one. It's a f***ing strong record."
The guitarist described the new music as a new direction for the band that also has everything fans have come to expect from Alice in Chains over the previous five studio albums.
"It's got our fingerprint," Cantrell said. "And we're really proud of the material that we wrote and the performances we captured. There's some really heavy shit, some really ugly stuff, some real beautiful stuff, some weirdo trippy shit. … It's good!"
The title of the album hasn't been released, but Cantrell indicated the majority of the recording is finished. He said he's scrutinizing the details of the album, "The nitpicky and manic part of me keeps saying, 'We're not done yet!' But we're almost there."
Joe Barresi is reportedly handling the mixing of the album. Barresi has also been busy producing Tool's long-awaited new album, which is being tracked analogy-style on 2-inch tape.
Cantrell says he's really looking forward to getting back on tour, noting that the road is "really the best reward" for releasing new music.
Check out the tour dates below. Get more information here.
April 28 – Boston, MA – House of Blues
April 30 – Syracuse, NY – Landmark Theatre
May 1 – Toronto, ON – Massey Hall
May 3 – Washington DC – Anthem
May 4 – Charlotte, NC – Carolina Rebellion
May 5 – Virginia Beach – WNOR Lunatic Luau
May 7 – New York, NY – Hammerstein Ballroom
May 8 – New York, NY – Hammerstein Ballroom
May 10 – Atlanta, GA – Coca-Cola Roxy
May 12 – St. Louis, MO – Pointfest
May 13 – Somerset, WI – Northern Invasion
May 15 – Chicago, IL – Riviera Theatre
May 16 – South Bend, IN – Morris Performing Arts Center
May 18 – Columbus, OH – Rock on the Range
May 19 – Philadelphia, PA – WMMR BBQ / BB&T Pavilion
June 16 – Leeds, UK – O2 Academy
June 17 – London, UK – O2 Shepherd's Bush Empire
June 20 – Stockholm, Sweden – Grona Lund
June 21 – Halden, Norway – Tons of Rock Festival
June 22 – Copenhagen, Denmark – Copenhell
June 24 – Clisson, France – Hellfest
June 25 – Zagreb, Croatia – INmusic Festival
June 28 – Padua, Italy – Sherwood
June 30 – Bezirk-Landstrasse, Austria – Arena Open Air Wien
July 1 – Budapest, Hungary – Budapest Park
July 3 – Berlin, Germany – Huxley's Neue Welt
July 4 – Cologne, Germany – Live Music Hall
July 8 – Belford, France – Les Eurockeennes 30
July 10 – Milan, Italy – Ippodromo Snai San Siro
July 13 – Madrid, Spain – Mad Cool Festival
July 14 – Lisboa, Portugal – NOS Alive
July 17 – Tel Aviv, Israel – Caesarea
July 18 – Tel Aviv, Israel – Caesarea
Aug 22 – Vancouver, BC – Queen Elizabeth Theatre
Aug 28 – Paso Robles, CA – Vino Robles Amp
Aug 29 – Los Angeles, CA – Palladium
Aug 31 – Riverside, CA – Riverside Municipal Auditorium
Sept 1 – Las Vegas, NV – The Pearl
Sept 3 – Tucson, AZ – Tucson Music Hall
Sept 4 – El Paso, TX – Abraham Chavez Theatre
Sept 6 – Austin, TX – ACL Live
Sept 7 – Houston, TX – Revention Music Center
Sept 8 – Dallas, TX – Pavilion @ Toyota Music Factory
Sept 10 – Tulsa, OK – Brady Theatre
Sept 11 – Kansas City, MO – Midland Theatre
Sept 13 – Denver, CO – Fillmore
Sept 15 – Phoenix, AZ – Comerica Theatre
Photo: Getty Images
Chat About Alice in Chains' Jerry Cantrell Teases Ugly, Beautiful, "Trippy" New Album