Tom Morello Says New Tool Album Is Worth the Wait
By Andrew Magnotta
April 12, 2018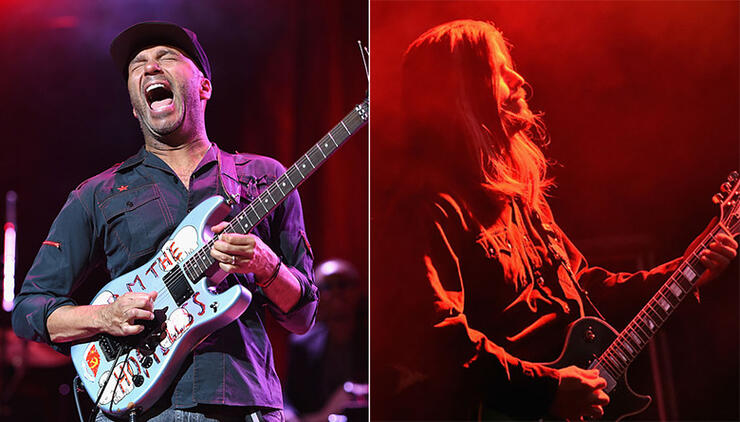 Prophets of Rage guitarist Tom Morello had the pleasure this past December of hearing instrumental demos for Tool's highly-anticipated new album. Morello at the time was effusive in his praise of the band. In the months since his enthusiasm for the new music hasn't at all diminished.
The Rage Against the Machine co-founder discussed Tool in a recent interview with Rolling Stone Italy. Morello says Tool's patient fanbase won't be disappointed when the still-untitled album is released.
"Tool is a band that pays great attention to the composition; they take care of everything in the smallest details," Morello said. "I have listened to seven or eight songs: they are long, elegant, brutal...they are Tool."
Morello noted that he hasn't heard any of the music with singer Maynard James Keenan's vocals on it.
"I hope Maynard doesn't screw everything up, but I'm sure it will not be like that," he joked.
Tool, Morello and his Rage Against the Machine/Audioslave/Prophets of Rage bandmates go way back together. Morello and Tool guitarist Adam Jones grew up together in Illinois and moved to Los Angeles around the same time. There, Morello introduced his childhood friend to Keenan and drummer Danny Carey with whom Jones formed Tool.
Morello says he was the first "outsider" to hear demos for the new record when he dropped by Tool's rehearsal space in December. In an Instagram post at the time, he described what he heard as "epic, majestic, symphonic, brutal, beautiful, tribal, mysterious, deep, sexy and VERY Tool."
When the new album is released, it will be Tool's first collection of new music since 2006's 10,000 Days album.
While Carey and Jones have claimed the album will be out in 2018, that claim is looking less likely as Keenan is also going to be busy touring in support of A Perfect Circle's new album, Eat the Elephant, is due out April 20 via BMG—that band's first full-length since 2004.
It stands to reason that it might be a challenge for Keenan to find time record his vocals.
Tool began recording in March, and after 12 years of work, one would think the band would take its time to get the music sounding right.
Keenan recently compared the delays and anticipation around the new Tool album to Guns N' Roses' Chinese Democracy, which took about 11 years to be completed.
Keenan has also suggested that delays in Tool's new music led to the completion of the new A Perfect Circle album.
"I had a lot of things I needed to do, but it sounded like things weren't, um, going forward so I had time to shift focus and dabble in something else and see where it would go," Keenan told Rolling Stone in February. "With everything I do, there are deadlines for progress. So if I see a spot like, 'Eh, there's just not a lot of movement,' I'll shift gears."
Photo: Getty Images
Chat About Tom Morello Says New Tool Album Is Worth the Wait