Staind's Aaron Lewis Slams Wes Borland: "F**k That Motherf**ker!"
By Sam Valorose
April 17, 2018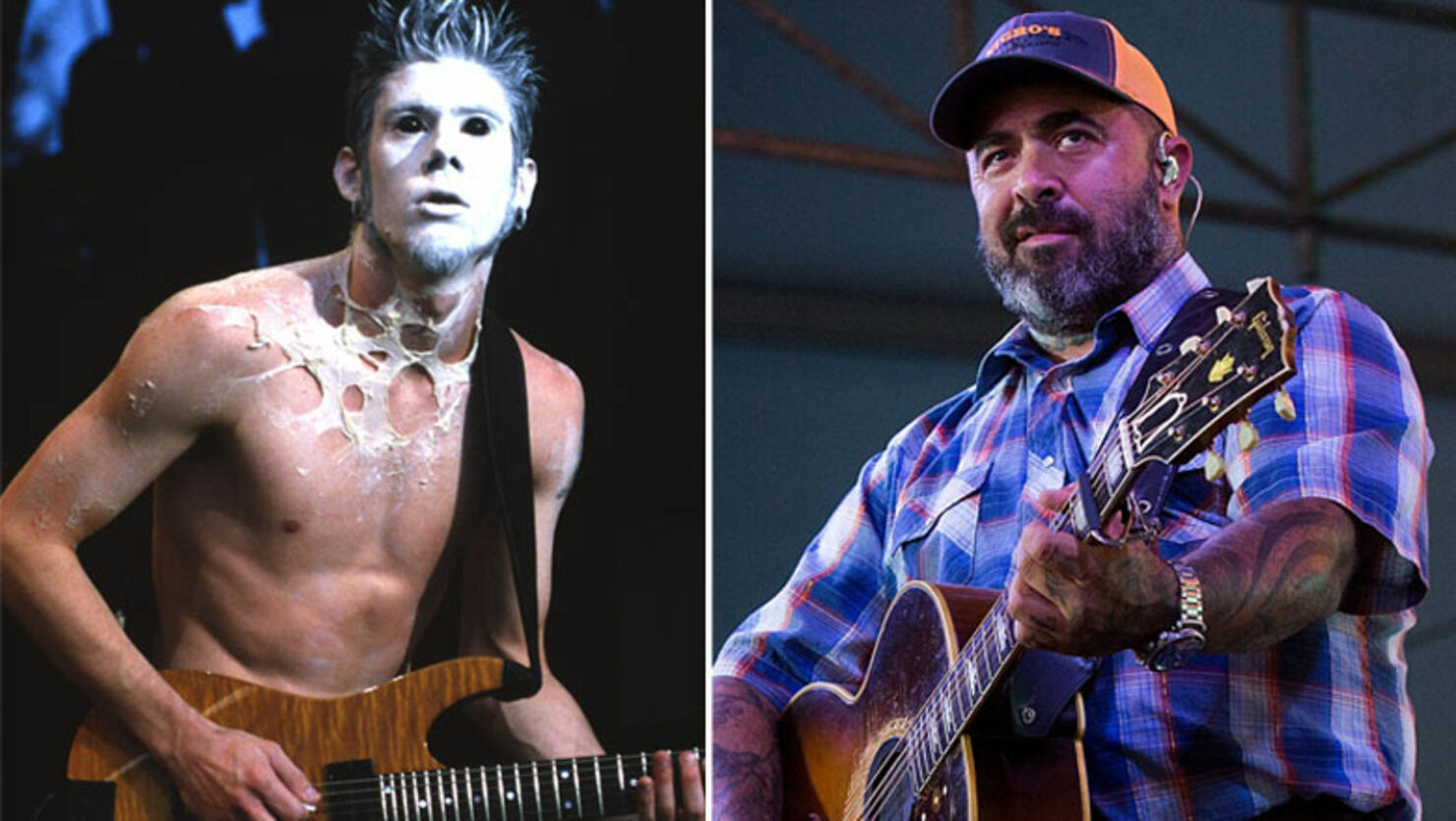 It's full-on Nu-Metal madness. Aaron Lewis publicly called out Limp Bizkit guitarist Wes Borland, referring to him as a "bougie motherf***er" during a solo performance at The Orleans Showroom Theater in Las Vegas, Nevada. The animosity towards each other stems from an altercation that occurred years ago in the Jacksonville airport that Borland detailed on "Talk Toomey" podcast.
"Aaron Lewis came up to me in an airport randomly," Borland explained. "I was visiting my parents in Jacksonville and flying back to L.A. And… I just happened to run into him and hadn't seen him in awhile. He goes, 'Where are you headed?' And I went, 'I'm going home.' And he goes, 'Home?' and I went, 'Yeah, I just visited my parents. I'm going back home to L.A.' And, for the record, I've lived in L.A. longer than I've lived in any other city in my life. And he goes… Aaron looks at me and he kind of turns his chin up and he goes, 'Nah, man. Remember where you came from. Florida is your home, not L.A. That's home.' And I just went, 'F**k you, man.' And I never talked to him again after that."
"That guy is such a d***head," Wes continued. "So full of himself, such a di**head. I wish nothing but the worst for him. Amen. I could not believe the audacity and just, like, pretentiousness — especially for somebody that acts like they're like a country boy now and they're from Illinois. Anyway, disgusting person. No, thanks. Peace."
Borland then doubled down on his comments: "I don't wanna a s**t talker, but I have no problem talking s**t about that guy. He's terrible."
Fast forward to this past weekend where Lewis blasted Borland before playing "Outside" and gave his side of their airport altercation (via Blabbermouth).
"I'm gonna sing this little ditty, I laid it down back in 1999. I don't remember, but I do know that I walked into the dressing room of Limp Bizkit.
"Wes Borland, who I love dearly, who obviously has some f***ing things to say about me. F**k that motherf***er! I know that I started this with 'I love him dearly,' because he's part of the whole reason that I'm standing here right now in front of you," apparently referring to the fact that Staind was actually "discovered" by Durst and was signed to his Flip label imprint two decades ago. "And I find it really f***ed up that…"
"This is what happened, okay? This is how it happened. This is exactly how it happened. And I don't know how the f**k he came up with what he came up with. But I'm gonna tell you what happened."
"I saw this motherf***ing bougie motherf***er riding on a f***ing golf cart in an airport to his gate. I ended up at a gate really close to him. I went up to him. I said, 'Wes, what's up, brother? I miss you. I haven't seen you in forever. How have you been?' Good,' this, that and the other thing. I'm, like, 'Where are you headed?' He's, like, 'I'm headed home — to Los Angeles.' And I'm, like, 'Hey, motherf***er, that ain't home. Remember — you're from Jacksonville, f***ing Florida.' That's how it went down."
Aaron asked the audience, "have you seen the interview? Have you heard the podcast? That's how it went down.
"'Brother, don't forget where the f**k you're from. You're from Jacksonville, Florida. You're not from Los Angeles, f***ing California. You're from Jacksonville. You're a real person. You're not the plastic, f***ed-up people that live in f***ing Los Angeles.'
"And for that — for that — for reminding my brother, one of the people that are responsible for me standing in front of you this evening, reminding my f***ing brother where the f**k he's from… And now I'm the biggest piece of s**t to ever f***ing walk the face of the earth," Lewis continued. "So, you know what? Wes Borland, you bougie motherf***er, I give all the credit to this next song to Fred. F**k you."
Watch below (Warning NSFW language)
Borland has since acknowledged Aaron's rant with a post on Instagram. In a screenshot of a text message, Borland responded to someone sending him a link to the story with, "Hopefully this means that I never have to endure interfacing with him again."