Drake, Zendaya, Miley and More: Celebrities Who Don't Eat Meat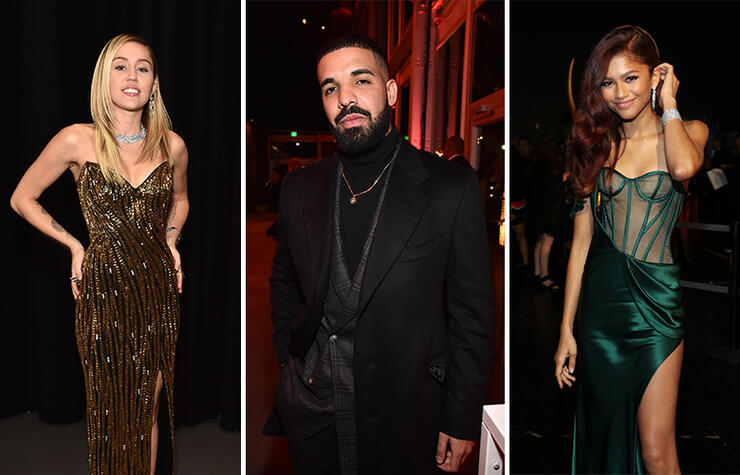 The decision to fully remove meat from one's diet is a personal and, sometimes, difficult one. But several celebrities – Zendaya, Drake, Sia, and many more – have spoken out about their choices to live vegetarian (or, in some cases, more restrictive vegan) lifestyles.
While some artists like Lea Michele dropped meat from their diets for health and nutritional reasons, others like Leona Lewis made the decision because of their tremendous love for animals. Others, like Adele, no longer follow a strictly vegetarian diet, but did partake in one at some point. Read on to see stars who overhauled their diets, whether for ethical or dietary reasons.
Travis told Men's Health his energy levels are exponentially higher ever since he made the switch to veganism: "Honestly, ever since I found this way of eating I have endless amounts of energy. I can go all day, and after it all I never find myself getting tired. No matter what kind of shows I have done, or workouts I do on top of it, I still have to force myself to sleep at night." 
In an interview with Rolling Stone he clarified, "I'm actually a cheagan. A cheating vegan. I don't eat meat ever. But if someone's mom made a cookie and handed it to me, I'd probably take a bite, or if I'm in Alaska and there's wild salmon out of the river, I'd probably eat it."
Zendaya once shared on her app her reason for being a vegetarian, saying (via People), "My main reason for being a vegetarian is that I'm an animal lover — definitely NOT because I love vegetables."
According to NY Mag, Drake announced on a live stream that he no longer eats meat.
Sia confirmed she is vegan on Twitter: "I'm fully vegan now!"
She told Jimmy Fallon of her decision to eat vegan, saying, "The reason I started this was because I had a fish that was highly intelligent. When I would come through the door, and this Blowfish would go to the side and get excited... and one day I went to a sushi restaurant with a few of my friends and they were serving blowfish and I thought, 'You know, this is an intelligent animal...'"
Lana's father confirmed on Twitter back in 2014 that Lana is a vegetarian.
Lea told Us Weekly: I keep my home completely vegan, which I think is one of the most important things. If you keep your home healthy, then, when you're reaching for snacks, you're not reaching for bad things. So, I stock it with fruits and vegetables."
Chloe Grace Moretz
Chloe tweeted in 2016, writing, "Going vegetarian was probably one of the best decisions I've ever made."
Billie once tweeted: "For being a vegan, i have more beef than anyone."
Ellie told The Cut she maintains a mostly vegan lifestyle, saying, "I'm trying to be a full vegan, I've been a vegetarian for six years. I was a vegetarian all the way through my teens as well. I'll definitely never eat fish or meat again."
She told the Las Vegas Review Journal she follows a no-carb, vegetarian diet.
Leona Lewis told The Metro about her early decision to stop eating meat, saying, "I would go to farms lot with my mum when I was younger to look at the animals – chickens and pigs – and I began to realize that I was eating those same farm animals I loved to go to feed and to be around all the time. I remember saying to my mum I just would not eat it any more. I stopped when I was about 6 or 7."
Ariana toldThe Mirror she switched to a vegan diet, saying, "I love animals more than I love most people, not kidding. But I am a firm believer in eating a full plant-based, whole food diet that can expand your life length and make you an all-round happier person."
Kellie told People back in 2008 that she decided to become a vegetarian after years of eating meat.
Carrie cut meat out of her diet completely by the time she was 22, according toSelf magazine, noting that while she would ideally live an entirely vegan lifestyle, it's sometimes hard to do so when she's on the road: "I want to be vegan so badly, all the way, 1,000 percent. But traveling and stuff, it just kind of gets hard. Sometimes I may have to do some egg whites or something for breakfast."
Zac Efron
The actor told Teen Vogue that veganism has "completely changed the way that my body works, and the way that I metabolize food, the way it turns into energy, the way that I sleep. It's been brilliant. It's been great for my exercise, and great for my routine."
Madonna
Madonna follows a very strict diet that includes a great deal of fish and absolutely no meat or dairy products.
Ellen Degeneres
Ellen has been vegan since 2008 due to her love for animals. In her recent comedy special Relatable on Netflix, Ellen admitted, "In the last year or two for no real reason, I started eating a piece of fish once in a while. Or I'll eat eggs from chickens I know—if they are in someone's backyard or are happy."
Sadie Sink
The Stranger Things actress made the switch from vegetarian to vegan after speaking with fellow vegan, Woody Harrelson on the set of the film The Glass Castle.
Chat About Drake, Zendaya, Miley and More: Celebrities Who Don't Eat Meat