Billie Joe Armstrong Insists Green Day Isn't Breaking Up
By Andrew Magnotta
April 27, 2018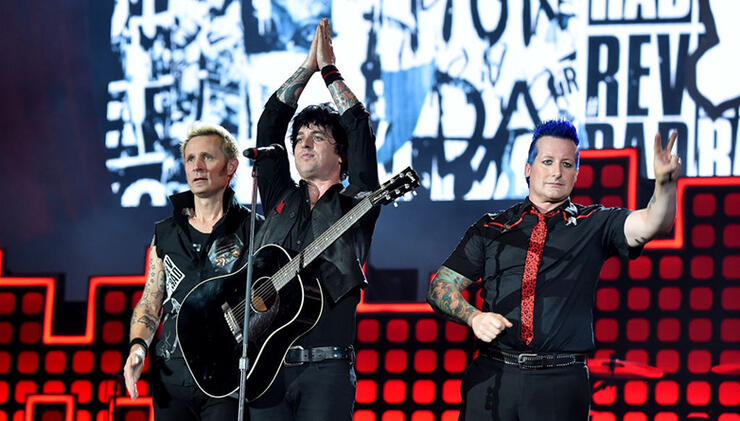 Green Day fans know the difference between a side project and a break-up. But forgive them for being a little perplexed to learn frontman Billie Joe Armstrong recently launched a new band that sounds, frankly, an awful lot like Green Day.
Armstrong referred to those questioning Green Day's future as "whiners" in a video clip recently posted to the Instagram story of his new band, The Longshot. He also implored fans to "shut the f*** up" with rumors about a break-up.
The singer and guitarist addressed the questions, assuring fans that Green Day is fine. The Longshot is just a creative way Armstrong is spending this recent period of down time between Green Day tours with some other friends of his.
"I'm playing music because that's what I'm supposed to do," Armstrong said. "That's what people that play guitar, and drums, and bass, and they sing – this is what we do."
He concluded by asking the doubters to "f*** off" and those interested in The Longshot to "come along, because it's a lot of fun. All right? Have a pleasant day."
The Longshot's debut album, Love Is for Losers, is available now. Get more information on the album and the band's upcoming tour here.
It's also worth pointing out that a cover band led by Armstrong and Green Day bassist Mike Dirnt, called The Coverups, performed in late-March at a small venue in San Francisco.
That set reportedly also included Green Day drummer Tre Cool.
The fact that a hard-touring band like Green Day still performs together during its off-time certainly suggests the band is as healthy as ever, and Armstrong's Longshot project won't detract from any of Green Day's activity.
Photo: Getty Images
Chat About Billie Joe Armstrong Insists Green Day Isn't Breaking Up