Whitesnake Delays New Album Release Until 2019
By Andrew Magnotta
May 1, 2018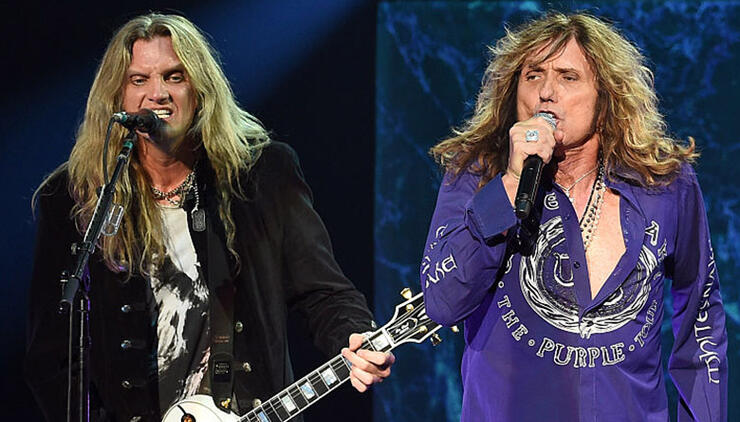 David Coverdale and Whitesnake have been excitedly teasing their upcoming new album for months, but it appears Flesh & Blood will not be arriving as planned.
The band's record label, Frontiers Music, made the announcement Monday via Facebook, writing that with "great disappointment...following technical issues whilst mixing the new Flesh & Blood album," its release will be delayed until next year.
Frontiers also promised that the release of the new album will come along with a new Whitesnake world tour.
"Whitesnake would like to express their sincere regrets to their fans all over the world for any and all disappointment and promise that the album and tour will be worth waiting for," the statement concluded.
Whitesnake will tour North America this summer, sharing a bill with Foreigner and Jason Bonham's Led Zeppelin Evening.
Get the tour dates here.
As for Whitesnake's new album, it's anyone's guess what the "technical issues" could be. "Technical issues" with mixing certainly aren't problems that experienced, well-funded artists of Whitesnake's level generally have to deal with.
Coverdale has expressed nothing but enthusiasm about the new album. However, the singer did reveal last month to Eddie Trunk that he was stricken with a potentially deadly flu around the time the album was being recorded. Perhaps Coverdale and company decided they ultimately weren't happy with aspects of the production during the time Coverdale was out of commission, but it's unclear.
"I got that horrible H3 flu...which took me out for I think about six weeks before I started to feel like myself again!" Coverdale told Trunk. "It was horrifying. It was a killer! I don't know what the full [name of the flu] is, but it was that strain of flu that the anti-flu vaccination didn't cover. It was just evil. Evil, evil, evil strain of flu."
While it probably won't take until 2019 to sort out whatever issues there are, Frontiers is a small label and probably has other releases planned through this year. Those other releases could limit Frontiers' ability to promote Flesh & Blood until the new release date in 2019.
Coverdale has said that he thinks Flesh & Blood is Whitesnake's best album ever, describing it as classic Whitesnake but "with a fresh coat of paint."
Photo: Getty Images
Chat About Whitesnake Delays New Album Release Until 2019