Kylie Jenner Talks About The Inspiration Behind Naming Her Daughter Stormi
By Hayden Brooks
May 2, 2018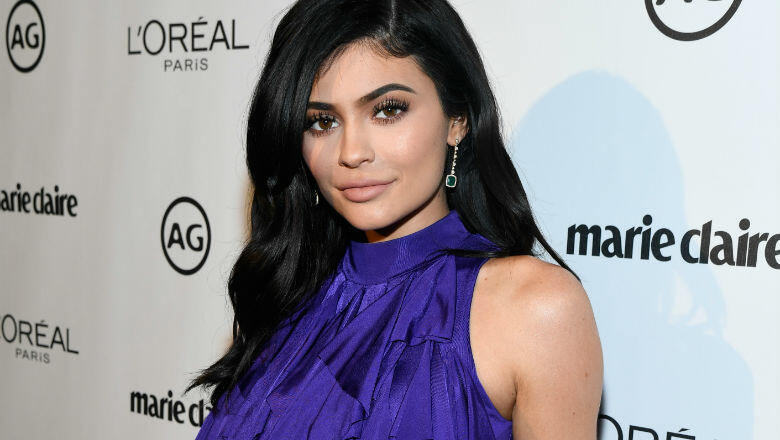 Kylie Jenner has opened up about motherhood once again in her new cover story for ES Magazine, which hits newsstands on Thursday (May 3), and the interview included talk about how the 20-year-old star and Travis Scott chose the name Stormi Webster for their daughter.
"I really don't know how we thought of Storm. [Travis Scott] insisted it was him, but I feel like it was me," she told guest interviewer Kim Kardashian. "And that kind of just stuck with us. And then I didn't really like just Storm — I didn't feel like that was her name. So then it became Stormi. And it just stuck. I feel like there were a lot of other names that I might have even liked better to be honest, but I feel like Stormi picked her own name, like it was just her name."
When it comes to her experience with the early stages of motherhood, the Keeping Up with the Kardashians star said that it's been "so amazing, and so much fun" to raise her little girl. "I'm learning so much more about myself and life, and it's been such a great experience. Of course, there's hard times and stuff… even in the beginning, just not sleeping, the nights, like, baby blues… and all the ups and downs," she continued. "And also even when I'm here it was so hard to leave this morning. I'm like, 'I'll be right back, I'm so sorry, I have to leave!' and she doesn't even know what's going on. I think about her all the time, anywhere I am. I would rather be with her or wish she can come everywhere. I can't wait till she can come everywhere with me, because right when she's old enough I'll bring her everywhere."
Jenner also sounded off on her thoughts about plastic surgery, admitting that she's not against it, but has no interest in doing anything right now. See photos from the ES Magazine spread below!
Chat About Kylie Jenner Talks About The Inspiration Behind Naming Her Daughter Stormi