A Fan Flew From Spain to England Just to Tell Steven Wilson He Sucks
By Andrew Magnotta
May 4, 2018
To most Steven Wilson fans, it's clear that the artist who's often described by superlatives like 'modern prog rock king' or 'godfather or 'mastermind' has covered more than enough musical real-estate in his 30-plus-year career to explore whatever genre he pleases. But alas, most is not all.
The former Porcupine Tree frontman's latest solo album, To the Bone, has ruffled the feathers of plenty of fans around the world. These are people who register complaints like that there aren't enough time signature changes on the new album or that the songs are too short.
Wilson recalls in a recent interview with Q104.3 New York's "Out of the Box" with Jonathan Clarke that he encountered one such joyless fan-journalist during an event last year in England.
"He flew to London as part of a press junket that I was doing to basically tell me how much he hated the record," Wilson says. "In a way that's kind of flattering because he obviously cared deeply—he cared enough about me and my catalog to want to fly all the way to tell me I'd done something wrong in his view."
Much of the "outrage" centered around To the Bone concerns the lead single: a song called "Permanating," which Wilson himself describes as "joyous pop." It's a style of music that fans among the prog rock elite are as much opposed to as they are ignorant of.
But Wilson didn't get to where he is (recently selling out most of the dates of his U.S. tour) by wilting away beneath negative reviews. In fact, he says the awkward encounter in London was a good sign.
"Because if you're not upsetting people, if you're not upsetting some of your fans—I don't go out of my way to upset my fans—but it's part of the deal. If you're upsetting your fans, you know you're changing, you know you're evolving, you know you're doing something different."
Doing something different is why Wilson even bothers making new albums, he explains. With a discography literally hundreds of pages long, Wilson says he could quit writing new music and make a career out of simply managing his legacy, reissuing old albums and touring a few times a year.
But his love of the Bee Gees, ABBA and Prince is something Wilson has never really explored on an album. He finally got to do that on To the Bone, which by the way, isn't hardly as out of left field as it's made it out to be.
To the Bone still has a healthy dose of the mélancolier of which Wilson is best know, but the sadness is balanced out by more hopeful notes. Wilson's songwriting is as sophisticated as ever in how he's simplified some of his conventions with a new cast of band members. He says the album is growing on fans with every show.
"Every single night when I play that song, that gets the most incredible reaction of the whole night," Wilson says. "It's amazing to see these guys with the Pink Floyd and the King Crimson T-shirts sort of sitting there looking grumpy when I'm talking, 'Okay, we're gonna do 'Permanating' now' — by the end of the song they're all up dancing."
Watch the full Q104.3 interview above!
Get all Steven Wilson's tour dates here.
Photo: Getty Images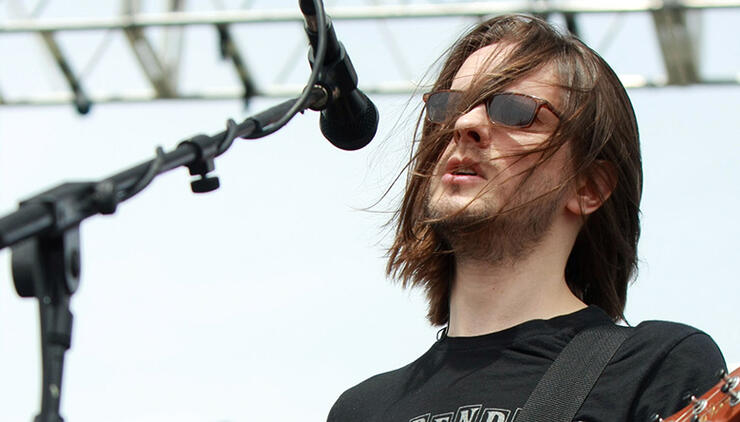 Chat About A Fan Flew From Spain to England Just to Tell Steven Wilson He Sucks