Khloe Kardashian & Tristan Thompson Spotted Together After Cheating Scandal
By Taylor Fields
May 5, 2018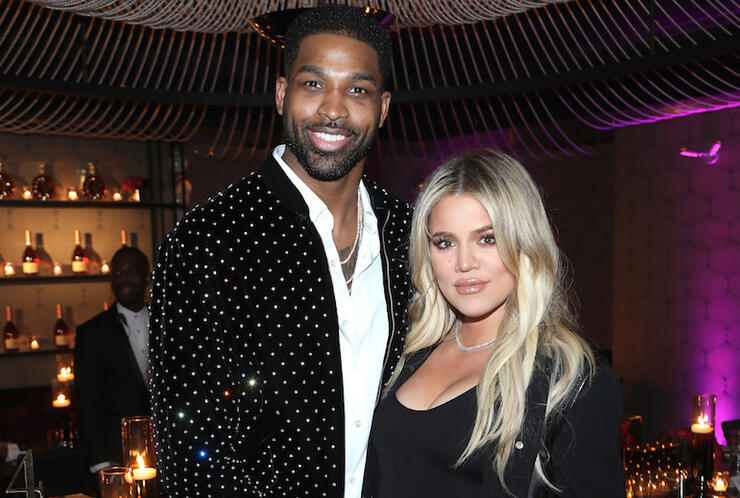 It's been nearly a month since Khloe Kardashian and Tristan Thompson welcomed their daughter True into the world ... and since news of Tristan cheating on Khloe multiple times with multiple women came to light. And while Khloe is currently concentrating on being the best mom she can be to True, many are now wondering what the status of Khloe and Tristan's relationship is.
New reports say that the pair have reconciled. An insider recently told Us Weekly that Khloe and Tristan are "fully back together." The source adds that Khloe has seen all of the videos and photos surrounding Tristan's cheating scandal, and that she feels "the whole world is against Tristan" and that "no one in her world is supporting Tristan and she's still in love with him."
A video of Khloe and Tristan obtained by TMZ enjoying lunch at TownHall restaurant in Cleveland has surfaced where they were dining out with a few friends, and in good spirits.
Neither Khloe or Tristan has publicly commented on the status of their relationship, but many members of Khloe's family have been vocal about the cheating scandal. Recently, Kim Kardashian appeared on The Ellen DeGenres Show, where she said of the situation, "I don't even know how to describe it besides it's just so f***ed up." She added, "We really were rooting for Khloé. And we still are. She's so strong and she's doing the best that she can. It's a really sad situation, all over."
And earlier this week, Kris Jenner also emotionally opened up about her daughter. Also appearing on The Ellen DeGeneres Show, Kris said as she fought back tears, "Khloé is amazing! I'm so proud of that kid. I get choked up because she's such a good mom and honestly I get so emotional. I was in Cleveland last week, it was snowing, and she was all nestled in the nursery and the baby. She's just concentrating on that, being a mom, her baby and that's what her sisters are doing as well."
Meanwhile, friends of Khloe are concerned about her and Tristan's reported reconciliation, because they are fearful that history will repeat itself. A source tells Us Weekly, "The main question everyone has now is: 'When will he cheat again?' It's not a matter of will he? But it's a matter of when will he. This should be the best time of her life but it's been overshadowed with something so awful."
Chat About Khloe Kardashian & Tristan Thompson Spotted Together After Cheating Scandal