Taylor Swift's "Reputation" Stadium Tour: All the Details We Know
By Nicole Mastrogiannis
May 6, 2018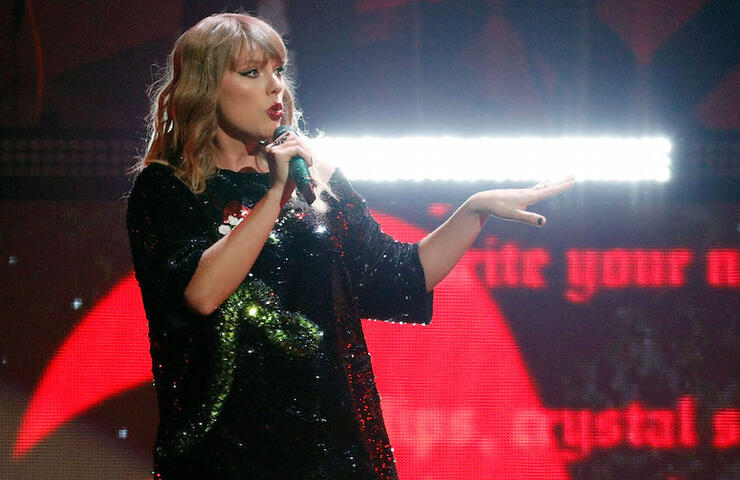 Fellow Swifties ... we've made it! We were floored when "Look What You Made Me Do" came out, (the old Taylor can't come to the phone right now), we enjoyed every song released until reputation was finally put out into the world, and we watched our queen Taylor Swift eat raw cookie dough over and over again to secure a place in line to buy tickets to her "Reputation" Stadium Tour ... and now ... it has finally arrived.
On May 8th in Glendale, Arizona, Taylor's "Reputation" tour officially begins! Tay Tay has been dropping major hints about what to expect and what us Swifties can look forward to seeing during (and after) the show. Here's what we know so far ... ready for it?
Camila Cabello & Charli XCX will be opening
Before your arrival in Taylor Land, be prepared to make a pitstop in Havana ooh na na with Camila, and watch Charli be the pop queen she is. Hold on to your wigs, people...
SAY HELLO TO OLD TAYLOR ... SHE'S BACK FROM THE DEAD
Taylor revealed via Instagram stories, that she will be performing 10 (TEN!) songs from her previous albums, in addition to songs from reputation.
There will be THREE stages ... because Tayor wants to see all of your Swiftie faces
Taylor shared via her Instagram stories, "On the tour, there will be three stages. The reason why I want there to be three, is because I want to be able to get as close to you as possible. And see you guys."
You could be picked to MEET Taylor at the show in her "Rep Room" backstage
"There's always a room that I have backstage. During the show we always pick people to come after the show to say hi, and go to this room. 'Red Tour' is called Club Red, Loft 89 was '1989 [Tour].' This tour it's called the Rep Room. So that will be the room where I ... we're going to be looking at all kinds of ways to get people and find people that I can meet after the show, which I'm so excited about."
Scroll to the right to see actual footage of said "Rep Room." 🐍
The stage is 110 feet tall AND THE FLOOR IS A SCREEN
"The stage is the biggest stage we've ever had. It's 110 feet tall and both of the B stages that are out in the audience are pretty much just as big as the main stage was on the '1989 Tour.' Something about this stage that we've never had before is, it's got a video screen wall that's pretty seamless, and that continues down onto the floor. So everything we're walking on, onstage, is a screen. It looks so cool from the upper sections of the stadiums. When we're walking on it though, it's kind of like you're walking on an optical illusion."
Taylor is bringing a piano which will be used for two songs -- one from reputation and one older song
One song will be used for a reputation song -- *cough cough* "New Year's Day *cough cough* and one older song from a previous album 😳
There's new tour merch!
TAKE. MY. MONEY. 💸 Keep scrolling below to see some of the new stuff to match your snake rings and reputation gear.
Taylor will be transported via a ROCKET. SLED.
THIS IS STATE OF THE ART TECHNOLOGY. Taylor explained she will be getting around via a Rocket Sled underneath the stage. She said via Instagram stories, "It goes underneath the stage, and takes me from one place really quickly to another place. The stage is so big that we, I guess, need that?"
There will be EIGHT costume changes
Taylor is changing EIGHT times throughout the course of the night and shared some closeups of her very sparkly outfits -- including a sequin snakeskin costume!
At the very end of the show, don't leave, because Taylor will be playing a bloopers reel of "times in rehearsals where things did not go according to plan."
See a sampling of said hilarious bloopers below.
Her confetti is made of MINI REPUTATION NEWSPAPERS
This woman has honestly thought of everything. And she throws confetti like the magical being she is.
She has SEVEN microphones, including one with "a snake attacking it."
Here are all of Tay's mics: a rose gold, newspaper print with her name on it, a color variation of that same newspaper print, a regular gold "because why not," "a gold mic that has a gold snake attacking it," a sparkly green which can always be described as "St. Patrick's Day at a disco," and her black sparkly mic from the "1989" tour.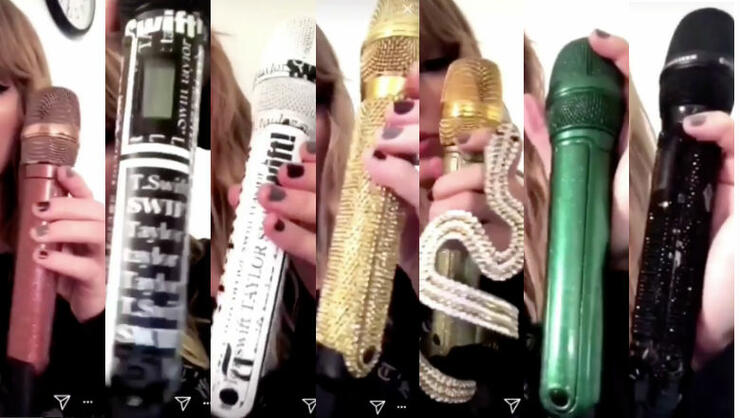 Chat About Taylor Swift's "Reputation" Stadium Tour: All the Details We Know