Mason Ramsey Teaches How To Yodel (VIDEO)
Eleven-year-old Mason Ramsey became a country music sensation overnight when he went viral on social media after being filmed in a Walmart yodeling to Hank Williams's "Lovesick Blues." And now, he's revealing the secrets to his skills!
Mason surprised the crowd at this year's iHeartCountry Festival in Austin, Texas (May 5) and performed the tune that made him famous in the first place at his local Walmart, in addition to his brand new single, "Famous."
Backstage at the festival, Mason got to chat with another "lil'" star ... Little Bobby Bones! The pint-sized version of the "Bobby Bones Show" host talked to Mason about all of his newfound fame, and also asked him to teach how he yodels.
Mason's social media says he's been singing since he was three years old, but during his interview, he explains that he picked up yodeling pretty quickly. He said, "Well, the first time I ever tried it I got it just like that, but it didn't sound too good. But it, took me a couple days, and I got it!"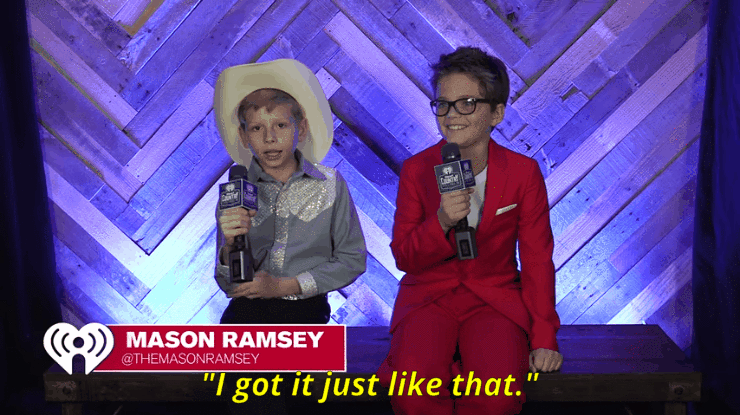 Then, Little Bobby Bones asked Mason to teach him how to yodel. Ramsey explained, "It's like up, down, up, down. Just like that. You go from the low to high to low to high to low. Just like that."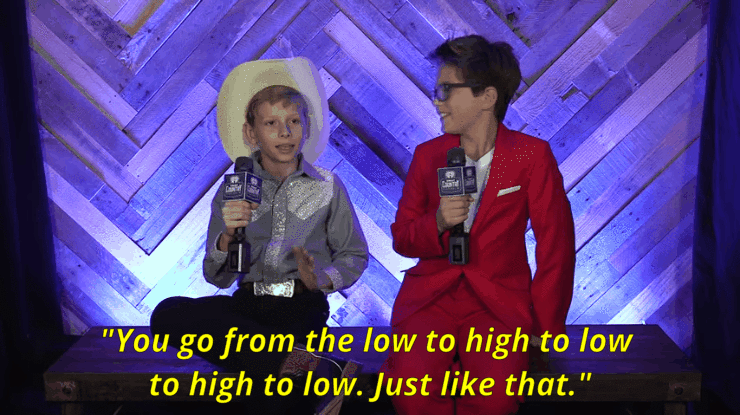 Watch Mason's yodeling skills in the video above!
Elsewhere backstage, Mason also talked about what life has been life since his Walmart yodeling video went viral. He said, "There's a lot been going on in my life for the past month when 30 days ago I was singing in a Walmart, and here I am in Texas, and at the Opry, and everywhere; Ellen, Stagecoach, Coachella, everywhere."
But, his favorite thing he's done so far? Performing at the Grand Ole Opry, of course! He describes singing at the iconic country music venue as "amazing" ... "50 million amazings" to be exact. See Mason's interview below, and watch him play Darts for the first time! He's already pro.
Country fans will be able to relive the best moments from the 2018 iHeartCountry Festival during a special TV broadcast on Sunday, August 5th at 8pm ET/PT on FOX. The two-hour show will showcase never-before-seen collaborations, behind-the-scenes interviews with the artists, as well as guest appearances by Gavin DeGraw, Jana Kramer, Sam Palladio, Josh Henderson, Danielle Bradbery, Ryan Hurd and cast members from FOX's hit drama, THE GIFTED.