New Alice In Chains Single Inspired by David Bowie's "Fame"
By Andrew Magnotta
May 9, 2018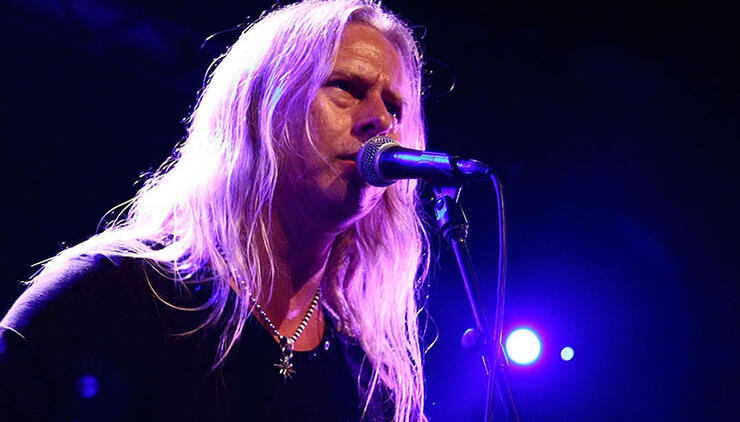 Alice In Chains owes the inspiration for the band's first new single in five years to David Bowie. AIC guitarist Jerry Cantrell says "The One You Know" is basically a harder rocking version of Bowie's 1975 hit "Fame."
Cantrell described how the band crafted the chomping, angry main riff for "The One You Know" in a recent interview with SiriusXM backstage at last weekend's Carolina Rebellion festival.
"I was thinking almost, kind of, of Bowie while writing it a little bit," Cantrell said. "It's got kind of a metal, like, 'Fame' shuffle to it. It's a good aggro riff and it's got the classic Alice In Chains chorus with a weird, kind of, trippy middle part."
Can you hear what Cantrell is talking about?
The guitarist says he thinks "The One You Know" is suggestive of some sonic themes on the rest of the new album, the title of which has still not been revealed.
"There's a lot of edgy stuff there, a lot of rockin' stuff, a lot of weird stuff and some pretty stuff i there too," Cantrell added.
The new song is from the band's upcoming sixth album, the follow-up to 2013's The Devil Put Dinosaurs Here. "The One You Know" is very much in the vein of Alice In Chains' work since the band's 2009 comeback. The song is swampy and dark with melancholic harmonies and a persistent, crawling back beat — everything fans loves about Alice In Chains.
Cantrell says Alice In Chains never rushes anything.
"We've been really fortunate in most of our career to be able to make music when we feel like it rather than have to be on somebody else's schedule," he said. "So we take advantage of that. There's really no reason to put music out unless it's something that we feel strongly [about] and stand behind."
The album is expected to be released while Alice in Chains is on tour between now and late-September.
Alice In Chains 2018 Tour Dates
May 7 – New York, NY – Hammerstein Ballroom
May 8 – New York, NY – Hammerstein Ballroom
May 10 – Atlanta, GA – Coca-Cola Roxy
May 12 – St. Louis, MO – Pointfest
May 13 – Somerset, WI – Northern Invasion
May 15 – Chicago, IL – Riviera Theatre
May 16 – South Bend, IN – Morris Performing Arts Center
May 18 – Columbus, OH – Rock on the Range
May 19 – Philadelphia, PA – WMMR BBQ / BB&T Pavilion
June 16 – Leeds, UK – O2 Academy
June 17 – London, UK – O2 Shepherd's Bush Empire
June 20 – Stockholm, Sweden – Grona Lund
June 21 – Halden, Norway – Tons of Rock Festival
June 22 – Copenhagen, Denmark – Copenhell
June 24 – Clisson, France – Hellfest
June 25 – Zagreb, Croatia – INmusic Festival
June 28 – Padua, Italy – Sherwood
June 30 – Bezirk-Landstrasse, Austria – Arena Open Air Wien
July 1 – Budapest, Hungary – Budapest Park
July 3 – Berlin, Germany – Huxley's Neue Welt
July 4 – Cologne, Germany – Live Music Hall
July 8 – Belford, France – Les Eurockeennes 30
July 10 – Milan, Italy – Ippodromo Snai San Siro
July 13 – Madrid, Spain – Mad Cool Festival
July 14 – Lisboa, Portugal – NOS Alive
July 17 – Tel Aviv, Israel – Caesarea
July 18 – Tel Aviv, Israel – Caesarea
Aug 22 – Vancouver, BC – Queen Elizabeth Theatre
Aug 28 – Paso Robles, CA – Vino Robles Amp
Aug 29 – Los Angeles, CA – Palladium
Aug 31 – Riverside, CA – Riverside Municipal Auditorium
Sept 1 – Las Vegas, NV – The Pearl
Sept 3 – Tucson, AZ – Tucson Music Hall
Sept 4 – El Paso, TX – Abraham Chavez Theatre
Sept 6 – Austin, TX – ACL Live
Sept 7 – Houston, TX – Revention Music Center
Sept 8 – Dallas, TX – Pavilion @ Toyota Music Factory
Sept 10 – Tulsa, OK – Brady Theatre
Sept 11 – Kansas City, MO – Midland Theatre
Sept 13 – Denver, CO – Fillmore
Sept 15 – Phoenix, AZ – Comerica Theatre
Photo: Getty Images
Chat About New Alice In Chains Single Inspired by David Bowie's "Fame"