Arctic Monkeys' Alex Turner Details 'Tranquility Base Hotel & Casino'
By Nicole Mastrogiannis
May 11, 2018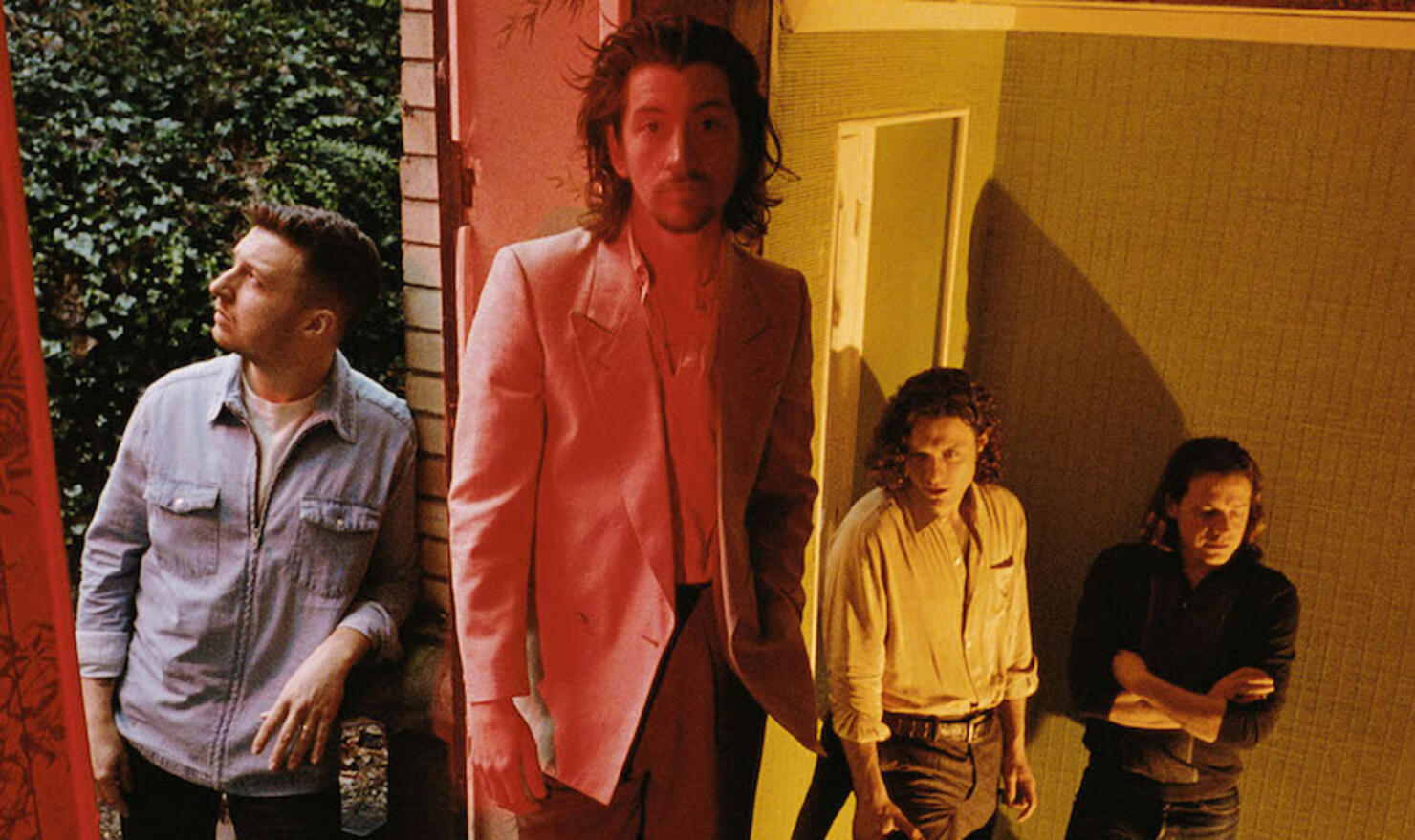 Arctic Monkeys have returned. The band, from Sheffield, England, has released their sixth full-length studio album, Tranquility Base Hotel & Casino, which is their first since 2013's AM.
Tranquility Base Hotel & Casino includes 11 new songs in total, none of which were released before the album dropped in its entirety. Arctic Monkeys' Alex Turner exclusively explains to iHeartRadio of the decision to share their new body of work this way, "I wanted 'The Star Treatment' to be the first thing from this recording that people heard, and the only way to ensure that, other than releasing it as a single prior to the album's release, which wasn't really an option, was to not release any singles, and then put the album out all together. That being track one, chances are, it would be the first thing that anybody heard. And it was the first thing I'd written for it and sort of led me into the writing for this album. When you're listening to it, hopefully it leads you in, in the same way." He adds, "Once we shared this music, with people around us, the consensus was it worked best as eleven songs, start to finish."
The foundation of Tranquility Base Hotel & Casino was created in Alex's studio in his spare bedroom, which he jokingly referred to with his friends as "the lunar surface," a name that comes from the conspiracy theory that the moon landing was faked inside a TV studio. The band then recorded more of the album at Los Angeles' Electro-Vox recording studio, and finished the LP up in France at a studio called La Frette, over several weeks. But, as Turner explains of the early material from his home studio, "I wrote the whole thing there. I recorded a lot of the vocals there, and made demos. But we ended up actually keeping a lot in the vocal stuff from the original recordings."
On Alex's Songwriting Inspiration & His Piano
A piano that Alex was gifted had sparked a lot of inspiration for the songs on the new Arctic Monkeys album. He recalls that he received the instrument for his 13th birthday, and while it was the first instrument he played as a kid, he hasn't written much music on it until now. He says:
"I came down the hill on me skateboard one day, and there it was. I received a piano as a very kind gift for me 13th birthday. I've played a bit of piano since I was a kid, not very often, but it was the first instrument I got me hands on as a child, and I had a very limited understanding of it, but an understanding no less. I've never really written that much on piano. One or two things here and there; like, '505,' possibly, which is just the two chords. Everything you come to expect from The Last Shadow Puppets' second album was written on organ, but I can't think of any times other than that, that I've composed anything sitting at a piano, until now, the whole of this record. All of this album noise was written on the piano, really. I think when I picked up a guitar, I can't really remember having any ideas on it, but the piano seemed to ignite the imagination."
Out of what Alex wrote on the piano, helped inspire the song lyrics. He explains, "A lot of it actually comes from the music, and certainly more than ever, this time, writing the things I was playing on piano seemed to suggest a lot of this stuff to me. There are things in it here and there that I've overheard conversations or based on people that I've met, or what I'm feeling, but I think that a lot of it seems like the music, is what permits it a lot of the time."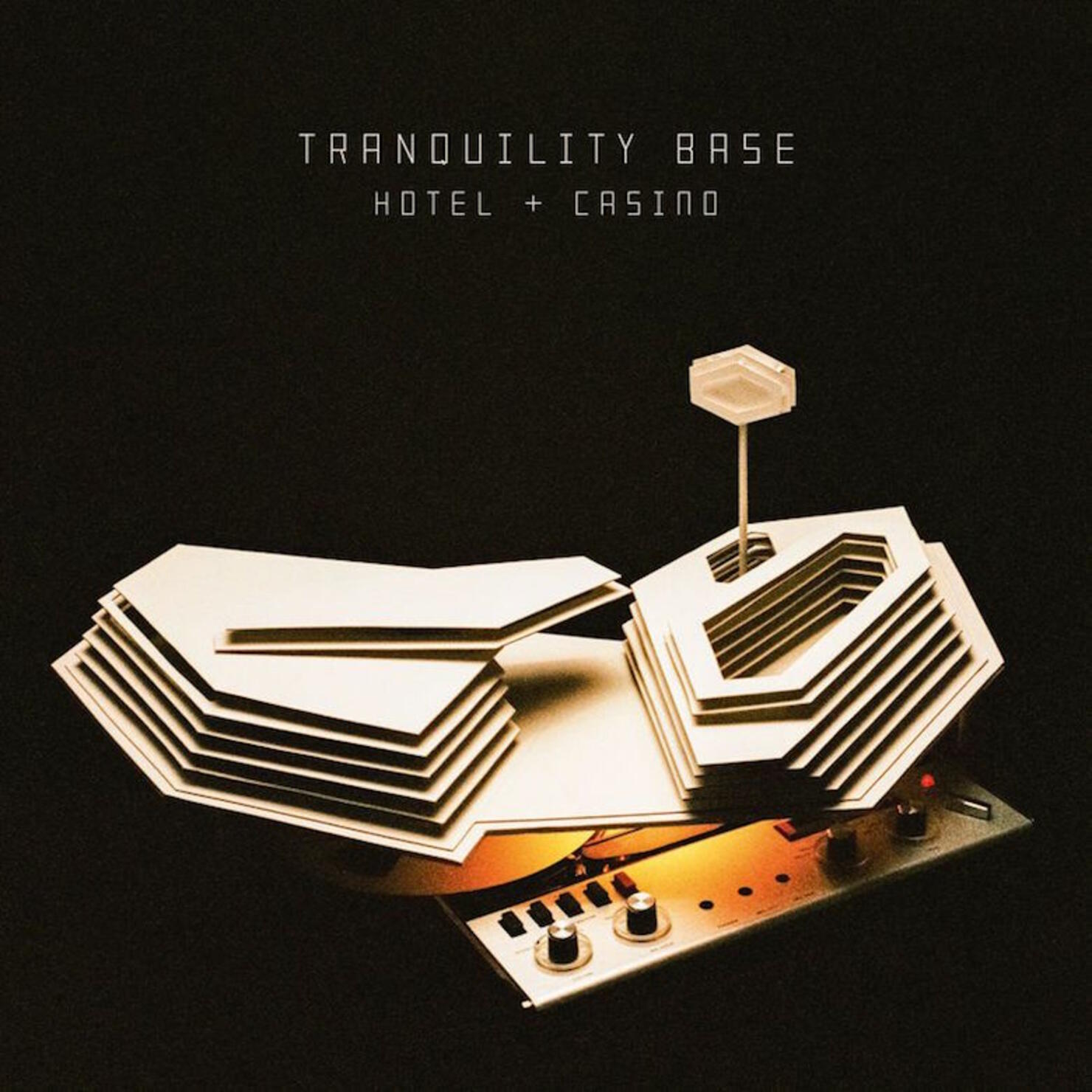 The Meaning Behind The Album's Title Tranquility Base Hotel & Casino
The album cover art for Tranquility Base Hotel & Casino features cardboard cutouts, cut by Alex himself. And if you're wondering what you're looking at, it's an architectural model of the Tranquility Base Hotel & Casino. Alex explains, "Having named the album Tranquility Base Hotel and Casino, it wasn't long before the idea of something resembling an architectural model would be on its cover. I like the idea of the model of a hotel in its lobby. I was thinking about that, and then I explored some other things that might be in that lobby that were also potential ideas for album artwork, including keys and information desk signs, I'd build a few things like that. But this idea of the architectural model, the lobby model, or study model as I thought of it, eventually is where I ended up through exploring other things that might be in the lobby of the album."
Alex also revealed where the album title came from. The record is named for its title track, "Tranquility Base Hotel & Casino," which features main character, Mark, who works at the hotel. As the chorus goes, "Good afternoon/ Tranquility Base Hotel and Casino/ Mark speaking/ Please, tell me, how may I direct your call?" Turner tells us that the idea of Mark and the song helped name the record, telling us, "The lyric and the song came from the idea of the character in the song, Mark. I think I pictured him on the phone, first of all, and the place where he was after that, and subsequently gave the record the title, Tranquility Base Hotel and Casino because it just clicked into place. I think of some of my favorite records as places that you can go and stay for a while, and sort of spurred me on to give this record the name of a place."
Alex also opened up about the meanings behind some of the songs on Tranquility Base Hotel & Casino and what inspired them. Read on below.
Track 1: "Star Treatment"
"The basis of 'Star Treatment' was something that I had at Shangri-La Studios when we were doing the Last Shadow Puppets' last record, so it'd been around for a while. That's where it started with, was that, and one day I started writing the words to it. I was watching [Federico] Fellini's 8 1/2, that was on me mind. I was at the piano started singing about it ... The Strokes and suitcases. 'Star Treatment' was like that phrase to me, what I'm sorta describing when it gets to that point in the song is, I remember, as a kid, me dad would always blow me mind with this description of how far away the stars were from us as we'd stand there in the back garden of an evening, occasionally. And he'd do this thing which I won't try and do now, but I remember it, because I'd always get a rush from it. The album title, actually, before we decided to just call it Tranquility Base Hotel & Casino, was gonna be The Star Treatment at Tranquility Base Hotel & Casino. I thought, if whether this hotel complex is on the lunar surface. And I was trying to write an advert for it, the copy I might arrive at would possibly be 'Star Treatment.'
Track 2: "One Point Perspective"
"The title of the song is taken from a technique that in film-making, in a type of shot where you put the subject at the center, and it's almost sorta symmetrical, and it's unusual. I think it's sorta breaking a lot of rules and whenever happens, it's sort of unsettling, I think, to the viewer. Stanley Kubrick used it, it's not just him that uses it, but he used it in every flick I think. I think that the feeling that's created with that is in tune with this tune."
Track 3: "American Sports"
"I visited me Granddad one day and he said to me, 'You know, I often think of phrases even there that I think you might be able to do something with.' And I sort of went 'All right.' He likes to watch the horse-racing, and he began to tell me that whenever there's what's called a 'steward's inquiry,' if something ... I guess there are multiple reasons things that could lead to a steward's inquiry. But I suppose it's something untoward happened, there's what's called a 'steward's inquiry.' And he said, all you ever hear back after the steward's inquiry is the phrase 'the trainer's explanation was accepted by the steward.' Which, as he said it I just thought was loaded. He wrote it down for me and I wrote a verse around it. And, the whole song kinda really came from that."
Track 4: "Tranquility Base Hotel & Casino"
"'Tranquility Base Hotel & Casino' really all started with Mark, I think. I saw this person picking the phone up, and I had to figure out where he was. And, it turns out he was in 'Tranquility Base Hotel & Casino.'"
Track 5: "Golden Trunks"
"It was nearly called 'Bendable Figures,' this song. Which was because, someone got me a toy Batmobile, and it came with bendable figures of Batman and Robin, I assume, among others possibly. I've made a bit of a name for me since, and I mean, I am a fan of the old Batman book. I remember looking at this box and on the box it said 'bendable figures' and I don't know. The news might have been on in the background, and here we are."
Track 6: "Four Out of Five"
"'Four Out of Five' is the other end of the tunnel to 'Tranquility Base Hotel & Casino,' so to speak. If there are two songs that are joined together on this, it's those two. I think it kinda just finishes what is started by Mark."
Track 9: "She Looks Like Fun"
"Did you ever watch that High Maintenance tv show, about the weed dealer? I've seen a few of 'em, and I thought it was very funny. But there was an episode that got me thinking about the types of ideas we're putting across on 'She Looks Like Fun.' I suppose that there's this part of this episode, and there's a girl, and she's just always on the phone and taking pictures of her lunch, and always perhaps maybe spending a lot of time in the virtual world. She has a book and the phone, and keeps trying to read the book, but can't put the phone down. And eventually, this scene just ends, she bursts into tears. It just spoke to me, because I've had myself, I think, where you can't help but just keep picking the phone up, and you just become consumed by it. But that's what was the start of that song. Then, I think for the chorus in 'She Looks Like Fun' sorta shouting things that I might post, it sorta seems a bit like to me sometimes. You just, like, shout cheeseburger, whatever it may be. But it's not without its Batman reference either. You'll be happy to know."