Five Finger Death Punch Drummer Brings Mini-Version of Himself Onstage
By Sam Valorose
May 11, 2018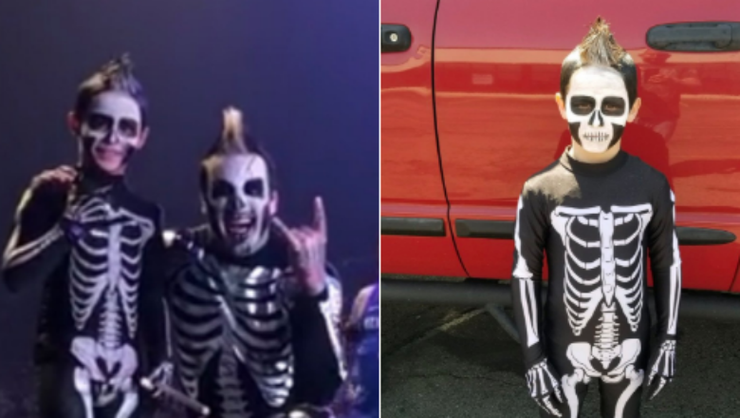 Five Finger Death Punch made one young fan's dream come true when drummer Jeremy Spencer invited a mini-me version of himself to get behind the kit in front of a packed show at the Rupp Arena in Lexington, Kentucky. Hitting the stage after Shinedown, Starset and Bad Wolves, FFDP frontman Ivan Moody invited some kids onstage who were near the front of the stage next to the moshpit. According to LexGo, the band invited 10-15 kids and their parents to the stage who then got to meet the band.
The luckiest of all was a boy dressed as drummer Jeremy Spencer who got to sit behind the kit while the crowd cheered him on. Check out footage posted to Five Finger Death Punch's official Twitter account below.
His mom responded to the video thanking them for the once-in-a-lifetime experience and how it meant so much to her son. "This is my son Joey Hawk who has idolized you guys since he was 3," she wrote. "Thank you for making your little fans feel special, he told me he will never forget this night," she continued.
Five Finger Death Punch recently released the music video for "Sham Pain" off their upcoming seventh studio album, And Justice For None.
Guitarist Zoltan Bathory described the video (via Blabbermouth) as, "a lyrical snapshot of probably the most chaotic, yet the biggest year of our career. So far, we've come out of every bear attack relatively un-scraped, and the band is tighter than ever. Life is not so difficult if you don't take yourself sooo seriously. As long as you can find the humor in everything, you are winning and the winning is strong with this video, as it follows the footsteps of our NOscar-winning masterpiece 'Jekyll And Hyde'. It was a simple process: We lit the set on fire and then made our poor director Rob Anderson's artistic sense into a piñata. Whatever he could salvage became the music video."
Watch below:
Chat About Five Finger Death Punch Drummer Brings Mini-Version of Himself Onstage