16 Graduation Songs With Lyrics That Will Give You All The Feels
By Taylor Fields
May 16, 2018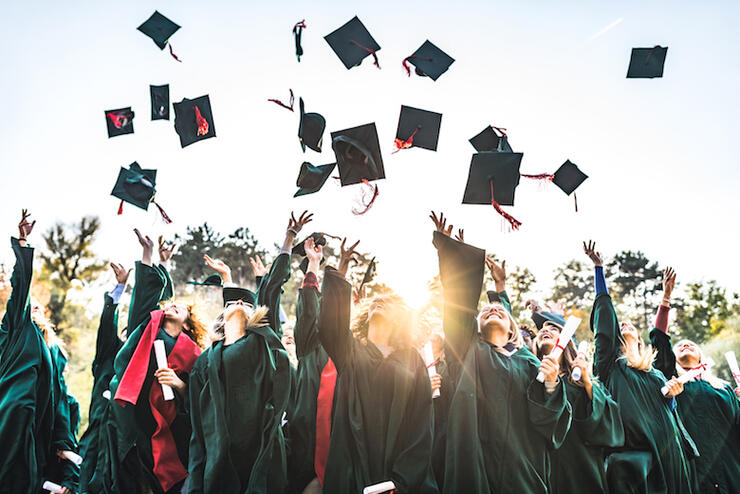 It is officially graduation season! And whether you're graduating from high school or college, the emotions are real. You might be going off to college for your undergrad, or you might be heading out into the real world to join the workforce, but any way you look at it, it's something to celebrate, and there is no better way to do that than with music.
There are so many amazing songs out there, perfect for every stage of graduation, from the actual commencement ceremony, to the parties on graduation night, to the night before leaving for college, to signing your friends' yearbooks, all the goodbyes and so much more. Take a look at some of the best graduation songs below that will give you all of the feels.
And even if you're not graduating this year, iHeartRadio has all the best music from the year you graduated on http://graduationplaylist.com/. Just put in your graduation year, and let the nostalgia take over.

1. "Graduation (Friends Forever)" - Vitamin C
The lyrics you and your friends should remember on graduation day: "As we go on/ We remember/ All the times we/ Had together/ And as our lives change/ Come whatever/ We will still be/ Friends Forever."
2. "Here's To The Night" - Eve 6
The lyrics to remember when you're at your graduation party: "Here's to the nights we felt alive/ Here's to the tears you knew you'd cry/ Here's to goodbye/ Tomorrow's gonna come too soon."
3. "Everybody's Free (To Wear Sunscreen)" - Baz Luhrmann
The important lyrics to live your life by: Literally EVERY SINGLE WORD.
4. "Good Riddance (Time of Your Life)" - Green Day
The lyrics for all of your high school/college memories: "So take the photographs, and still frames in your mind/ Hang it on a shelf in good health and good time."
5. "The Climb" - Miley Cyrus
The lyrics to motivate your next steps in life: "Ain't about how fast I get there/ Ain't about what's waiting on the other side/ It's the climb."
6. "Unwritten" - Natasha Bedingfield
The lyrics to remember when you feel like you have no idea what you want to do in life yet: "Today is where your book begins/ The rest is still unwritten."
7. Cyndi Lauper - "Time After Time"
The lyrics to serenade your BFF with: "If you're lost, you can look and you will find me/ Time after time/ If you fall, I will catch you, I'll be waiting/ Time after time."
Also, cue this scene from Romy and Michele's High School Reunion...
8. Charlie Puth featuring Wiz Khalifa - "See You Again"
The Lyrics that will make you cry leaving your BFF for college: "We've come a long way from where we began/ Oh, I'll tell you all about it when I see you again."
9. One Direction - "History"
The lyrics to sign your BFF's yearbook with: "You and me got a whole lot of history/ So don't let it go, we can make some more, we can live forever."
10. "Goodbye" - Spice Girls
The lyric to live by: "Look for the rainbow in every storm."
11. "End of the Road" - Boyz II Men
The lyrics to tell your significant other before you both go off to college: "Although we've come to the end of the road/ Still I can't let you go."
12. "We Are Young" - fun. featuring Janelle Monáe
The lyrics for your graduation celebration: "So if by the time the bar closes/ And you feel like falling downI'll carry you home."
13. "Bitter Sweet Symphony" - The Verve
The lyrics for graduating college: "'Cause it's a bitter sweet symphony, that's life/ Trying to make ends meet/ You're a slave to money then you die."
14. "Graduate" - Third Eye Blind
The lyrics for when you're graduating college and wondering about your credits fulfillment: "Can I graduate?"
15. "Moving On" - Marshmello
The lyrics to tell your BFF the night before you leave for college: "And when I'm gone, it won't be long 'til I'm/ I'm coming home, I'm moving on with you."
16. "Forever Young" - Alphaville
The lyrics to belt out when you toss your cap in the air: "Forever young, I want to be forever young/ Do you really want to live forever?/ Forever, and ever."
Chat About 16 Graduation Songs With Lyrics That Will Give You All The Feels